What is Monetary Gold? A legit precious metals dealer or scam? In this comprehensive Monetary Gold review, learn about their products, services, ratings, complaints and all you need to know about them.
Would you like to read about our #1 rated Gold IRA Company instead? Click Here
What Is Monetary Gold?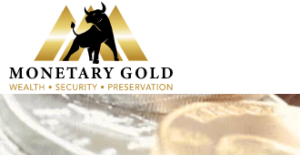 Monetary Gold is a precious metals company located in Woodland Hills, California. Founded in 2000, the company strives to offer its clients high quality precious metals at low costs. Unlike most precious metals companies who operate as middlemen, Monetary Gold sources their products directly from suppliers, hence passing on the discount to their clients. In addition to offering quality gold and silver, Monetary Gold also helps its clients to set up precious metals IRAs.
Monetary Gold Review Summary
Location:
Woodland Hills, California
Address:
21800 Oxnard St #1120
Woodland Hills, CA 91367-7937
Year Founded:
2000
Management:
Unknown
Website:
www.monetarygold.com
Rating:
[usr 3]
Click Here To Learn About Our Top Rated Gold & Silver IRA Provider
Monetary Gold Products & Services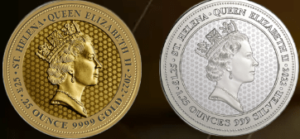 Monetary Gold is a dealer of a wide range of precious metals including IRA-approved bullion and rare U.S and foreign coins. Their products include gold, silver, platinum and palladium. Listed below are some of the products offered by Monetary Gold.
Gold
$20 Saint Gaudens
Gold British Sovereign
German 20 Marks
Swiss 20 Franc
Gold American Eagle
Gold Canadian Maple Leaf
American Gold Buffalo
South African Krugerrands
Gold Austrian Philharmonic
Gold Polar Bear & Cub
Gold Arctic Fox
Silver
Morgan Silver Dollars
Peace Silver Dollar
Silver Walking Liberty Half Dollars
Half Franklin Dollars
Silver American Eagle
Silver Gyrfalcon Coin
Silver Polar Bear Coin
Silver American Buffalo
Silver Austrian Philharmonic
Silver Britannia
Silver Canadian Maple Leaf
Platinum
Platinum American Eagle
Platinum Canadian Maple Leaf
Palladium
Palladium Canadian Maple Leaf
In addition to offering investment metals, Monetary Gold also helps clients to open precious metals IRAs. Currently, they are in partnership with Goldstar Trust Company, Strata Trust Company, Sterling Trust Company, Entrust and New Direction IRA for custodial services, and Delaware Depository for storage. You can learn more about their products and services here.
How to Buy from Monetary Gold
Since Monetary Gold doesn't have an online ordering system, you must call, email, or chat with their representative to place orders. Upon processing your order, the company will ship metals to your chosen destination.
How to Open a Precious Metals IRA with Monetary Gold
Opening a precious metals IRA with Monetary Gold involves 3 easy steps outlined below.
Fill Out the Application Form
As with most Gold IRA companies, application at Monetary Gold starts with completing an online IRA form. A representative will then get in touch with you to discuss fees, storage and other options, just to make everything clear. Typically it takes up to 72 hours for your account to be activated.
Transfer Funds
Once your account is set up, you can now roll over or transfer funds into it from your current IRA or 401k.
Purchase Metals
Upon receipt of funds, a Monetary Gold representative will assist you in choosing IRA-eligible precious metals. The representative will purchase the metals on your behalf and send them to Delaware Depository for storage.
Monetary Gold Costs & Fees
Pros of Monetary Gold
Sources directly from suppliers hence passing on the savings to clients
Most of their employees are highly experienced in precious metals investments
Top-notch customer support
Wide range of products and services
Gold and Silver IRAs are offered
Free educational materials such as investment charts and guides are offered
They are accredited with the Better Business Bureau since 2014
Cons of Monetary Gold
There is no information about the company's owners or management team
Product pricing is not available on the website
Lack of reviews on the BBB
Monetary Gold Complaints & Reviews
Monetary Gold boast an A+ rating on the BBB based on 33 reviews and ratings, as well as 1 complaint on the platform. Truspilot awarded Monetary Gold a 3.2 out of 5 stars based on 1 customer review. Additionally, Trustlink gives Monetary Gold 5 out of 5 stars rating based on 10 customer reviews. Most of the Trustlink reviews praise the company's staff for their high level of knowledge and professionalism. Monetary Gold has no reviews, ratings or complaints on Yelp and the Business Consumer Alliance (BCA).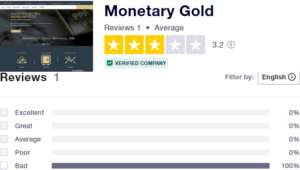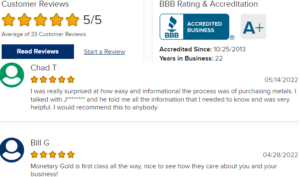 Is Monetary Gold Legit?
Monetary Gold is obviously a legit company since they are BBB accredited, and have been in business for 2 decades. If they were a scam, they wouldn't have survived this long.
Monetary Gold FAQ
Can Monetary Gold help me choose an IRA custodian?
Yes, Monetary Gold account executives will assist you to choose the best custodian for you investment. Since Monetary Gold partners with 5 custodians, you need to compare their fees and quality of service to arrive at the most ideal custodian.
Does Monetary Gold offer segregated storage?
Yes, segregated and insured storage is offered in partnership with the Delaware Depository.
Can I manage my account online?
Yes, Monetary Gold allows you to access and monitor your account online.
Monetary Gold Alternatives
Monetary Gold Reviews- Summary
Monetary Gold is primarily a coin dealer based in Woodland Hills, California. The company has been in business since 2000 and offers a wide range of IRA-approved and rare coins. They source products directly from suppliers hence passing on the savings to their clients.
On the downside, the company is not transparent about their management team. Also, they've not availed product prices on their website.