Texas Precious Metals is among the most prominent firms in the precious metals industry. If you are contemplating purchasing metals from them, you should read this thorough review to avoid becoming a victim of fraud. This article examines Texas Precious Metals, including their products, services, fees, complaints, and more.
What Is Texas Precious Metals?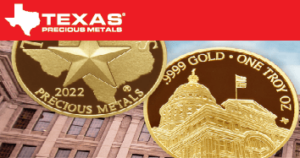 Texas Precious Metals (TPM) is one of the nation's largest precious metals dealers. The company has been in operation since 2004 and is headquartered in Shiner, Texas. It was the result of a partnership between Kaspar Texas Traditions and Saab & Company Inc. Texas Precious Metals offers an extensive selection of products in addition to IRA services.
Texas Precious Metals Review Summary
Location:
Shiner, Texas
Address:
959 N Us Highway 95 E
Shiner, TX 77984-5883
Year Founded:
2004
Management:
Jason D. Kaspar (Managing Member)
Website:
www.texmetals.com/
Rating:
[usr 4]
Here's Our Top Rated Precious Metals IRA Company>
Texas Precious Metals Products & Services

Texas Precious Metals primarily sells gold, silver, and platinum coins, rounds, and bars. Their selection of products is appropriate for both collectors and those wishing to establish precious metals IRAs. Here are some examples of the products that Texas Precious Metals offers.
Gold Products
Rounds and IRA-approved coins such as the American Gold Eagle, Canadian Gold Maple Leaf, Austrian Gold Philharmonic, American Gold Buffalo, and Australian Gold Kangaroo are among the available gold products. Available pre-1933 coins include, among others, British Sovereigns, St. Gaudens Double Eagles, and Liberty Half Dollars. Additionally, Texas Precious Metals stocks gold bars from numerous international mints.
Silver Products
Silver items consist of rounds, coins, and bars. Texas Silver Round 2018, Texas Silver Round 2019, Texas Silver Round 2021, and Texas Silver Round 2022 are the most popular products offered by Texas Precious Metals. Available coins include the Canadian Silver Maple Leaf, the British Silver Britannia, the American Silver Eagle, and the Austrian Silver Philharmonic.
Platinum Products
Coins such as the Canadian Platinum Maple Leaf and the American Platinum Eagle are examples of available platinum products.
How to Buy from Texas Precious Metals
You can place orders via their website or over the phone. The company guarantees that there is no price difference between online and phone orders. Additionally, Texas Precious Metals guarantees a cost-effective, courteous, and effective sales process.
Are Precious Metals IRAs Offered?
Yes, precious metals IRAs are made available in conjunction with Goldstar Trust Company, Preferred Trust Company, and Kingdom Trust. TPM simplifies the rollover process by offering a comprehensive IRA rollover guide and other vital information regarding precious metals investments. Traditional IRA, Roth IRA, SIMPLE, SEP, individual, HSA, and Coverdell are among the rollover options.
Texas Precious Metals Custodian
The company offers precious metals IRAs in partnership with Goldstar Trust Company, Preferred Trust Company, and Kingdom Trust.
Texas Precious Metals Depository
A depository is an extremely secure storage facility. As you may be aware, storing precious metals such as gold, silver, platinum, and palladium requires a highly secure, segregated vault. Lloyd's of London fully insures Texas Precious Metals' private depository.
Can You Sell To Texas Precious Metals?
Yes, you can easily sell your gold, silver, or platinum bullion to Texas Precious Metals. Begin the procedure by calling the company to lock in your selling price. Then, you must transfer your assets to the company within 24 hours of "lock in"
Texas Precious Metals IRA Fees
Shipping Options
Every item in stock is immediately available for shipment. In most cases, Texas Precious Metals dispatches orders within three business days of receiving payment. Once your order has been dispatched, a tracking number will be emailed to you.
Pros of Texas Precious Metals
Free shipping and insurance are offered
Fast processing and shipment of orders (within 3 working days)
No order minimum whether you are purchasing a small item or making a huge investment
Precious metals IRAs are offered
The business is accredited with the BBB since 2011.
Cons of Texas Precious Metals
Limited reviews and ratings online
Texas Precious Metals Reviews & Ratings
Texas Precious Metals has been accredited by the Better Business Bureau since 2011 and has 0 ratings and 1 consumer complaint on the platform. The company's rating on Yelp is 4.5 out of 5 stars based on 25 customer reviews. Again, Trustpilot rates them 3.7 out of 5 stars based on 1 review. There are no reviews, ratings, or complaints about Texas Precious Metals on the Business Consumer Alliance (BCA) and Trustlink.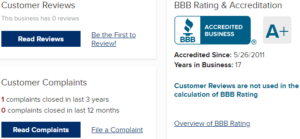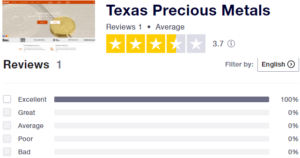 Is Texas Precious Metals Legit?
Yes, Texas Precious Metals is a legitimate precious metals company formed by two reputable businesses. They have been in business since 2004 and have been featured in prestigious publications.
Texas Precious Metals Alternatives
Conclusion
Texas Precious Metals was founded in 2004 and is one of the largest precious metals enterprises. They are renowned for their extensive product catalog, competitive prices, and streamlined IRA rollover procedure. On the negative Texas Precious Metals lacks customer reviews and ratings on the majority of consumer protection websites online.