Texas Precious Metals is one of the most popular companies in the precious metals sector. If you are considering buying metals from them, we advise that you read this detailed review to avoid getting scammed. Here, we'll take a look at Texas Precious Metals, their products, services, fees, complaints and more. Let's get started.
If you'd like to skip straight to our #1 rated Gold IRA Company, check out this page.
What Is Texas Precious Metals?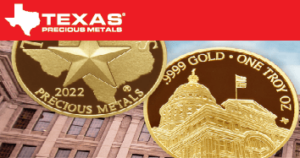 Texas Precious Metals (TPM) is one of the largest precious metals dealers in the United States. The company is based in Shiner, Texas, and has been in business since 2004. It was formed through a collaboration of two companies; Kaspar Texas Traditions and Saab & Company Inc. Texas Precious Metals offers a great range of products, as well as IRA services.
Texas Precious Metals Review Summary
Location:
Shiner, Texas
Address:
959 N Us Highway 95 E
Shiner, TX 77984-5883
Year Founded:
2004
Management:
Jason D. Kaspar (Managing Member)
Website:
www.texmetals.com/
Rating:
[usr 4]
Here's Our Top Rated Precious Metals IRA Company In 2022
Texas Precious Metals Products & Services

Texas Precious Metals mainly offers gold, silver and platinum products which include coins, rounds and bars. Their selection of products is suitable for both collectors and those intending to set up precious metals IRAs. Below are a few examples of products offered by Texas Precious Metals.
Gold Products
Available gold products include rounds and IRA-approved coins such as the American Gold Eagle, Canadian Gold Maple Leaf, Austrian Gold Philharmonic, American Gold Buffalo and Australian Gold Kangaroo. Pre-1933 coins are available and include British Sovereigns, St. Gaudens Double Eagle and Liberty Half Dollar, among others. Additionally, Texas Precious Metals stocks gold bars from various mints around the world.
Silver Products
Silver products include silver rounds, coins and bars. Silver rounds are the most popular of Texas Precious Metals' products and include Texas Silver Round 2018, Texas Silver Round 2019, Texas Silver Round 2021 and Texas Silver Round 2022. Coins available include Canadian Silver Maple Leaf, Silver Britannia, American Silver Eagle, Austrian Silver Philharmonic and more.
Platinum Products
Platinum products include coins such as the Canadian Platinum Maple Leaf and American Platinum Eagle.
You can see more of Texas Precious Metals' products on their catalog.
How to Buy from Texas Precious Metals
You can place your orders online through their official website or by phone. The company assures that there is no price difference whether ordering online or by phone. Also, Texas Precious Metals promises a low cost, friendly and efficient sales process.
Are Precious Metals IRAs Offered?
Yes, precious metals IRAs are offered in partnership with Goldstar Trust Company, Preferred Trust Company and Kingdom Trust. TPM makes the rollover process hassle-free by providing a detailed IRA rollover guide and other crucial information concerning precious metals investments. Rollover options include Traditional IRA, Roth IRA, SIMPLE, SEP, individual, HSA, or Coverdell.
Texas Precious Metals Custodian
Texas Precious Metals works with 3 reputable IRA custodians to offer precious metals IRAs. They include Goldstar Trust Company, Preferred Trust Company and Kingdom Trust.
Texas Precious Metals Depository
A depository simply refers to a high security storage facility. And as you might know, storage of valuable precious metals such as gold, silver, platinum and palladium require a highly secure, segregated vault. Texas Precious Metals have their own private depository which is 100% insured by the Lloyd's of London.
Can You Sell To Texas Precious Metals?
Yes, you can sell your gold, silver and platinum bullion to Texas Precious Metals via a simple process. The process begins with calling the company to lock in you sell price. You are then required to ship your assets to the company with 24 hours of "lock in".
Texas Precious Metals IRA Fees
Shipping Options
Every product in stock is available for immediate shipment. Generally, Texas Precious Metals ships your orders within 3 business days of receipt of your payment. Once your order has been shipped, you will be emailed with a tracking number.
Pros of Texas Precious Metals
Free shipping and insurance is offered
Fast processing and shipment of orders (within 3 working days)
No order minimum whether you are purchasing a small item or making a huge investment
Precious metals IRAs are offered
The business is accredited with the BBB since 2011.
Cons of Texas Precious Metals
Limited reviews and ratings online
Click Here To See Our #1 Rated Gold & Silver IRA Provider
Texas Precious Metals Reviews
Texas Precious Metals is BBB accredited since 2011 and have 0 reviews and 1 customer complaint on the platform. On Yelp, the company boasts a 5 out of 5 stars rating based on 23 customer reviews. Again, they are rated 3.7 out of 5 stars by Trustpilot based on 1 review. Texas Precious Metals has no reviews, ratings or complaints on the Business Consumer Alliance (BCA) and Trustlink.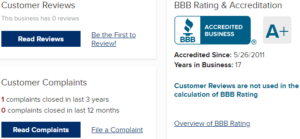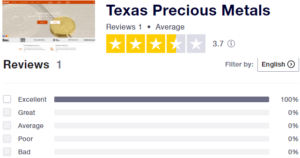 Is Texas Precious Metals Legit?
Yes, Texas Precious Metals is a legit precious metals company formed out of a collaboration of two reputable companies. They've been in business since 2004 and have been featured in some of the most respected magazines.
Texas Precious Metals Alternatives
Texas Precious Metals Reviews- Summary
Texas Precious Metals is one of the biggest precious metals companies and was established in 2004. Based in Shiner, Texas, they are revered for their vast product catalog, competitive prices and a simplified IRA rollover process. On the downside, Texas Precious Metals lacks customer reviews and ratings on most online consumer protection websites.