Should you invest your retirement funds in New Direction IRA? Perhaps you've come across mixed reviews and ratings and can't make a decision? Then read this detailed New Direction IRA review and get all the facts to help you make an informed investment decision.
What Is New Direction IRA?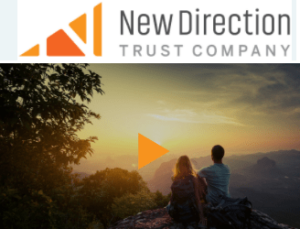 New Direction IRA is a self-directed IRA provider and administrator based in Louisville, Colorado. With more than 20 years in business, as well as a team of highly experienced executive team, New Direction IRA has gained immense popularity from investors and asset providers. The company has highly invested in latest technology as well as client education to guide investors and make self-direction easier.
New Direction IRA Review Summary
Location:
Louisville, Colorado
Address:
1070 W Century Dr Ste 101
Louisville, CO 80027-1657
Year Founded:
2003
Management:
William Humphrey (CEO)
Website:
www.ndtco.com
Rating:
[usr 3]
Find Out Our Top-rated Gold IRA Custodian On This Page
New Direction IRA Products & Services
New Direction IRA provides you with numerous opportunities to invest and take control of your financial future. They offer 8 account types which include Roth IRA, Traditional IRA, SIMPLE IRA, SEP IRA, Inheritance IRAs, 401 (k), Education Savings Account and Health Savings Account. With these accounts, you get the opportunity to invest in alternative assets such as real estate, precious metals, private lending, checkbook IRA, private equity and more. They are also involved in customer education whereby they continuously host webinars and develop educational tools to help empower and guide investors.
How Does It Work?
The firm works similarly to other self-directed IRA providers where services are primarily offered online. You can download their free investing guides to get important investing information and insight before you get started. Once you've decided on your ideal investment options, you can go ahead and follow the below simple steps:
Open Your Account
Once you've picked an account that suits your investment goals, move ahead and complete the online application form on New Direction IRA's website. This process will take you utmost 15 minutes.
Fund Your Account
Finance your self-directed account through transfer, rollover or contribution.
Choose Your Investments
Decide on the alternative asset types you want to invest in. should you face any difficulties choosing your assets, New Direction IRA's experienced staff will be on standby to help you.
Manage Your Account
Once everything is set up, you can sit back and manage your account through their online platform.
New Direction IRA Fee Schedule
New Direction IRA charges sliding scale fees which is a disadvantage in our view as it imposes higher fees on investors with larger accounts.  For instance, account setup fee is $50, while annual fee is $75 for accounts under $100, 000 and $125 for accounts over $100, 000. Not to mention yearly storage fees which vary depending on the storage provider you choose.
Generally, we recommend companies that charge a flat rate fee as opposed to the expensive sliding scale fee. You can learn about our top-rated IRA custodian that has got lowest, one time flat-rate fee on this page.
Pros of New Direction IRA
Experienced Executive Team
The company is managed by a team of highly accomplished financial advisers, accountants, economists and lawyers. It boasts one of the most experienced executive teams in the industry.
New Direction IRA offers many account options and unlimited investment opportunities to its clients.
Provides Free Client Education
Free client education is continually provided through webinars, investment guides and other educational tools. Their education not only empowers but also equips investors with crucial knowledge to make their retirement investments a reality.
They've embraced digital innovation and this is demonstrated by their modern website which has streamlined self-direction and made it even more intuitive.
Cons of New Direction IRA
We've found a considerable number of negative customer reviews and complaints condemning shipping delays by the company.
As we've noted, New Direction IRA charges sliding scale fees known to be quite expensive, particularly for investors with larger accounts.
Here Is Our #1 Recommended Gold IRA Provider
New Direction IRA Rating, Accreditation & Reviews

New Direction IRA boasts an excellent rating of 4.99/5 stars on the Better Business Bureau based on 96 customer reviews. However, they have 5 customer complaints on the platform closed in the past 3 years.
On Yelp, New Direction IRA have a 2.5/5 stars rating based on 26 customer reviews.  And strangely, the firm lacks customer reviews, ratings and complaints on other major review platforms including Trustpilot, Trustlink and the Business Consumer Alliance.
Is New Direction IRA Legit?
Is New Direction IRA legit or scam? Based on the positive reviews and excellent ratings posted on the BBB and other online platforms, it's quite clear that New Direction IRA is a legit firm and not a scam.
Conclusion
New Direction IRA is a self-directed IRA custodian based in Louisville, CO. They are one of the leading IRA providers in the country, managed by highly experienced executives. New Direction IRA is known to utilize modern technology to offer cutting edge education as well as unlimited investment opportunities to investors.
But on the negative side, New Direction IRA has been accused of shipping delays, in addition to exorbitant sliding scale fees.