Sterling Trust Company manages self-directed IRAs and allows you to diversify your portfolio with precious metals like silver and gold. Our Sterling Trust Company reviews detail the company's pros and cons, customer ratings, and reviews. Continue reading to learn more.
Who Is Sterling Trust Company?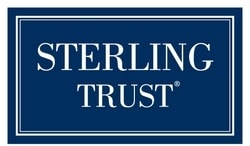 Based in Waco, Texas, Sterling Trust Company is owned by Equity Trust Company and is described as a custodian of self-directed IRAs and 401Ks. Consequently, it focuses primarily on IRAs and 401ks. However, the fact that this company recently merged with Equity Trust indicates that they are not as trustworthy as they claim to be, and the hundreds of complaints we found on online review sites are sufficient evidence. For example, Sterling Trust Company is accused of mismanagement and fraud, and according to the Ripoff Report, it is being investigated for luring investors into precious metals investment schemes.
Company Information
Location
Waco, Texas, United States.
Address
7901 Fishpond Road
Waco, TX 76710
Products and Services
Self-directed IRA and 401k
Business Hours
Mon-Friday (9.00 am – 6.00 pm)
Overall Rating
[usr 3.5]
Recommended?
Not recommended
Learn About Our Top-Rated Gold & Silver IRA Firm On this Page>
Sterling Trust Company Self-Directed IRA

The Sterling Trust Company Self-directed IRA provides access to a vast array of investment assets, including real estate, precious metals, cryptocurrency, tax liens and tax deeds, mutual funds, stocks, and ETFs. In conclusion, the Sterling Trust Company self-directed IRA provides limitless investment opportunities, and you will always find a suitable product or service. Now, let's proceed to the customer reviews and accreditation section to determine whether or not this company actually provides excellent services.
Customers Reviews
Below are Sterling Trust Company reviews and ratings from online review platforms such as the Better Business Bureau, Business Consumer Alliance, Ripoff Report, and Facebook to demonstrate how this company compares to others in the alternative assets investing industry.
BBB
Surprisingly, Sterling Trust Company lacks BBB accreditation. However, their average rating on the platform is 3.83 stars out of 5, based on 113 customer reviews and an astounding 147 complaints. The company's lack of BBB accreditation, coupled with numerous customer complaints, is an enormous red flag and should not be taken lightly. The BBB is the primary tool used by most investors to check the reputation of a company before investing with them.
BCA
Sterling Trust has no reviews or ratings on Business Consumer Alliance.
Ripoff Report
According to the Ripoff Report, Sterling Trust Company is accused of mismanagement and fraud and is under investigation for luring self-directed IRA owners into investment scams.
Trustlink
Sterling Trust has a two-star rating on Trustlink based on eight user reviews and complaints. Almost everyone on the platform has complained about poor customer service, while a few have reported being scammed.
Facebook
There are no reviews of Sterling Trust on the social media behemoth.
Yelp
The company has a 1-star rating on Yelp based on two client reviews.
Learn About Our Top Gold & Silver IRA Company Here>
Should You Establish a Gold or Silver IRA With Sterling Trust Company?
Sterling Trust Company does not appear to be the greatest option for your precious metals IRA in light of all the negative reviews or lack of reviews on certain platforms. There are more reputable precious metals companies than this one. Our top-rated company has excellent online ratings and offers superior products and services. Find out more about them on this page.
Sterling Trust Company Alternatives
Sterling Trust Company Reviews-Conclusion
We trust you enjoyed reading our reviews of Sterling Trust Company. Even though it is one of the oldest companies in the alternative assets industry, this has no bearing on its reputation and dependability. If you were searching for Sterling Trust Company in order to view their ratings, you now have all the relevant information and are aware that the company may not be the best option due to the numerous allegations made against them. Please view our top-rated company on this page.