Is JM Bullion legit or a scam? Is the company trustworthy, and can you entrust them with your hard-earned cash? In our in-depth JM Bullion reviews, you will learn about their products, services, pros, and cons, and whether we would recommend them for purchasing/investing in Precious Metals.
Without further ado, let's commence our review.
What Is JM Bullion?

JM Bullion is a precious metals company founded in 2011 by Jonathan Wanchalk and Michael Wittmeyer (the company's current CEO). Their mission is to provide precious metals to investors seeking to diversify their portfolios or safeguard their retirement from economic downturns. The company specializes in the purchase and sale of precious metals such as gold, silver, platinum, and palladium. JM Bullion is based in Dallas, Texas.
JM Bullion Review Summary
Location:
Dallas, TX
Address:
11700 Preston RD STE 660153
Management:
CEO: Michael Wittmeyer, VP of Operations: Tom Fougerousse
JM Bullion Products and Services
JM Bullion allows investors to purchase precious metals online in a convenient manner. As previously stated, they sell various forms of bullion, providing customers with an extensive selection of bullion, rare coins, and jewelry.
This company's superb, modern website is a distinguishing characteristic. They make obtaining metals online incredibly simple. All products and their respective prices are listed in the catalog, making it simple to select the appropriate items.
Now, let's review the two primary precious metals offered by JM Bullion.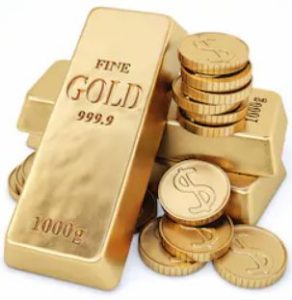 They offer an extensive selection of gold bullion coins and bars. Customers favor coins because they are backed by the government. Among the available gold bullion coins are the Australian Gold Kangaroo, the Austrian Gold Philharmonic, the American Gold Buffalo, the American Gold Eagle, and the South African Krugerrand.
JM Bullion gold bars are available in various shapes and weights. Gold bars are manufactured by licensed private mints and are therefore legal. Among the available bullion bars are RMC Gold Bars, Credit Suisse Gold Bars, and Sunshine Mint Gold Bars.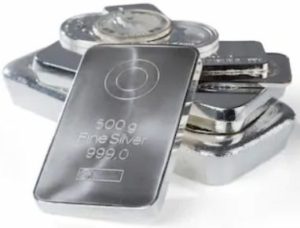 Silver products are also available from JM Bullion. They are available as coins, bars, and rounds. Silver bullion is preferred not only because it is inexpensive, but also because it is available in various shapes and sizes.
Does JM Bullion Offer Precious Metals IRAs?
JM Bullion does not provide precious metals IRAs. They only sell precious metals, so you will need to find a precious metals company that also provides IRA services. Click here to view our recommended precious metals IRA company.
Is JM Bullion Legit?
JM Bullion has multiple locations throughout the United States. The company is also managed by reputable professionals, so it is not a scam but a legitimate precious metals business that has been in operation for over a decade.
Pros of JM Bullion
JM Bullion does not charge any shipping fees on all orders.
A Wide Selection of Products
They have hundreds of products in stock and are one of the largest retailers. Thus, you will find everything you require under one roof.
Cons of JM Bullion
Lack of  Storage Facilities
Because the company does not provide storage services, investors are forced to locate their own depository (which may result in higher fees).
According to online reviews, JM Bullion has recently lowered its shipping standards, resulting in shipping delays and dissatisfied customers.
Customers have frequently complained about the lack of urgency with which customer service representatives respond to inquiries. In some instances, customer emails are ignored, resulting in numerous online customer complaints. Additionally, numerous customers have accused JM Bullion employees of peddling low-quality or tainted products.
Neither Listed By US Mint as a Dealer Nor TRUSTe Verified
The majority of trustworthy precious metal companies are listed by the United States Mint as dealers and are TRUSTe-verified. JM Bullion is neither listed nor verified, which inspires mistrust and suspicion. Since the majority of investors do not wish to jeopardize their hard-earned money, they have shifted their investments to more reliable companies.
Also Read: 3 Best Gold IRA Companies In 2023
Customer Reviews and Accreditation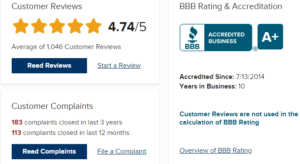 This section will examine JM Bullion reviews found on online review sites. JM Bullion has been accredited by the BBB since July 2014 and currently holds a 4.58 out of 5-star rating based on 705 customer reviews and an astounding 277 customer complaints. At the time this review was written, there were 1,090 reviews of JM Bullion on Trustpilot, with an average rating of 4.2 stars. On the Business Consumer Alliance, JM Bullion has a dismal 'F' rating based on a single review, while on Trustlink, they have a 1-star rating based on a single review as well. Yelp lacks reviews and evaluations for the company.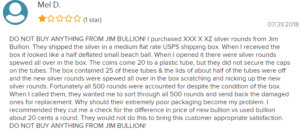 Frequently Asked Questions
Is JM Bullion a Scam?
JM Bullion is not a fraud, no. If they were a scam, they would not have lasted so long in the precious metals industry, which is exceedingly competitive.
Where is JM Bullion Located?
JM Bullion is headquartered in Dallas but has offices in Chicago, Lancaster, and a number of other cities.
What Does JM Bullion Stand for?
The company's name is derived from the founders' first names: Jonathan Wanchalk and Michael Wittmeyer.
Can I Buy Silver Bars at JM Bullion?
Yes. JM Bullion offers an extensive selection of silver bars, including Geiger Edelmetalle Bars and PAMP Suisse Fortuna Bars, among others.
How Long Does JM Bullion Take to Ship Products?
Despite JM Bullion's promise to ship within a single day, Some consumers have reported delays of up to seven days.
Which Is the Better Investment Between Gold and Silver?
Gold is a superior investment due to its stability over time, but silver remains a viable alternative for those who cannot afford gold. In addition to its affordability, silver is available in a variety of forms, including coins, ingots, rounds, and even statues.
Should You Buy from JM Bullion?
As we have seen, JM Bullion offers a wide variety of products, but it is likely not the finest company available. They do not provide storage and are not TRUSTe-verified, which hurts their reputation. You can view our top-rated company by clicking here.
JM Bullion Alternatives
JM Bullion Reviews Conclusion
Thank you for reading our JM Bullion reviews. You now have the knowledge necessary to make a more informed investment decision and avoid the risks associated with purchasing precious metals and IRA rollovers.
Despite having advantageous offers such as free shipping and a vast selection of metals, the company has numerous disadvantages, as we have just seen. Therefore, you must consider all of these factors prior to making any investment decisions, as they are crucial.