Is Rosland Capital a ripoff or a legitimate business? Are there any online reviews and complaints against them? This Rosland Capital review will address all your concerns and assist you in making an informed investment decision. Let's get started.
What Is Rosland Capital?

Rosland Capital is a precious metals asset management company based in Los Angeles, California. The business specializes in the sale of precious metals such as silver, gold, platinum, and palladium. Moreover, they allow retirees to convert their IRAs and 401(k)s to precious metals IRAs.
The company was founded by Marin Aleksov, its current CEO, and a precious metals expert with over two decades of experience. Since Rosland Capital is licensed, has a genuine owner, and has a physical address, we can conclude that it is a legitimate business. The customer reviews section of this Rosland Capital review will reveal whether or not they provide high-quality products and services. Continue reading to learn more.
Are you considering establishing a precious metals IRA? Click Here To See Our #1 Rated Gold IRA Company.
Location:
Los Angeles, California
Address:
11766 Wilshire Boulevard Suite 1200
Los Angeles, California
Founder:
Marin Aleksov
Business Hours:
Mon-Fri 7 am-6 pm PST
Overall rating
[usr 3.3]
Recommended?
Not Recommended
Learn About Our Top-Rated Gold & Silver IRA Firm Now>
Rosland Capital Products 

Gold
Rosland Capital specializes primarily in gold bullion coins and bars, in addition to numismatic coins. The Krugerrand, the American Gold Eagle, and the Canadian Gold Maple Leaf are among their gold coins.
Silver
There is a vast selection of silver bullion and numismatic coins. The majority of their silver bullion coins are IRA-eligible.
Rosland Capital's silver bullion coins include the American Silver Eagle and the Canadian Silver Maple Leaf. Peace Dollars and Morgan dollars are examples of silver coinage. For those who prefer bars, there is also a vast assortment of silver bars.
Palladium
Numerous Palladium Bars and coins, such as the Canadian Maple Leaf Palladium Coin, are available in Rosland Capital's online catalog.
Platinum
Platinum is an additional excellent investment asset offered by Rosland Capital. Also available are platinum bars and coins.
Rosland Capital Fees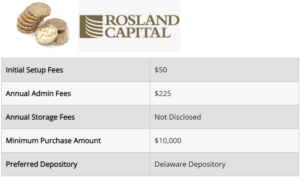 When determining the IRA fees an investor will pay at Rosland Capital Inc., a variety of variables are considered. The fee for initial setup is $50. The minimum annual administration fee is $225, and the annual storage fee is not disclosed. A $10,000 minimum purchase is required. Their preferred depository is the Delaware Depository.
Pros of Rosland Capital
Professional Sales Representatives
If you read reviews of Rosland Capital on various websites, you will observe that some customers are ecstatic with the company's customer service. The majority of their sales representatives are known for their expert knowledge of precious metals and their professional demeanor. In addition, the company employs expert economists like Jeffry Nichols to guide and advise both the management and the company's most valued customers.
On its website, the company promises to deliver products in less than 14 days, and some customers have reported receiving theirs in less than 7 days.
The user-friendly website of Rosland Capital enables consumers to select products with ease. In addition, a phone number is provided for customers to readily contact customer service representatives.
Wide Selection of Precious Metals
Rosland Capital boasts a vast array of bullion coins, numismatic coins, and bars of various weights and prices. This enables you to access all the necessary products under one roof.
Cons of Rosland Capital
Your assets will be combined with those of other investors because Rosland Capital does not offer segregated storage for precious metals. This may endanger the safety of your investment assets.
Customer reviews reveal that some of their advertisements and marketing strategies are deceptive. Agents will struggle to persuade you to buy just to get commissions, without caring whether the product they are selling will benefit you in the long run.
Some of their fees, such as annual storage fees, are not disclosed, and some customers have complained on review platforms about unusually high commissions that were not disclosed prior to engaging with the company.
Rosland Capital's complaints on websites such as the Better Business Bureau indicate that this company has a large number of dissatisfied customers as a result of its deceptive sales tactics, which are designed to generate enormous profits at the expense of customers' interests. This has severely damaged the reputation of the company.
Is There a Better Alternative to Rosland Capital?
Yes, Our top recommendation is an excellent option with virtually no customer complaints, the lowest fees, and the finest customer service in the industry. Click here for more information.
Customer Reviews and Ratings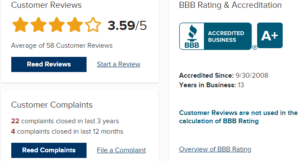 Without client reviews, our Rosland Capital review would be incomplete, so in this section, we will investigate client ratings and reviews.
Rosland Capital is rated 4.77 stars by the Better Business Bureau based on 303 customer reviews and 17 customer complaints filed within the past three years. The company's Business Consumer Alliance rating is 5 out of 5 stars, while its Trustpilot rating is 4.1 out of 5 stars based on 117 customer reviews. According to customer reviews posted on Trustlink and Yelp, the company's ratings appear to be declining, with 3.7 stars on Trustlink and 1 star on Yelp. The company lacks reviews or complaints on the Ripoff Report.




Rosland Capital Complaints
Before purchasing from any company, you should examine the number of complaints lodged against it. In this review, we have therefore considered customer complaints.
While it is normal for a business to receive complaints, the number and nature of the complaints help determine a company's credibility. On both the Better Business Bureau and the Complaints Board, we discovered numerous complaints against Rosland Capital. The company is accused of fraud and other misconduct, which might damage its reputation.
As we have established, Rosland Capital is not a scam; however, consumer complaints cannot be ignored. Remember that these individuals have direct experience with the company. If you're interested in rolling over your IRA or 401k, click the link below to learn more about our top-rated Gold IRA company, which has nearly zero complaints, excellent customer ratings, and extraordinary customer service.
Click Here To Learn More About Our Top-Rated Gold IRA Company>
Frequently Asked Questions
Is Rosland Capital a Scam?
Rolsand Capital is not a scam. It is a legitimate precious metals dealer with a genuine owner and physical address. However, the company has numerous complaints, with more than 90% of complainants accusing it of fraud.
Does Rosland Capital Serve International Clients?
The company does have a global presence, as they have an office in the United Kingdom.
Can Rosland Capital Deliver Metals to My Home?
Yes, the company delivers customer orders upon request.
Rosland Capital Alternatives
Rosland Capital Review Conclusion
We trust that our Rosland Capital review has provided you with all the information you sought. Rosland Capital is an asset management company as well as precious metals seller in Los Angeles.
Despite offering excellent services and products, the company is not perfect. For example, they have received numerous negative reviews and complaints on various online platforms. Before entrusting them with your hard-earned money, you should conduct your own comprehensive research.