Is Rosland Capital a scam, a fraud or legitimate company? Are there any complaints against them? Well, this review will address all your concerns and save you from losing your hard-earned money.
Ready To Open a Precious Metals IRA? Get Our FREE Gold IRA Guide Now!
Is Rosland Capital a Scam?

To answer your question, we first need to answer this other question: what is Rosland Capital?
Rosland Capital is an asset management company based in Los Angeles, California. The company mainly sells precious metals such as silver, gold, platinum and palladium. Additionally, they offer retirees and opportunity to roll over their IRAs and 401ks into precious metals IRAs.
The company was founded by its current CEO, Marin Aleksov, a precious metals expert with over 20 years of experience. Based on this information, we can safely conclude that Rosland Capital is a legit company, since it is licensed and has a real owner and physical address.
Besides, Rosland Capital has been in business since 2005, and is accredited with the Better Business Bureau. This also proves that they are not a scam.
Click here to see our #1 rated Gold IRA company in 2023
Rosland Capital Complaints
Before you buy from any company, you should first check the amount of complaints against them. Thus, we've considered customer complaints in this Rosland Capital review.
While it's normal for any company to have complaints, the quantity and nature of the complaints helps determine the credibility of a company. Unfortunately, we found numerous complaints against Rosland Capital on both the Better Business Bureau and the Complaints Board. The company is being accused of fraud and other malpractices that have adversely dented their image.
Verdict: Though Rosland Capital is not a scam as we've noted, keep in mind that customer complaints cannot be ignored. Remember that these are people who have had first-hand experience with the company. If looking to roll over your IRA or 401k, follow the link below to check out our top-rated Gold IRA company that has nearly zero complaints, excellent customer ratings as well as exceptional customer care.
Also Read: Augusta Precious Metals Complaints
Company Info
Website:
https://www.roslandcapital.com
Location:
Los Angeles, California
Address:
11766 Wilshire Boulevard Suite 1200
Los Angeles, California
Founder:
Marin Aleksov
Business Hours:
Mon-Fri 7 am-6pm PST
Overall rating
[usr 3.3]
Recommended?
Not Recommended
==>Learn about our Top-rated Gold & Silver IRA Firm on this page<==
Rosland Capital Products 

Gold
Rosland Capital mainly deals with gold bullion coins and bars, as well as numismatic coins. Some of their coins include the Krugerrand, American Gold Eagle and Canadian Gold Maple Leaf.
Silver
There's an extensive selection of both bullion and numismatic silver coins. A large portion of their silver bullion coins are eligible for IRA.
Examples of silver bullion coins held by Rosland Capital include American Silver Eagle and Canadian Silver Maple Leaf. Numismatic silver coins include the Peace Dollar and Morgan Dollar. There is also a massive selection of silver bullion bars for those who prefer bars.
Palladium
Palladium Bars and coins such as the Canadian Maple Leaf Palladium Coin are available at Rosland capital in plenty.
Platinum
Platinum is yet another great investment asset available at Rosland Capital. They offer both platinum bars and coins.
Rosland Capital Fees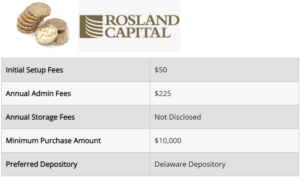 Many factors come into play when determining the IRA fees an investor will pay at Rosland Capital Inc. The initial set up fee is $50. Annual storage fee is not disclosed, and the minimum yearly administration fee amounts to $225. The minimum purchase amount is $10, 000. Their preferred depository is the Delaware Depository.
Advantages of Choosing Rosland Capital
Professional Sales Representatives
If you look at Rosland Capital reviews, you will notice that some customers are extremely happy with the company's customer care. Most of their sales representatives are known for professional conduct and vast knowledge in precious metals. What is more, the company employs expert economists such as Jeffry Nichols to guide and give advice to both the management and their valued customers.
On the company's official website, they promise to deliver products in less than 14 days, and some customers said theirs arrived in less than 7 days.
Rosland Capital has an easy-to-use website which allows customers to select bullion easily. Moreover, a phone number is available for customers to easily contact account executives.
Huge Selection of Precious Metals
Rosland Capital has a massive selection of bullion coins, numismatic coins and bullion bars of varying weights and prices. This allows you to access all the products you need under one roof.
Disadvantages of Choosing Rosland Capital
Shallow Content on Website
Despite being user-friendly and easy to navigate, their website lacks detailed description of products. You will notice that they post shallow descriptions of products followed by a mammoth list of product images, unlike other websites that have in-depth content.
Rosland Capital does not provide a segregated storage for precious metals, thus your assets will be mixed with those of other investors. This might compromise security of your investment assets.
Customer reviews reveal that some of their advertisements and marketing strategies are deceptive. Agents will struggle to persuade you to buy just to get commissions, without caring whether the product they are selling will benefit you in the long run.
Some of their fees are not disclosed, for instance annual storage fees, and some customers have complained of unusually high commissions that were not revealed to them prior to engaging with the company.
Rosland Capital complaints on websites such as the BBB indicate that this company is full of disgruntled clients due to deceptive methods by the company meant to rake in huge profits, with little regard to customers' interests. This has massively damaged the company's reputation.
Is There a Better Alternative
Yes, Our top recommendation is a great alternative with close to zero complaints, lowest fees and best customer support in the industry. Click here to read about it.
Rosland Capital Reviews and Ratings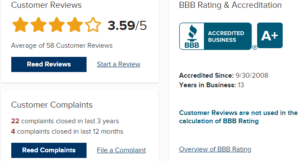 Rosland Capital is accredited by both the Better Business Bureau and the Business Consumer Alliance, with a rating score of A+ and AAA respectively. At the time of writing this review, the company had a rating of 3.59 out of 5 stars and 58 customer complaints on the Better Business Bureau.




Based on the reviews of Rosland Capital on TrustLink, the company has a 3.9 out of 5 star rating from 70 customer reviews. Exploring further, there were also numerous complaints on the platform accusing the company of employing deceptive sales practices such as selling overpriced coins.

On Facebook, they have a rating of 1.9.
In all the aforementioned review platforms, most of the customers complain about dishonest and misleading sales tactics by Rosland Capital.
<<Click here to check out our top-rated company in 2023>>.
Frequently Asked Questions
Is Rosland Capital a Scam?
No, Rolsand Capital is not a scam. It is 100% legit precious metals dealer with a real owner and physical address. However, the firm has numerous complaints, with more than 90% of complainants accusing them of fraud.
Does Rosland Capital Serve International Clients?
Yes, Rosland Capital operates internationally. They also have an office in the United Kingdom.
Can Rosland Capital Deliver Metals to My Home?
Yes, the company delivers orders to customers at their request.
Should You Buy from this Company?
Based on the above mentioned customer reviews and complaints, it is evident that Rosland Capital cannot make it to our top 3 most reliable companies list . There are better players with greater services and products.
Click this link to check out our top-rated Companies in 2023>>.
Related: APMEX Review
Rosland Capital Alternatives
Conclusion
We hope that our review about Rosland Capital has given you all the information you were looking for. The Rosland Capital gold scam you might have recently heard about is likely to be true as there are numerous customer complaints against the company (most of them accusing Rosland Capital of fraud). The only evidence that the company is legit is their physical address and the fact that they have a real owner.