Are you searching for the optimal retirement solution that permits you to diversify your IRA portfolio with alternative assets? Can Goldstar Trust Company assist you in achieving your retirement objectives, or should you search elsewhere? Let's discover in this exhaustive review of Goldstar Trust Company.
What Is Goldstar Trust Company?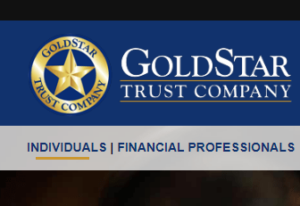 Established in 1989, Goldstar Trust Company is a self-directed IRA custodian based in Canyon, Texas. The firm has been providing retirement solutions for over three decades and presently manages over $2.5 billion in assets. Additionally, Goldstar Trust is known for its trustee and escrow services.
Goldstar Trust Company Review Summary
Location:
Canyon, Texas
Address:
 1401 4th Ave, Canyon, TX 79015, United States
Year Founded:
1989
Management:
Jeff Kelley (President)
Website:
www.goldstartrust.com
Rating:
[usr 3]                                              
Find Out Our Top-rated Gold IRA Firm Here>
Goldstar Trust Company Products & Services
In addition to self-directed IRA custodial services, Goldstar Trust Company also provides trustee and escrow services. They are known to place a high priority on customer education, and an entire section of their website is devoted to teaching you how to make prudent investment decisions. Real Estate, Real Estate Investment Trusts, Publicly Traded Securities, Precious Metals, Crowdfunding, and Church Bonds are offered as alternatives to traditional investments such as mutual funds, stocks, and bonds.
How Does It Work?
If you are new to Goldstar Trust Company, you can begin by perusing the 'Education' section of their website, where you will find information about the various investment assets available. After determining the type of investment that aligns with your objectives, visit the 'Forms' section to open your self-directed IRA account. Traditional IRA, Roth IRA, SEP IRA, SIMPLE IRA, and Education IRA (ESA) accounts are available.
Goldstar Trust Company Fees
The fees charged by Goldstar Trust vary based on the type of asset, but the following fee schedule applies in general.
Account Setup Fee: $50
Annual Maintenance Fee: $75-$275
Account Termination Fee: $100
Pros of Goldstar Trust Company
More Than 3 Decades In Business
They have been in business for over three decades, earning them a great deal of respect across the nation. Due to its extensive history and reputation, the company currently administers over $2.5 billion in assets.
Thorough Customer Education
The fact that an entire section of the company's website is devoted to customer education demonstrates how highly Goldstar Trust regards customer education. You will find informative articles describing the various categories of assets, as well as awareness articles that will assist you in making informed decisions and avoiding fraud.
Multiple Investment Options
Goldstar Trust Company provides a variety of investment options and self-directed accounts.
Cons of Goldstar Trust Company
Surprisingly, Goldstar Trust lacks a Live Chat support system that can expedite client-support communication. They rely on email, a contact form, FAX, phone, and mail, which are all slower.
For a company that has been in business for decades, its average rating of three out of five stars on most online review platforms is abysmal.
Consumers use a company's BBB (Better Business Bureau) rating and accreditation as one factor in determining its credibility. Goldstar Trust is neither accredited nor rated by the Better Business Bureau.
Goldstar Trust Company Reviews & Ratings

Goldstar Trust has earned a BBB rating of 1 out of 5 stars based on 5 customer reviews and 28 customer complaints submitted within the previous three years.
Based on 23 customer reviews, they have a 1.5 out of 5 star rating on Yelp.com. The company has a Trustpilot rating of 4.3/5 based on 356 customer reviews and a Glassdoor rating of 2.8/5 based on 3 reviews. Goldstar Trust lacks reviews, complaints, and ratings on Trustlink, BCA, Ripoff Report, and numerous other prominent consumer protection websites.


Goldstar Trust Company Alternatives
Conclusion
Goldstar Trust Company is a self-directed IRA custodian that aims to provide retirement solutions that enable you to diversify your IRA portfolio with alternative assets to stocks, bonds, and mutual funds. To accomplish this, Goldstar Trust Company offers a variety of self-directed accounts and investment options. The company is also known for providing unparalleled consumer education.
Goldstar Trust's cons include a lack of Live Chat support, subpar customer ratings, and a lack of BBB accreditation, despite their many accomplishments.