Are you interested in precious metals investments? Fisher Precious Metals is a company that can assist you in purchasing bullion swiftly and easily. But, is this the best company to collaborate with? How are the company's products and customer service? This in-depth Fisher Precious Metals reviews provides the answers to these concerns.
What Is Fisher Precious Metals?

Fisher Precious Metals is a highly regarded precious metals merchant with a location in Deerfield Beach, Florida. The company opened its doors in 2007, offering investors across the nation a vast selection of gold, silver, platinum, and palladium products.
In addition to purchasing and selling physical metals, Fisher Precious Metals also offers precious metals IRAs, which are designed to help retirement savers safeguard their wealth against economic downturns. Client education is also one of their top priorities and is offered through videos, blog posts, frequently asked questions and newsletters.
Fisher Precious Metals Review Summary
Location:
Deerfield Beach, Florida
Address:
Serving Southeast Florida and the US
Deerfield Beach, FL 33442
Year Founded:
2007
Management:
John Fisher (President/Owner)
Website:
www.fisherpreciousmetals.com/
Rating:
[usr 4.5]
Click Here To See Our #1 Rated Precious Metals IRA Provider>
Fisher Precious Metals Products
Gold, silver, platinum, and palladium bullion and collectibles are available in abundance at Fisher Precious Metals. The majority of their bullion products come from reputable mints, such as the United States Mint, Perth Mint, and Royal Canadian Mint. Additionally, the company offers a vast selection of fine jewelry items sourced from all over the globe. Here are some examples of the products offered by Fisher Precious Metals.
Gold Products
American Gold Eagle
American Gold Buffalo
Pre-1933 coins
Proof coins
Gold Canadian Maple Leafs
Gold Australian Kangaroos
Gold South African Krugerrand
Gold bars of various denominations
Silver Products
American Silver Eagles
Certified Silver Eagles
Proof Silver Eagles
Canadian Silver Maple Leafs
Silver Australian Kangaroos
1-oz Silver Rounds
Silver Britannia
Silver Philharmonics
90% silver
Silver Dollars
Platinum Products
Platinum American Eagles
Platinum Canadian Maple Leafs
Platinum Bars of various weights
Palladium Products
Palladium Canadian Maple Leafs
Palladium Bars of Various weights
Fisher Precious Metals Precious Metals IRA
Fisher Precious Metals offers Precious Metals IRA services as one of its primary services. They will assist you in converting a portion of your IRA or 401k into precious metals in order to protect your savings from economic instability. Fisher Precious Metals makes it simple to open a precious metals IRA through the three procedures outlined below.
Open a self-directed IRA with a custodian of your choice
Fund the self-directed IRA
Work with Fisher Precious Metals' team of experts to select the best precious metals for your IRA
Click Here to See Our #1 Rated Precious Metals IRA Provider>
Fisher Precious Metals Custodian & Storage
Fisher Precious Metals and New Direction IRA collaborate to provide custody services. In collaboration with International Depository Services of Delaware, International Depository Services of Canada, and Strategic Wealth Preservation (located in the Cayman Islands), insured depository storage services are provided.
How to Buy Non-IRA Metals from Fisher Precious Metals
The presence of an online shopping catalog at Fisher Precious Metals has simplified the purchase of bullion, collectibles, and jewelry. On their website, you can easily establish an account, select and add items to your shopping cart, and make a payment. You can also contact the company and place your orders over the phone.
Fisher Precious Metals Pricing & Fees
Even though there is no pricing information on the company's website, a price document is available for offline viewing of metal prices. In addition, IRA fees are not disclosed and vary depending on the custodian or depository you choose.
Fisher Precious Metals Customer Support
Fisher Precious Metals is committed to providing industry-leading customer service. In fact, you can communicate directly with the company's owners and receive the best-personalized guidance on precious metals investment.
Fisher Precious Metals Management
Fisher Precious Metals was founded by John Fisher and his wife, Lynn Fisher. The Better Business Bureau (BBB) lists John as the company's current president and principal contact person.
Pros of Fisher Precious Metals
Great customer support- you can call their experienced owners directly and get quality advice
In-depth customer education is offered through their news blog, charts, FAQs, and newsletters
Awesome reviews and ratings online (4.5/5 stars average rating)
Wide selection of products and services
Their buy-back guarantee allows you to quickly liquidate your assets whenever you want
Offers precious metals-backed IRAs
Has been in business for a long time
Cons of Fisher Precious Metals
Pricing information is not available on the website
Lacks reviews and ratings on some reputable online platforms such as the Business Consumer Alliance (BCA), Trustlink, and Trustpilot.
Fisher Precious Metals Reviews, Complaints & Ratings
On the majority of online platforms, Fisher Precious Metals has received overwhelmingly positive ratings. We sampled the following online reviews and evaluations while conducting research for this review.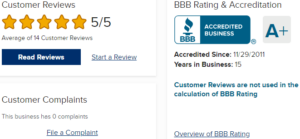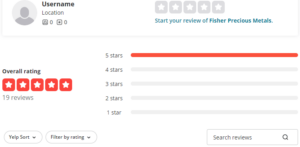 Is Fisher Precious Metals Legit or Scam?
Clearly, Fisher Precious Metals is not a scam. It is a legitimate company managed by a couple with nearly 30 years of experience investing in precious metals.
Fisher Precious Metals Alternatives
Conclusion
Fisher Precious Metals is a family-owned bullion and coin dealer located in Deerfield Beach, Florida. They have been in operation since 2007 and provide a vast array of gold, silver, palladium, and platinum items. In addition, the company provides free consumer education and exceptional customer service. However, they lack pricing information and reviews on some of our most trusted review websites.