There are many companies that sell precious metals such as gold, silver, palladium and even platinum. However, what if you are looking for one that is highly rated and provides top-notch products and services? In that case, you'll need to read this Bullion Trading LLC review to find out whether they have the ratings and products that meet your expectations.
What Is Bullion Trading LLC?
Bullion Trading LLC is a family-owned precious metals company that was established to provide refinery services to jewelry casters in New York City. However, the company has expanded its services over the years and is now selling bullion coins and bars as well as rare coins. BTLLC's owners are well versed in precious metals investments, especially in gold and silver products.
What Products Do They Offer?
Bullion Trading LLC mainly offers gold, silver, palladium and platinum products, but they also offer pre-1933 coins as well. Gold and silver bars on offer come in different denominations, ranging from 1 oz to 1 Kilogram bars. On the other hand their coins inventory comprise both US minted coins such as the Anerican Eagle Gold Coins and American Buffalo, as well as foreign coins such as the Krugerrands and Australian Gold and Silver Philharmonics.
Are Gold & Silver IRAs Offered?
There's no mention of precious metals IRAs on BTLLC's website, which made us to conclude they do not offer such services. If you are seriously looking for a reputable Gold and Silver IRA provider, you can check out our #1 recommended company here.
Company Info
Location:
New York City, New York
Address:
20 West 47th Street Lower Level #24, New York, NY 10036, United States
Year Founded:
2008
Managers:
Isaac Kahan, Elizabeth Villa
Website:
www.bulliontradingllc.com
Rating:
[usr 3.5] Not Recommended
Click here to read about our #1 recommended company for Gold & Silver IRAs
How It Works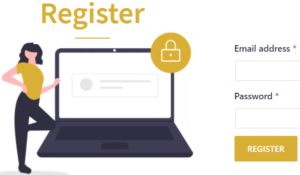 Most of the precious metals transactions take place on Bullion Trading LLC's official website, but you can visit their premises as well if you prefer a one on one service. If you are going to place your order online, you first need to create your customer account by registering. Simply click on the 'Register' link on the main menu and submit your email address. Your account will be set up in a couple of minutes and you can now proceed to select your desired products and add them to the cart. You can then proceed to checkout and enter you billing information to complete your purchase. Accepted payment methods include credit cards and Paypal.
Pros of Bullion Trading LLC
BTLLC's experienced owners boast extensive knowledge of precious metals, especially gold and silver. Thus, you will definitely be guided in the right direction.
Large Selection of Coins and Bars
They have a large selection of coins and bars, thanks to their experience in sourcing the products from various mints across the country and abroad. The company maintains a regular inventory and you will always find most of the items in stock.
Opportunity to Sell Back to the Company
Bullion Trading LLC offers a buyback program whereby you can sell back your metals to them at highly competitive rates.
Their website is simple and easy to use. All the products are listed on the website and adding them to the cart is very easy. Also, the checkout is simplified and multiple payment options are accepted for more convenience.
Bullion Trading LLC's blog is filled with free articles and infographics about precious metals. By simply reading their blog articles, you will quickly learn how to trade precious metals or rare coins, even if you are a complete newbie.
Cons of Bullion Trading LLC
The company lacks a live chat feature that would otherwise speed up communication with customers. Even though they've listed an email address and phone number on the website, some customers on Yelp and Trustpilot complained that they had a hard time contacting Bullion Trading LLC's customer support.
Other than on Yelp.com and Trustpilot.com, Bullion Trading LLC has no reviews on most online platforms.  What is even more shocking is the fact that they are not accredited with the Better Business Bureau.
Click here to see the company that got the highest ratings in the industry
Customer Reviews, Ratings & Accreditation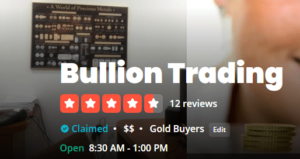 Sadly, Bullion Trading LLC is not accredited with the BBB, which is the most trusted consumer protection website. They also lack reviews or ratings on the Business Consumer Alliance and Trustlink.
But on Trustpilot and Yelp, the firm is lucky to have a total of 16 customer reviews and a combined rating of 3.7 stars. Based on the reviews posted on both platforms, majority of the customers were happy with the products and service, but the most notable complaint was about poor customer support by Bullion Trading LLC's staff who were described as 'rude' and 'impatient'.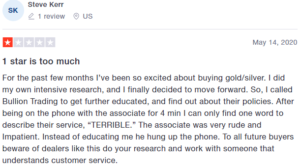 Find out our Top-rated Precious Metals IRA dealer, Click Here <<
Is It Legit Or Scam?
Bullion Trading LLC is not a scam. It's obviously a legit company since they have a real address and have been in business for many years. The company is family owned and has been passed down through generations.
Summary
Bullion Trading LLC is a family owned precious metals dealer based in New York City. The firm has been in business for many years, which proves their legitimacy. Moreover, they have a large selection of coins and bars, free educational material on their blog as well as professional managers to guide you.
However, Bullion Trading LLC has been accused of poor customer support, most probably due to lack of a live chat feature on their website. Besides, they lack reviews and ratings on most trusted consumer protection websites including the Better Business Bureau, Trustlink and Business Consumer Alliance.