Numerous businesses sell precious metals such as gold, silver, palladium, and even platinum. However, what if you are searching for a company that is highly regarded and offers superior products and services? In that case, you will need to read this Bullion Trading LLC reviews to determine whether its ratings and products meet your requirements.
What Is Bullion Trading LLC?
Bullion Trading LLC is a family-owned precious metals business founded to provide refinery services to New York City jewelry manufacturers. However, the company has expanded its services over time and now sells rare coins as well as bullion coins and bars. Bullion Trading LLC's proprietors are knowledgeable about investments in precious metals, particularly gold and silver products. Continue reading this review to learn more.
Bullion Trading LLC Products
In addition to gold, silver, palladium, and platinum products, Bullion Trading LLC also sells pre-1933 coins. Gold and silver bars are available in various weights, ranging from 1 ounce to 1 kilogram.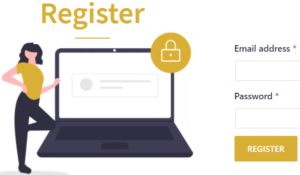 Their inventory of coins includes both United States-minted coins, such as the American Eagle Gold Coins and American Buffalo, and foreign coins, such as the Krugerrands and Australian Gold and Silver Philharmonics.
Are Gold & Silver IRAs Offered?
Bullion Trading LLC's website makes no mention of precious metals IRAs, leading us to believe they do not offer such services. If you are in the market for a reputable Gold and Silver IRA provider, you can view our top recommendation here.
Bullion Trading LLC Reviews Summary
Location:
New York City, New York
Address:
20 West 47th Street Lower Level #24, New York, NY 10036, United States
Year Founded:
2008
Managers:
Isaac Kahan, Elizabeth Villa
Website:
www.bulliontradingllc.com
Rating:
[usr 3.5]
Click Here To Learn About Our #1 Recommended Gold & Silver IRA Firm
How It Works
Bullion Trading LLC conducts the majority of its precious metals transactions on its website, but you can also visit its office if you prefer personalized service. In order to place an order online, you must first create a customer account by registering. Click the 'Register' link on the primary menu and enter your email address. Your account will be activated in a few minutes, and you can now select and add products to your shopping cart. Then, you can proceed to the checkout page and enter your billing information to conclude the purchase. Credit cards and PayPal are acceptable payment methods.
Pros of Bullion Trading LLC
The company's seasoned proprietors have extensive knowledge of precious metals, particularly gold and silver. Consequently, you will be led in the right direction.
Large Selection of Coins and Bars
Due to their expertise in sourcing products from numerous mints across the country and internationally, they offer a vast selection of coins and bars. The company maintains a consistent inventory, and the majority of items are always available.
Opportunity to Sell Back to the Company
Bullion Trading LLC provides a repurchase program through which you can sell your metals at extremely competitive prices.
Their website is straightforward and intuitive. All products are listed on the website, and it is simple to add them to the shopping cart. Additionally, the purchase process is streamlined and multiple payment methods are accepted to increase convenience.
Cons of Bullion Trading LLC
The business lacks a live chat feature that would otherwise expedite consumer communication. Despite providing an email address and phone number on the website, some customers on Yelp and Trustpilot complained that it was difficult to reach Bullion Trading LLC's customer service.
Aside from Yelp and Trustpilot, Bullion Trading LLC has no reviews on the majority of online review sites.
Bullion Trading LLC Reviews, Ratings & Accreditation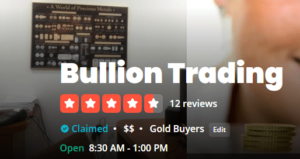 This section of our Bullion Trading LLC review will focus on online directory reviews and ratings from customers.
Surprisingly, there are no reviews for Bullion Trading LLC on the BBB website, despite their recent accreditation. In addition, neither the Business Consumer Alliance nor Trustlink contain reviews or ratings.
However, on Trustpilot and Yelp, the company is fortunate to have 18 customer reviews with a combined rating of 4.1 stars. According to the reviews posted on both platforms, the vast majority of customers were satisfied with the products and services. Nonetheless, the most prominent complaint was about the impolite and impatient customer service provided by Bullion Trading LLC's employees.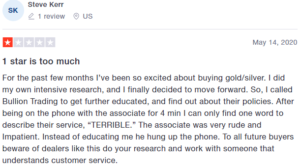 Is Bullion Trading LLC Legit Or a Scam?
Bullion Trading LLC is legitimate. It is evidently a legitimate business, as they have a physical address and have been in operation for many years. The family-owned business has been handed down through the generations.
Alternatives to Bullion Trading LLC 
Bullion Trading LLC Review Summary
Bullion Trading LLC is a family-owned precious metals dealer based in New York City. The company has been in operation for many years, proving its legitimacy. In addition, they have a vast selection of coins and bars, free educational content on their blog, and knowledgeable managers to assist you.
However, Bullion Trading LLC has been accused of poor customer service, most likely because its website lacks a live conversation feature. In addition, there are no reviews or ratings on the majority of reputable consumer protection websites, including the Better Business Bureau, Trustlink, and Business Consumer Alliance.