What exactly is GoldSeek Mint? Is the company legitimate or a scam? What products do they offer currently? In this comprehensive review, we will examine every aspect of GoldSeek Mint.
Attention:  GoldSeek Mint has ceased operations. If you're looking for a world-class alternative precious metals company, our top recommendation is on this page.
What Is GoldSeek Mint?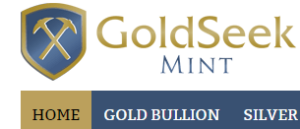 Founded in 2009, GoldSeek Mint is a privately-owned mint based in Houston, Texas. Since its inception, the company has struck over $10 million in quality bullion products. GoldSeek Mint launched its official website, GoldSeekMint.com, in 2013, allowing clients direct online access to pure gold and silver products. All of their bullion products have a fineness of.999 and are shipped promptly and securely to clients in the United States.
GoldSeek Mint Review Summary
Location:
Houston, Texas
Address:
GoldSeek Mint & Vault LLC
PO Box 966
Simonton, Texas, 77476
Year Founded:
2009
Management:
Unknown
Website:
www.goldseekmint.com/
Rating:
[usr 2]
Click Here to Read about Our Top Rated Precious Metals Firm
GoldSeek Mint Products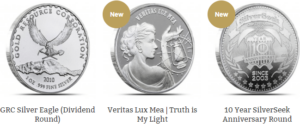 GoldSeek Mint primarily mints pure gold and silver bullion rounds of investment quality. Since they do not source from vendors or other mints, they offer all of their products directly from their inventory. Thus, you are guaranteed genuine gold and silver rounds of superior quality. Rounds such as the GRC Gold Eagle, Veritas Lux Mea Silver Round, SilverSeel 10-Year, and GRC Silver Eagle are among the available products.
How Does It Work?
The three stages involved in placing an order from the GoldSeek Mint's online store are as follows.
Ordering
The ordering process on the company's website is simple, fast, and secure. The online store is accessible 24 hours a day, allowing you to place an order at any time. You should create an online account before selecting and adding products to your shopping cart. Calling in your order is an alternative method of ordering.
Payment
After adding items to the cart, it is time to proceed to purchase and make payment. The accepted payment methods include bank wire and credit card, among others.
Shipping
After payment, the final stage is to wait for your items to be delivered to your address. All GoldSeek Mint orders are shipped discretely and insured via UPS.
Pros of GoldSeek Mint
GoldSeek Mint mints its own products. You purchase directly from the source hence the products will be a lot cheaper
The firm boasts an extensive inventory of fine investment-quality bullion. They only sell .999 fine bullion with brilliant design work.
GoldSeek Mint has been a global leader in precious metals deals for many years, therefore has gained massive trust from clients.
They've got a simple and user-friendly online ordering system
Great customer support
Limited-time offers are available
Cons of GoldSeek Mint
They lack customer reviews and ratings online
Not accredited with the BBB
Does not offer platinum and palladium products
Precious metals IRAs are not offered
GoldSeek Mint Ratings & Reviews
GoldSeek Mint is not accredited by the BBB and the review site contains no consumer reviews, ratings, or complaints about the company. Similarly, the company lacks reviews or ratings on other major online review platforms such as Yelp, Trustpilot, Trustlink, and the Business Consumer Alliance (BCA).
Is GoldSeek Mint Legit or Scam?
GoldSeek Mint is a legitimate business and not a scam. They have been in business for many years and have a reputation for providing high-quality products.
GoldSeek Mint Alternatives
Conclusion
GoldSeek Mint is a privately-owned mint based in Houston, Texas. Since its inception in 2009, the company has struck over $10 worth of investment-grade gold and silver products. In addition, they have an intuitive online ordering system and excellent customer service.
On the downside, GoldSeek Mint lacks reviews and ratings and does not sell platinum or palladium products.