Are you contemplating the purchase of gold, silver, or other precious metals from Royal Mint Bullion? How do they stack up against other precious metals dealers? In this review, we examine Royal Mint Bullion's products, services, and storage facilities, as well as consumer reviews, complaints, and ratings. Find out if this company is reputable or fraudulent by reading on.
What Is Royal Mint Bullion?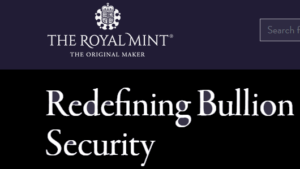 Royal Mint Bullion is a British precious metals dealer that also operates as a mint. The company was founded in 886 A.D. (over 1100 years ago), and the British government owns it. As a result, the British public has tremendous faith in them. Royal Mint Bullion is also involved in minting the country's currency coins, commemoratives, and collectibles, in addition to generating bullion bars and coins for investment purposes.
Royal Mint Bullion Products
The majority of Royal Mint Bullion products are bars and coins of gold, silver, and platinum, in addition to collectibles. As the largest mint in the world, the company offers a wide variety of products and a website that is simple to navigate. Using the website's search bar, you can quickly find the coins or bars you desire. Additionally, through their DigiGold online trading platform, you can trade gold directly from your computer or mobile device.
According to Royal Mint Bullion, your products' security comes first. Therefore, the company provides safe and secure storage vaults for your belongings. When you visit their website to access your vault, you will be subjected to stringent security checks, including biometric scanning, to ensure that only you have access.
Does It Offer Precious Metals IRAs?
As its primary business is the sale of precious metals, Royal Mint Bullion does not offer precious metals IRAs. If you wish to open a gold or silver IRA, we advise you to work with a U.S. company that not only sells precious metals but also provides custody services. Click the link below to learn more about our number one recommended Gold and Silver IRA provider.
Find Out Our #1 Recommended Precious Metals IRA Provider Now>
Company Info
Location:
Llantrisant, United Kingdom
Address:
Ynysmaerdy, Pontyclun CF72 8YT, United Kingdom
Year Founded:
886 AD
Managers:
Anne Jessopp (CEO)
Website:
www.royalmint.com
Rating:
[usr 2.5]
How Does Royal Mint Bullion Work?

As stated, Royal Mint Bullion's website is aesthetically pleasing and extremely user-friendly. Thus, purchasing precious metals requires only a few minutes of account creation, searching for coins or bars, adding them to the shopping cart, and concluding payment.
Pros of Royal Mint Bullion
Professionally Designed Website
Their website is expertly designed and straightforward to navigate. You can easily locate what you want, the checkout process is streamlined, and you can pay immediately with a credit card or wire transfer.
Large Selection of Products
You can expect Royal Mint Bullion, which has been in business for over 1100 years, to have every product in stock. Undeniably, they possess a vast assortment of bullion bars, coins, collectibles, and other items.
They Are Backed By the Government
As a government-owned company, Royal Mint Bullion has the government support that has ensured its survival for centuries. There is no doubt that Royal Mint Bullion will continue to exist for many years to come.
They offer Secure Storage
They provide their own storage vault that is extremely secure and guarded around the clock. Even their website is equipped with multiple security measures to protect your assets to the fullest extent possible.
You Can Trade Gold Right from Your Computer
Through their DigiGold platform, you can trade gold bars securely from your laptop or smartphone.
Cons of Royal Mint Bullion
Poor Customer Reviews and Ratings
There are a large number of negative reviews and ratings, predominantly on Trustpilot. Sixty-four percent of over 230 customer reviews are negative.
Several Royal Mint Bullion customers have resorted to online forums to express their dissatisfaction with the company's customer service. Some customers have complained that the company takes too long to resolve issues, while others claim that Royal Mint Bullion neglected their emails and phone calls.
Does Not Offer Precious Metals IRAs
Those who desire to diversify their retirement portfolios will be at a disadvantage because they do not offer precious metals IRAs. We advise you to instead choose a US-based IRA provider. Here you can view our number one recommendation.
Royal Mint Bullion Reviews & Ratings
There are no reviews, ratings, or complaints about Royal Mint Bullion on Trustlink, the BBB, or the BCA. Trustpilot is the only other independent third-party platform with reviews of the company, where they boast a 2.5-star rating based on 550 customer reviews and complaints. Here are some Trustpilot screenshots: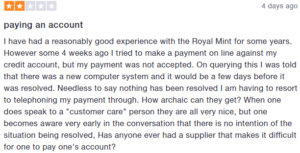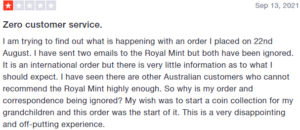 Is It Worth Buying Gold from Royal Mint Bullion?
As we've seen, Royal Mint Bullion possesses both positives and negatives, which is typical for an established company. However, we are significantly more concerned about the most recent customer reviews and ratings, as they portray an extremely negative picture of the company. According to recent Trustpilot evaluations, the company appears to have lowered its standards in the recent past.
Is Royal Mint Bullion Legit or Scam?
Royal Mint Bullion is a legitimate business. As it is owned by the British government, it could never be a fraud.
Royal Mint Bullion Alternatives
Conclusion
Royal Mint Bullion is a precious metals dealer owned by the British government. Since 886 A.D., they have been predominantly engaged in the sale of bullion coins and bars, in addition to the production of currency coins.
Recent reviews and complaints indicate the company has lowered its standards, despite its lengthy history and reputation. For example, Royal Mint Bullion has been accused of providing subpar customer service and low-quality products.