Are you looking for a reputable precious metals firm to help you diversify your investment portfolio with gold, silver, palladium or platinum? Wall Street Metals IRA is one of the companies you might be considering. But, are they actually legit? How are their customer ratings? Read this Wall Street Metals IRA review to get all the facts.
If you'd like to skip straight to our #1 rated Gold IRA Company, check out this page.
What Is Wall Street Metals IRA?

Wall Street Metals IRA is a precious metals IRA provider based in New York City, New York. The firm was founded by Joe Pannu (current CEO), a precious metals expert. Joe's main reason for establishing Wall Street Metals IRA was to offer a unique business model devoid of the exorbitant commissions charged by other precious metals IRA firms. Their inventory mainly comprises IRA-approved bullion coins such as American Gold Eagles.
Wall Street Metals IRA Review Summary
Location:
New York City, New York
Address:
20th Floor, 14 Wall St #7525, New York, NY 10005, United States
Year Founded:
Unknown
Management:
Joe Pannu (Founder & CEO)
Website:
www.wallstreetmetalsira.com/
Rating:
[usr 4] Not Recommended
Click Here to See Our Top Recommended Gold & Silver IRA Provider
Wall Street Metals IRA Products
Wall Street Metals IRA boasts a large selection of gold, silver, platinum and palladium bullion products- most of which are eligible to be held in an IRA. Below, we've listed some of their currently available bullion coins and bars. For more information, you can visit their online catalog.
Gold Bullion
Canadian Gold Elk Coin
Canadian Gold Roaring Grizzly Coin
Canadian Gold Growling Cougar Coin
Canadian Gold Howling Wolf Coin
American Gold Buffalo
Gold Canadian Maple Leaf Coin
American Gold Eagle Coin
British Gold Britannia Coin
10-oz Credit Suisse Gold Bar
10-oz PAMP Suisse Fortuna Gold Bar
Silver Bullion
Silver American Eagle Coin
Canadian Silver Maple Leaf Coin
British Silver Britannia Coin
Canadian Silver Polar Bear and cub Coin
Canadian Silver Falcon Coin
Canadian Silver Grizzly Bear Coin
Austrian Silver Philharmonic Coin
10-oz PAMP Suisse Silver Bar
100-oz ASAHI Silver Bar
Platinum Bullion
American Platinum Eagle Coin
Canadian Platinum Maple Leaf Coin
10-oz Credit Suisse Platinum Bar
50 Gram Valcambi Platinum Bar
10-oz Engelhard Platinum Bar
Palladium Bullion
American Palladium Coin
Canadian Palladium Maple Leaf Coin
1-oz Palladium Bar
1 Gram Palladium Bar
How to Get Started
Setting up a precious metals IRA with Wall Street Metals IRA involves 3 simple steps. To get started, you need to first call the company to have all your questions and concerns addressed. Their experienced IRA experts will guide you from the start to completion of the set up process.
Wall Street Metals IRA Custodian & Storage
The Company partners with Equity Trust, New Direction IRA, STRATA Trust, GoldStar Trust and other IRS-approved administrators to offer custodial services. As for storage, Wall Street Metals IRA partners with the Delaware Depository to offer insured, secure storage.
Wall Street Metals IRA Fees
Pros of Wall Street Metals IRA
Wide selection of IRA-approved bullion coins and bars
Free customer education offered through Charts, FAQs and free metals IRA guide
Great customer support offered through phone, email and live chat
Does not charge commissions
Cons of Wall Street Metals IRA
Limited reviews and ratings online
Not BBB accredited
Bullion pricing information not available on the website
Wall Street Metals IRA Reviews, Ratings & Complaints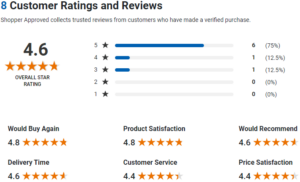 BBB: N/A
BCA: N/A
Trustpilot: N/A
Trustlink: N/A
Yelp: N/A
ShopperApproved: [usr 4.6] (view details)
Check Out Our #1 Rated Precious Metals IRA Firm. Click Here>>>
Is Wall Street Metals IRA Legit or Scam?
Wall Street Metals IRA is not a scam. It is a legit precious metals IRA provider offering top quality products and services.
Wall Street Metals IRA Alternatives
Wall Street Metals IRA Reviews- Summary
Wall Street Metals IRA is a precious metals IRA Company based in New York City, NY. The firm offers high quality bullion whilst employing a very unique business model whereby they don't charge commissions. Also, they offer great customer support, as well as free customer education.
On the downside, Wall Street Metals IRA lacks reviews and ratings online. Besides, product pricing information is not available on their website.