Is Dillon Gage a legit precious metals company? Should you purchase from them or choose another company? Find out everything you need to know in our objective Dillon Gage reviews.
What Is Dillon Gage?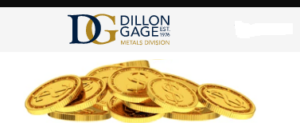 Located in Addison, Texas, Dillon Gage is a leading wholesaler of precious metals such as gold, silver, platinum, and palladium. In addition to precious metals refining, the company provides assaying and stone removal services. In addition, Dillon Gage provides custody and storage services for precious metals in collaboration with International Depository Services, Goldstar Trust Company, Equity Institutional, New Direction Trust Company, and CamaPlan. Dillon Gage has served precious metals dealers, financial institutions, and brokerage firms worldwide since 1976.
Dillon Gage Review Summary
Location:
Addison, Texas
 Address:
15301 N. Dallas Pkwy., Ste. 200
Addison, TX 75001
Management:
Steve Miller (President)
Year Founded:
1976
Website:
www.dillongage.com
Rating:
[usr 3]
Here's Our #1 Rated Precious Metals IRA Provider>
Dillon Gage Products & Services

Dillon Gage offers an extensive selection of gold, silver, palladium, and platinum bullion in addition to numismatics. In addition to a secure storage facility, they also offer precious metal refining services. Most of the company's products can be held in an IRA and include American Gold Buffalo, American Gold Eagle, Canadian Silver Maple Leaf, Palladium Maple Leaf, Palladium American Eagle, and numerous other products. IRAConnect, Dillon Gage's advanced technology service, enables clients to rapidly establish precious metals IRAs.
How to Get Started
Dillon Gage has an e-commerce website where customers can establish an account and buy metals online. Alternately, you can install their recently introduced online trading app, FizTrade, which is compatible with both mobile and desktop devices. FizTrade facilitates the purchase and sale of precious metals as well as access to a vast array of business management tools.
Pros of Dillon Gage
Wide Range of Products & Services
Available metals include gold, silver, platinum, and palladium. In addition, they provide IRA services, storage, and refining services.
Their FizTrade app is so efficient that it enables trading in precious metals in real-time. Additionally, the application is readily installable on desktop and mobile devices.
Dillon Gage values customer education and, as a result, has a 'knowledge center' and an insightful blog where clients can obtain free advice and information before investing in precious metals.
Cons of Dillon Gage
Limited Reviews and Ratings
Despite having been in business for nearly half a century, there are very few reviews of Dillon Gage on reputable review sites such as Yelp.com.
In addition to lacking reviews and ratings, Dillon Gage lacks BBB accreditation, an essential trust indicator. Before conducting business with a company, the majority of people consult the BBB to verify the company's accreditation.
Accreditation, Client Reviews & Ratings
In this section, we will briefly examine Dillon Gage reviews on the Better Business Bureau (BBB) and other reputable online review platforms.
Dillon Gage is not accredited by the BBB and does not have any reviews or complaints on the platform. Similarly, there are no reviews on Business Consumer Alliance, Trustpilot, or Trustlink. They are rated three out of five stars on Yelp based on two customer reviews.
BBB: 0 Reviews
BCA: 0 Reviews
Trustlink: 0 Reviews
Trustpilot: 0 Reviews
Yelp: 3/5 Rating, 0 Reviews
Is Dillon Gage a Scam?
Dillon Gage is a legitimate precious metals company that has been operating for over 40 years.
Alternatives to Dillon Gage 
Dillon Gage Reviews Conclusion
Dillon Gage is a Texas-Addison-based precious metals company that offers precious metals as well as precious metals refining services. In addition to precious metals IRA services, the company has been offering a wide variety of coins and bars since its founding in 1976. Their only disadvantages are their lack of BBB accreditation and limited online reviews.
Are you looking to open a Precious Metals IRA? Check Out Our Top-Rated Company Now>