Do you want to collaborate with FideliTrade to meet your investment objectives? Is this a genuine precious metals business or a scam? To make an informed investment decision, you can use the information in this FideliTrade reviews, which covers everything you need to know about the company.
What is FideliTrade?

FideliTrade, also known as FideliTrade Incorporated, is a full-service precious metals company serving individuals, advisors, banks, and brokers. The company was established in 1997 and is located in Wilmington, Delaware. Other than selling bullion products, FideliTrade assists retirement savers to set up gold and silver IRA accounts. They also provide free client education through their "Learning Center" wherein you'll find insightful videos, FAQs, and articles. One unique feature of FideliTrade is its quality bullion sourced directly from government and commercial mints.
If you'd like to skip to our #1 rated Gold IRA Company instead, Click here.
FideliTrade Review Summary
Location:
Wilmington, Delaware
Address:
3601 N Market St, Wilmington, DE 19802, United States
Year Founded:
1997
Management:
Jonathan Potts (President)
Website:
www.fidelitrade.com/
Rating:
[3/5]
Check out Our Top Rated Gold & Silver IRA Provider Here>
FideliTrade Products 

FideliTrade mainly offers gold, silver, platinum, and palladium bullion coins and bars. Examples include Gold American Eagle, Gold Canadian Maple Leaf, Gold South African Krugerrand, Gold Austrian Philharmonic, Gold Australian Kangaroo, 1 Kilo Gold Bullion Bars, Silver American Eagle, Silver Canadian Maple Leaf, 1000-oz Silver Bullion Bars, Platinum American Eagle, 1-oz Platinum Bullion Bars, Palladium Canadian Maple Leaf, and 1-oz Palladium Bullion Bars.
How to Get Started?
It seems like FideliTrade's website is designed for informational purposes only as there's no shopping cart available. Thus, to place orders or open a precious metals IRA account, you must contact the company for guidance.
Does FideliTrade Offer Precious Metal IRAs?
Yes, FideliTrade facilitates the precious metals IRA setup process by partnering with approved custodians and depositories. They will help you through the account creation process and funds transfer process, as well as provide IRA-approved bullion.
FideliTrade Custodian & Storage Options
FideliTrade does not have a preferred custodian. Instead, the choice of a custodian is at your discretion. As regards depository services, the firm partners with the Delaware Depository to offer both segregated and non-segregated storage.
FideliTrade Storage & IRA Fees
Who Owns FideliTrade?
According to the official website, Jon Potts is the owner and president of FideliTrade. He bought the company back in 1997 from Wilmington Trust and transformed it into a hugely successful company, currently employing more than 50 people.
FideliTrade Customer Support
FideliTrade claims to offer world-class customer service; their members of staff have a cumulative experience of 300 years in precious metals trading. Furthermore, their employees are incentivized for service, not sales, which motivates them to serve clients without bias.
Pros of FideliTrade
A wide array of IRA-approved gold, silver, palladium, and platinum bullion
Insightful "Learning Center" equipped with articles, FAQs, and videos
More than 2 decades in business is sufficient proof that the company is not only legit but reliable
Highly accomplished members of staff boasting a cumulative experience of 300 years
Offers secure, insured storage through the Delaware Depository
Authorized Purchaser of the US Mint
BBB accredited since 2016
Cons of FideliTrade
Does not have an online shop
They don't have a preferred IRA custodian, leaving customers with the hardship of finding a reputable one
Limited reviews and ratings on the BBB and other online platforms
No live chat support on the website
Click Here To Learn About Our Top Rated Gold IRA Company
Client Reviews, Complaints & Ratings
Despite its BBB accreditation, FideliTrade doesn't have many reviews online. We only found a handful of reviews on the BBB and Glassdoor.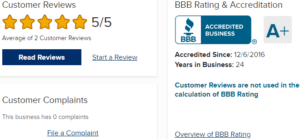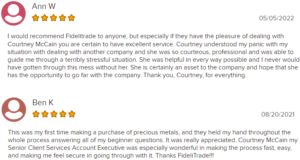 BBB: [usr 5] based on 2 reviews 
Glassdoor: [usr 4.4] based on 3 employee reviews
BCA: N/A
Trustpilot: N/A
Yelp: [usr 0] 
Trustlink: N/A
Click Here to See our #1 Rated Gold IRA Firm
Frequently Asked Questions 
Is FideliTrade Legit or Scam?
With over 20 years in business, FideliTrade is obviously not a scam. They are a legit precious metals company and one of the few dealers who are authorized purchasers of the United States Mint.
Alternatives to FideliTrade 
FideliTrade Reviews Conclusion
FideliTrade is a bullion dealer and precious metals IRA provider based in Wilmington, Delaware. The firm was established in 1997 and offers gold, silver, palladium, and platinum products. They are an authorized purchaser of the US Mint and boast a team of highly experienced employees.
On the downside, FideliTrade lacks customer ratings and reviews online. Moreover, they don't have an e-commerce platform.