Is Equity Institutional (Equity Trust Company) legit or scam? Is it the ideal firm for you to set up your precious metals IRA? How are they rated on third party consumer protection reviews websites? Please read this review carefully to get the lowdown about Equity Institutional.
What Is Equity Institutional?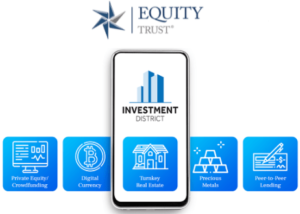 Equity Institutional, also known as Equity Trust Company, is one of the oldest self-directed IRA account providers based in Westlake, Ohio. The company was founded in 1974 by Richard Desich and currently manages more than 10 billion in client assets. Equity Institutional was established with the aim of providing clients with an easy-to-use as well as a cost-effective alternative assets investing platform.
Company Info
Location:
Westlake, Ohio
Address:
1 Equity Way, Westlake, OH 44145-1050
Year Founded:
1974
Management:
George Sullivan (CEO), Elizabeth Jerdonek (CAO)
Website:
www.trustetc.com
Overall Rating:
[usr 2] Not Recommended
Find out our top-rated precious metals IRA provider on this page
Equity Institutional products & Services
Equity Institutional offers different types of self-directed IRAs, as well as customer education through live workshops, case studies and webinars. Some of their IRA accounts include Traditional IRA, Roth IRA, SIMPLE IRA, SEP, HAS and CESA. Available investment options at Equity Institutional include Mutual Funds, Precious Metals, Real Estate, Forex, Cryptocurrencies, REITs, ETFs, Promissory Notes and much more.
How Equity Institutional Works

The first step to opening a self-directed IRA with Equity Institutional is checking eligibility requirements and deciding on the type of account you want to open. Once you've decided, setting up an account and investing is quite easy, and involves a simple three-step process as outlined below.
Opening Your Account
You first need to set up your account online by providing personal information. Their account application wizard will guide you throughout the whole process. Providing that you completed the application form as required, Equity Institutional will then activate your account within 3 business days.
Funding Your Account
In the second step, you are required to fund your self-directed IRA account. Available funding options include transfer, IRA rollover and out-of-pocket contribution.
Investing
Once you've created and funded your account, it's now time to invest. You now have the freedom to diversify your portfolio with alternative assets of choice.
Pros of Equity Institutional         
Online account set up at Equity Institutional is simplified into a 3-step process which takes less than 10 minutes. Besides, their online account set up wizard will guide you through each and every step of the process.
Multiple Investment Options
Through their various self-directed IRA and retirement accounts, Equity Institutional provides clients with a great opportunity to diversify their portfolios through investing in various alternative and traditional assets.
The company offers customer education through their official website, aimed at helping you excel in alternative assets investing.  Education is offered via how-to guides, webinars, live workshops, case studies etc.
Experienced Account Executives
Equity Institutional boast a team of knowledgeable account executives to help you get started with self-directed IRAs. All you have to do is schedule a one-on-one consultation through their website and all your questions will be addressed.
Equity Institutional is nearly half a century old, thus, the company has a rich history and has gained a lot of trust.
Cons of Equity Institutional
Numerous Customer Complaints and Negative Reviews
We were utterly shocked to find out that Equity Institutional has numerous complaints and negative reviews on most third party consumer protection platforms including the BBB, Trustlink and Yelp. Most of the complainants decry exorbitant fees as well as poor customer service.
Not Accredited With the BBB
The firm is not accredited with the BBB, one of the most trusted consumer protection websites.
Not Transparent About IRA Fees
They have not disclosed IRA fees on their website, which is quite shady. As a savvy investor you should always opt for a company that fully discloses their IRA fees to avoid getting scammed through the so called 'hidden fees'. You can check out our #1 recommended firm with lowest flat rate fees on this page.
Equity Institutional Reviews, Accreditation and Ratings
Equity Institutional is not accredited with the BBB. They do have 84 customer reviews and 34 customer complaints on the platform. On Yelp.com, they have a 1.5 out of 5 star rating based on 143 customer reviews, while on Trustlink, they are rated 1 star based on two negative reviews.


However, Equity Institutional boasts am impressive 4 out of 5 stars rating on Trustpilot based on 498 reviews. The company is neither rated nor accredited with the Better Business Bureau.


Is Equity Institutional Ideal for Setting Up Your Precious Metals IRA?
Equity Institutional might be one of the oldest firms with a great history, but its current rating on most review websites is underwhelming. They have multiple complaints and negative reviews across many platforms which is quite disappointing. Also the firm is not transparent about their IRA fees which is quite suspicious. You can click the link below to learn about our top-recommended firm that has got low flat rate fees as well as excellent customer ratings.
Click here to see out top-recommended precious metals IRA firm
Is Equity Institutional Legit or Scam?
Other than having real owners and a physical address, Equity Institutional also has stood the test of time, which confirms that they are actually legit and not a scam.
Equity Institutional Reviews- Conclusion
Equity Institutional is one of the oldest self-directed IRA custodians. The company offers multiple investment options for clients wishing to diversify their portfolios with alternative and traditional assets.
Despite their rich history and trust, the company seems to have dropped the ball lately. For instance, they lack a BBB accreditation and have numerous complaints and negative reviews across various consumer protection websites. Furthermore, Equity Institutional are not forthright about their IRA fees which is quite dubious.