Is Equity Institutional a scam or a legitimate company? Is it the best company for you to open a precious metals IRA? How are they evaluated on independent consumer protection review websites? Please take the time to peruse this review in order to gain a comprehensive understanding of Equity Institutional.
What Is Equity Institutional?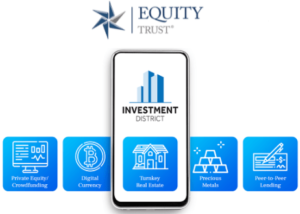 Equity Institutional, also known as Equity Trust Company, is one of the earliest providers of self-directed IRA accounts based in Ohio. Richard Desich founded the company in 1974, and it presently manages more than $10 billion in client assets. Equity Institutional was founded with the intention of providing clients with a user-friendly and cost-effective platform for investing in alternative assets.
Company Info
Location:
Westlake, Ohio
Address:
1 Equity Way, Westlake, OH 44145-1050
Year Founded:
1974
Management:
George Sullivan (CEO), Elizabeth Jerdonek (CAO)
Website:
www.trustetc.com
Overall Rating:
[usr 2]
Find Out Our Top-Rated Precious Metals IRA provider On This Page>
Equity Institutional Products & Services
Equity Institutional provides numerous varieties of self-directed IRAs in addition to customer education via live workshops, case studies, and webinars. There are Traditional IRA, Roth IRA, SIMPLE IRA, SEP, HAS, and CESA accounts among their IRAs. Equity Institutional offers numerous investment options, including Mutual Funds, Precious Metals, Real Estate, Forex, Cryptocurrencies, REITs, ETFs, Promissory Notes, and many others.
How Does Equity Institutional Work?

Checking eligibility requirements and deciding on the type of account you wish to establish is the first step in opening a self-directed IRA with Equity Institutional. Creating an account and investing is a straightforward three-step process once you've made a decision, as outlined below.
Opening Your Account
You must first create an online account by providing personal information. Their application wizard will guide you through the entire procedure. Equity Institutional will then activate your account within three business days, assuming you've completed the application form as required.
Funding Your Account
You are required to fund your self-directed IRA account in the second stage. Transfer, IRA rollover, and out-of-pocket contributions are among the available funding alternatives.
Investing
After creating and funding your account, the next step is to invest. You can now diversify your portfolio with alternative assets of your choosing.
Pros of Equity Institutional         
At Equity Institutional, setting up an online account is a three-step procedure that takes less than ten minutes. In addition, their online account setup assistant will walk you through every stage of the process.
Multiple Investment Options
Through their numerous self-directed IRA and retirement accounts, Equity Institutional offers clients a fantastic opportunity to diversify their portfolios by investing in a variety of alternative and conventional assets.
On its official website, the company provides consumer education designed to help you excel in alternative asset investing. Education is provided through how-to guides, webinars, live workshops, case studies, etc.
Experienced Account Executives
Equity Institutional has a team of experienced account executives who can assist you in opening a self-directed IRA. Simply schedule a one-on-one consultation via their website, and all of your queries will be answered.
Cons of Equity Institutional
Numerous Customer Complaints and Negative Reviews
We were astounded to discover that Equity Institutional has numerous complaints and negative reviews on the majority of third-party consumer protection websites, such as BBB, Trustlink, and Yelp. The majority of complainants criticize exorbitant fees and poor customer service.
Not Accredited By the BBB
The company is not accredited by the BBB, one of the most reliable websites for consumer protection.
They have not disclosed IRA fees on their website, which is unscrupulous. As a shrewd investor, you should always choose a firm that discloses its IRA fees in full to avoid being duped by so-called "hidden fees."
Equity Institutional Reviews, Accreditation, and Ratings
Equity Institutional lacks BBB accreditation. The BBB platform contains 112 customer reviews and 152 customer complaints against Equity Institutional. On Yelp.com, they have a rating of 1.5 out of 5 stars based on 222 customer reviews, whereas, on Trustlink, they have a rating of 1 out of 5 stars based on two negative reviews. And based on 616 reviews on Trustpilot, Equity Institutional has an impressive 3.4 out of 5 star rating.




Is Equity Institutional Appropriate for Establishing a Precious Metals IRA?
Equity Institutional may be one of the oldest companies with a rich history, but its current rating on the majority of review websites is subpar. Disappointingly, they have multiple complaints and negative reviews across multiple platforms. You can click on the link below to learn more about our top-recommended gold IRA company, which has low flat-rate fees and high customer ratings.
Click Here To View Our Top-Rated Precious Metals IRA Provider>
Is Equity Institutional Legit or a Scam?
In addition to having genuine owners and a physical address, Equity Institutional has also withstood the test of time, proving that they are not a scam.
Equity Institutional Alternatives
Conclusion
Equity Institutional is one of the earliest custodians of self-directed IRAs. For clients seeking to diversify their portfolios with alternative and traditional assets, the company provides a variety of investment opportunities.
Despite its long history and reputation for reliability, the company appears to have lost its way recently. For example, they are not accredited by the Better Business Bureau and have numerous complaints and negative reviews on consumer protection websites. In addition, Equity Institutional's IRA fees are not disclosed, which is highly suspect.