uDirect IRA Services LLC is one of the most competitive IRA administrators in California offering investors and professionals invaluable information on self-directed IRAs. But are they good enough for you to invest with them? Read our uDirect IRA Services review to find out if they're the ideal company for you.
What is uDirect IRA Services?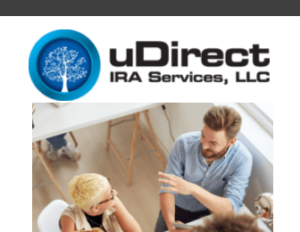 uDirect IRA Services LLC is a third-party self-directed IRA administrator founded in 2009 by Kaaren Hall. The company is actively involved in education of individual investors and professionals through webinars, live events, weekly newsletters, YouTube Videos, social media and udirectira.com's blog. Over the years, uDirect IRA Services LLC has helped thousands of Americans make the most out of their retirement money by investing in alternative assets such as real estate and precious metals– through a self-directed IRA.
uDirect IRA Services Review Summary
Location:
Irvine, California
Address:
8 Corporate Park #210, Irvine, CA 92606, United States
Year Founded:
2009
Management:
Kaaren Hall (President)
Website:
www.udirectira.com
Rating:
[usr 4]
Click here to find out our top gold & silver IRA provider that got lowest one time flat fee
uDirect IRA Services LLC Products & Services
In addition to educating investors and providing the necessary tools, uDirect IRA Services also offers multiple account types to make self-direction easy. Some of the accounts available include Traditional IRA, SEP IRA, Simple IRA, Spousal IRA, Individual 401 (k), Roth IRA and IRA-Owned LLC. Allowable investment vehicles at uDirect IRA Services include real estate, land, Tax Liens, Precious Metals, Private Placement, Trust Deeds, Private Lending, oil and gas investments and a lot more.
How It Works
uDirect IRA Services works just like most other third party administrators whereby all account set up forms are availed online. All you need to do is to visit their website, create an account and go on to the 'forms' section.  From there, you can download the form corresponding to the type of account you wish to open, duly fill it and send it back to uDirect IRA Services for review and approval. uDirect IRA Services representatives will help you to quickly and easily set up your account.
Click here to see our top recommended company for gold & silver IRAs
uDirect IRA Services Fees
uDirect IRA Services LLC is one of the companies that provide an elaborate and easy to understand fee structure. Basically, they charge a $50 dollar account set up fee and a $275 annual fee. Moreover, they require you to maintain a minimum account balance of $325.
However, you need to bear in mind that the above are basic fees only. Your account may still incur other fees including monthly storage fees, account termination fees and much more. For a more elaborate fee schedule, refer to uDirect IRA Services's official website.
Pros of uDirect IRA Services
The company boast excellent customer reviews and ratings on some of the largest online review websites such as Yelp and Trustlink. What is more, uDirect IRA Services is accredited with the BBB.
Values Investor Education
uDirect IRA Services values investor education hence have invested in an informative blog. Besides, the company provides invaluable information via weekly newsletters, YouTube, social media channels, live events and webinars.
They boast a user friendly website that allows you to easily download, complete and submit forms online.
Excellent Customer Support
uDirect IRA Services have knowledgeable customer care staff who are ready to answer your questions and assist you in setting up your self-directed IRA. Also, their website supports live chat support which greatly enhances communication.
Cons of uDirect IRA Services
Does Not Offer Crypto IRAs
Sadly, uDirect IRA Services does not offer Bitcoin IRAs despite Bitcoin's current popularity, which is highly disadvantageous for crypto enthusiasts.
Despite the excellent reviews, we also noted that there are many customer complaints as well, with many complainants decrying tough terms and conditions when they want to 'transfer out' of uDirect IRA Services.
uDirect IRA Services Reviews, Complaints and Ratings

uDirect IRA Services boast an A+ rating from the BBB, even though they have 2 customer complaints and 0 customer reviews on the platform. They are rated 4/5 stars on Yelp based on 47 reviews. On Trustlink, they are rated 4.8/5 stars based on 51 reviews, while on BCA, they are rated AAA. The company lacks reviews, ratings or complaints on Trustpilot.
Related: AltoIRA Reviews
uDirect IRA Services Reviews Conclusion
uDirect IRA Services LLC is a third party IRA administrator based in Irvine, California. They not only assist you to set up self-directed IRAs, they also actively educate you and furnish you with complete and accurate information on self-directed IRAs to help you make the most of your retirement funds.
Despite offering numerous account types and customer education, uDirect IRA Services does not offer Bitcoin IRAs, which is a blow to those seeking to invest in Bitcoin. Also, the company has been accused of harsh terms and condition when customers decide to move out.