What is Jefferson Coin (JSCGOLD)? A precious metals company you can trust or a scam? What are their products and services? Find the answers to all these questions and more in this detailed Jefferson Coin review.
What Is Jefferson Coin?

Jefferson Coin, commonly referred to as JCSGOLD or Jefferson Coin Shop, is a family-owned precious metals firm located in Charlottesville, Virginia. It was founded in 1962 by Mac Luck and has since grown to be one of the largest precious metal dealers in the United States. The company's goal is to offer top-quality gold and silver coins whilst building lasting relationships with its customers.
Does Jefferson Coin Offer Precious Metal IRAs?
According to their website, Jefferson Coin offers coins and bars for personal investment, but no precious metals IRAs. If you are looking to open a gold or silver IRA, we recommend Goldco, our top-rated precious metals IRA provider. Click the link below to learn more about Goldco.
Click Here To Learn More About Goldco, Our #1 Rated Gold IRA Firm
Jefferson Coin Review Summary
Location:
Charlottesville, Virginia
Address:
1718 Seminole Trail, Charlottesville, VA 22901, United States
Year Founded:
1962
Management:
Mac Luck (Founder)
Website:
www.jcsgold.com/
Rating:
[usr 3.5] Not Recommended
Click Here To See Our Top Rated Gold & Silver IRA Provider
Jefferson Coin Products
Jefferson Coin initially offered gold and silver, but they recently added palladium and platinum to their inventory. They buy and sell bullion and rare coins, mainly through their official website- equipped with modern e-commerce software. Below are some examples of Jefferson Coin's products.
Gold
American Gold Eagle
Canadian Maple Leaf
Gold Krugerrand
Gold Philharmonic
Austria Gold Ducat
Pre-1933 Gold Coins
1-oz Perth Gold Bar
1-oz Royal Canadian Mint Gold Bar
Silver
.999 Silver Rounds
Silver Buffalo
Silver Maple Leaf
American Silver Eagle
90% Silver Coins
1 Kilo Silver Bars
Platinum
1-oz Platinum Eagles
1-oz Valcambi Platinum Bar
Palladium
How It Works
You can place orders on the phone, on the official website, or by visiting their storefront in Charlottesville, VA. The most preferred ordering platform is obviously the official web store as it provides a hassle-free way to place orders. Besides, their e-commerce site has all the crucial information you would need such as coin and bullion prices, price charts, and shipping rates. Accepted payment options include, Check, Money Order, Cashier's Check, Bank Wire, Credit Card, Debit Card, and PayPal.
Jefferson Coin Shipping Options
JCSGOLD orders are mainly shipped via U.S. Postal Service. However, higher-value items are sent through Registered U.S. Mail. Also, free shipping is offered for orders of $5000 and above. The table below shows Jefferson Coin's current shipping rates.
Pros of Jefferson Coin Shop
Great selection of gold, silver, palladium, and platinum coins and bars
Free shipping for orders worth $5000 and above
User-friendly online shop
Buys gold and silver at great prices
Has been in business for over 60 years
Cons of Jefferson Coin Shop
Lacks reviews and ratings on the Better Business Bureau (BBB) and other trusted Consumer Protection Websites
Does not offer precious metals IRAs
Not BBB accredited
Click Here To See Our #1 Rated Precious Metals Firm
Jefferson Coin Reviews & Ratings
Surprisingly, Jefferson Coin lacks an online presence despite having been in business since 1962. Their BBB rating is zero as they are not accredited and have no reviews or complaints on the platform. However, they do have an excellent 5/5 stars rating on Yelp but based on only 6 reviews. They have no profile on the BCA, Trustlink, and Trustpilot.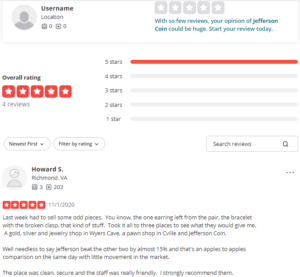 BBB: [usr 0]
Yelp: [usr 5] (view details)
BCA: N/A
Trustlink: N/A
Trustpilot: N/A
Is Jefferson Coin Legit or Scam?
Jefferson Coin Shop is not a scam. Their many years in the precious metals industry prove their legitimacy, credibility, and reliability.
Jefferson Coin Alternatives
Conclusion
Jefferson Coin is a family-owned precious metals company based in Charlottesville, VA. The firm has been in business since 1962, offering a large selection of gold, silver, platinum, and palladium bullion and collectibles. Also, they have a great online shop filled with all the information you would need while purchasing precious metals.
On the downside, Jefferson Coin lacks reviews, ratings, and accreditation online. Moreover, they don't offer precious metals IRAs.