Considering acquiring precious metals from Wholesale Direct Metals or establishing a Gold IRA? This exhaustive Wholesale Direct Metals review addresses all of your concerns about this firm. Here, we evaluate their dependability based on consumer reviews, complaints, and ratings.
What Is Wholesale Direct Metals?

Wholesale Direct Metals is a precious metals company based in Pacific Palisades, California. The company was established in 2006, making it one of the oldest precious metals companies in the United States. Wholesale Direct Metals has been able to provide its clients with high-quality products and services for nearly two decades due to the diligent efforts of its knowledgeable CEO, Damon Geller.
TIP: Avoid Scams! Find Out Our #1 Rated Gold IRA Firm Here>
Company Info
Location: Pacific Palisades, CA
Address: 881 Alma Real Drive, #305
Pacific Palisades, CA 90272
Website: https://www.wholesaledirectmetals.com/
Management: Damon Geller, CEO
Phone No:  (866) 873-1445
Products: South African Gold Krugerrand, American Gold Eagle, Canadian Gold Maple Leaf, American Silver Eagle, Silver Proof Eagle, Gold Proof Set, Gold Proof Eagle, and more.
Wholesale Direct Metals Products?

The company offers an extensive selection of precious metals, including the Gold Proof Eagle, Silver Proof Eagle, Gold Proof Set, American Gold Eagle, and numerous other bullion coins minted in the United States. Their customer service is dependable and can be reached via phone, email, or postal mail.
Wholesale Direct Metals Fees
For shipping and insurance, Wholesale Direct Metals charges a fixed $37 fee. However, we were unable to locate information regarding storage and administrative fees. Wholesale Direct Metals and Sterling Trust Company (recently renamed Equity Institutional) collaborate to provide precious metals IRA services.
Pros of Wholesale Direct Metals
The company has remarkably high BBB, BCA, and Trustlink ratings. Considering that these are the most reputable and reliable online review platforms, a top rating from any of them indicates that the company provides excellent products and services.
The majority of the bullion coins offered for investment by Wholesale Direct Metals are compliant with IRS regulations.
The company's chief executive officer, Damon Geller, is among the most experienced administrators in the precious metals industry. Damon is an expert on precious metals and has written several publications on investing in precious metals.
They provide multiple channels for contacting customer support. You can contact their support via phone or email at any time to have your concerns addressed.
As opposed to other companies that charge expensive sliding scale fees for storage and administration, they offer fixed rates.
Cons of Wholesale Direct Metals
Wholesale Direct Metals is not a real precious metals IRA custodian because it uses third parties to hold your precious metals.
Limited Selection of Products
Bullion coins and bars are scarce at Wholesale Direct Metals compared to our top-rated companies.
Is There a Better Alternative to Wholesale Direct Metals?
Yes, our top-rated precious metals company has the best ratings, the best customer service, and the most affordable gold and silver IRA fees. Click here for more information.
Customer Reviews and Ratings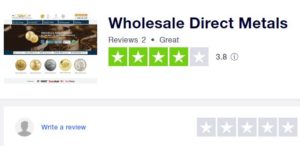 In this section of our Wholesale Direct Metals review, we investigate customer reviews and ratings on online review sites. Wholesale Direct Metals has no reviews or complaints with the Better Business Bureau and an A+ rating with the Business Consumer Alliance based on zero reviews. In addition, they have a Trustlink rating of 4.9 stars based on 20 customer reviews and a Trustpilot rating of 3.8 stars based on 2 reviews. Surprisingly, the company does not have any reviews on Ripoff Report, Google+, or Yelp.
Do We Recommend Wholesale Direct Metals For Establishing a Precious Metals IRA?
Wholesale Direct is a wonderful company, but we do not consider it to be among the best businesses we've reviewed on this website, primarily due to the disadvantages we've outlined above. Our top-rated precious metals IRA company has superior ratings and a reputation for providing superior customer service. Click here for more information.
Frequently Asked Questions
Is Wholesale Direct Metals a Scam?
No, they are a legitimate business that has been in operation for over a decade.
Alternatives to Wholesale Direct Metals
Wholesale Direct Metals Review Conclusion
Wholesale Direct Metals is one of the many precious metals companies reviewed on this site. It is considered one of the finest precious metals companies in the United States due to its many years of experience as well as its expert management.
However, the company's selection of metals and website layout are deficient, posing a challenge for investors seeking comprehensive information about precious metals. In addition, the company lacks reviews and ratings on reputable online review directories such as the Better Business Bureau.