Not certain if DBS Coins is the best place to purchase precious metals? Are they legitimate or scammers? Learn everything you need to know about DBS Coins in this detailed review.
What Is DBS Coins?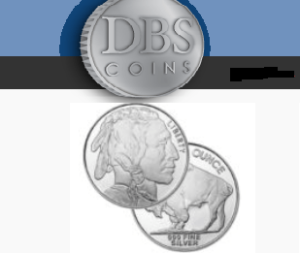 DBS Coins is a California-based precious metals dealer that was founded in 2008. The company offers an extensive selection of IRA-eligible bullion and rare coins. DBS Coins has developed an excellent online e-commerce platform that facilitates order placement. Additionally, their website is quite informative with pricing charts and a comprehensive FAQ section.
DBS Coins Review Summary
Location:
Dana Point, California
Address:
32932 Pacific Coast Hwy #14-234
Dana Point, CA 92629
Year Founded:
2008
Management:
David Smoler (Owner)
Website:
www.dbscoins.com
Rating:
[usr 3]
Find Out Our #1 Rated Gold IRA Provider Here>
DBS Coins Products & Services
IRA-eligible gold, silver, platinum, and palladium coins and bars are abundant in the DBS Coins catalog. Rare coins for collectors are also available. Even though DBS Coins does not offer IRAs, they recommend their partner IRA custodians, New Direction IRA and Goldstar Trust Company, for gold and silver IRAs.
Listed below are some of their products:
Gold Canadian Maple Leaf
Silver American Eagle
Canadian Maple Leaf
Gold American Buffalo
Platinum American Eagle
Silver Austrian Philharmonic
Palladium Canadian Maple Leaf
1 oz Gold Bars
10 oz Gold Bars
How To Get Started
The website of DBS Coins is the most convenient method to order metals. They offer a secure ordering system that accepts payment by cheque, PayPal, credit card, or wire transfer. Free shipping is offered within the United States for all orders over $25. If you encounter issues while submitting orders, you can always contact their customer service department for assistance.
Pros of DBS Coins
DBS Coins, a family-owned business, is managed by individuals with over 50 years of combined experience in precious metals. As a result, the company focuses on comprehensive customer education to help you learn more about investing in precious metals. There is a Frequently Asked Questions page and a Glossary of Terms page to guide you through the entire process of purchasing and investing in precious metals.
Wide selection Of Products
The have a vast selection of premium bullion coins and bars. In addition, the company stocks an extensive selection of collectible coins for collectors.
They are among the few businesses that offer a buy-back program. DBS Coins is the place to go if you wish to sell your metals (whether purchased directly from them or from another precious metals company).
Free shipping is provided on all orders over $25 within the United States. In addition, the company offers premium insurance and expedited delivery options.
Cons of DBS Coins
The company provides a limited number of payment methods that can be quite inconvenient. In addition to the limited payment alternatives, each option has the following payment limits: PayPal and Credit Card; $500, Check; $25,000, Wire Transfer; $80,000 and Above.
Lacks Reviews and Ratings
Although the company has been in operation since 2008, it lacks reviews and evaluations on many online platforms. In addition, they lack accreditation from the Better Business Bureau.
DBS Coins Reviews & Ratings

DBS Coins is not accredited by the Better Business Bureau, but they have an A rating on the platform, 0 customer reviews, and 4 customer complaints within the past three years.
The firm is rated AA by the BCA despite having no reviews on the platform. The company has no reviews or ratings on Trustpilot, Trustlink, Yelp, and numerous other review sites.
Is DBS Coins Scam or Legit?
DBS Coins is a legitimate business that provides excellent products and services. However, the company's online rating is abysmal.
DBS Coins Alternatives
Conclusion
DBS Coins is a coin and bullion dealer headquartered in California. They've been in business since 2008 and are known for their extensive product selection, free shipping, and buyback program.
The primary disadvantage of DBS Coins is the absence of positive online reviews and ratings. In addition, they restrict the number of orders that can be placed via PayPal, credit card, and check.
Are you looking to open a gold or silver IRA? Find Out Our #1 Recommended Precious Metals IRA Firm Now>