Have you considered purchasing precious metals from Direct Bullion but lacked confidence in their dependability? Are you looking for trustworthy reviews to alleviate your fears?  Please peruse this Direct Bullion review for additional information.
What Is Direct Bullion?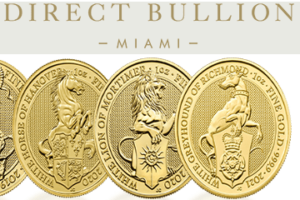 Founded in 2014, Direct Bullion is a gold and silver dealer with offices in London, England, and Brickell, Miami. Local and international clients are supplied with silver and gold coins and bars endorsed by the London Bullion Market Association. In addition to a user-friendly online sales system, Direct Bullion also provides personalized services, led by their in-house experts who are committed to resolving all of your questions. At Direct Bullion, customer satisfaction is the top priority, and they strive to achieve this by providing unrivaled customer service.
Are Gold & Silver IRAs Offered at Direct Bullion?
Unfortunately, despite being one of the largest precious metals companies, Direct Bullion does not offer precious metals IRAs. If you are interested in opening a gold or silver IRA, Goldco Precious Metals is our number one recommended Gold & Silver IRA provider.
Direct Bullion Review Summary
Location:
Mayfair, London, Brickell, Miami
Address:
319 Clematis Street #804
West Palm Beach, FL 33401
Year Founded:
2014
Management:
Samuel O'Brien (President)
Website
www.directbullion.us
Rating:
[usr 4]
Learn About Our Top-rated Gold & Silver IRA Provider Here>
Direct Bullion Products & Services
As previously stated, Direct Bullion specializes primarily in gold and silver bars and coins. They have one of the world's largest collections of coins and bars from numerous mints. The company's coins and bars include the Perth Mint 20g Gold Bar, the Valcambi 100g Gold Bar, the Baird 10g Gold Bar, the 1oz Gold Coins from the Britannia Series, the Baird 100oz Cast Silver Bars, and the Baird 1kg Cast Silver Bar, among others. Direct Bullion obtains its products from Great Britain, Canada, the United States, Australia, South Africa, China, and Austria.
How It Works
Direct Bullion sells the majority of their products via their official website. However, you can also visit their location to receive personalized service from their seasoned staff. Simply establish an account and select the desired products to place an order on the official website. You can also place orders over the phone.
Pros of Direct Bullion
Exceptional Customer Service
Direct Bullion places customer satisfaction at the top of its list of priorities and endeavors to provide exceptional customer service. A team of knowledgeable employees is standing by to answer your queries and assist you with your purchases.
Excellent Ratings and Reviews
Although they don't have many online reviews, the few we discovered on the BBB and Trustpilot were overwhelmingly positive, with an average rating of 4 stars on both sites.
The company offers a buy-back program but only accepts products that were originally purchased from them.
The company offers free shipping on all orders in the United Kingdom.
Cons of Direct Bullion
Does Not Offer Palladium or Platinum Products
The absence of palladium and platinum coins and bars could be disadvantageous for those seeking to invest in these commodities.
Gold & Silver IRAs are Not Offered
Gold and silver IRAs are crucial for portfolio diversification and avoiding inflation and stock market declines. Unfortunately, Direct Bullion does not provide IRAs.
Direct Bullion Reviews & Ratings

Since February 2022, Direct Bullion has been accredited by the Better Business Bureau (BBB). The company's platform rating is 5 stars out of 5, based on 4 consumer reviews.
At the time of writing, Direct Bullion was rated 4.7 out of 5 stars on Trustpilot based on 83 user reviews. There were no reviews of Direct Bullion on Yelp, BCA, Trustpilot, or Trustlink.
Is Direct Bullion a Scam?
Direct Bullion is not a scam, given that Windsor Castle and The Bank of England are among its clients. It is a legitimate, rapidly expanding precious metals business.
Direct Bullion Alternatives
Conclusion
Direct Bullion is an investor-focused silver and gold dealer that specializes in the sale of bullion coins and bars. Their mission is to offer premium products to both domestic and foreign investors. Direct Bullion provides superior customer service and free shipping on all UK orders.
Despite their great products and services, Direct Bullion does not offer palladium and platinum products. Gold and silver IRAs are also not offered and this could be unfavorable for those seeking to diversify their IRA portfolios.