Have you been thinking of buying precious metals from Direct Bullion but unsure of their reliability? Is this company legit or scam? Please read this Direct Bullion review to get the lowdown.
What Is Direct Bullion?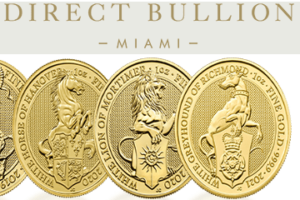 Founded in 2014, Direct Bullion is a gold and silver dealer with offices in London, England and Brickell, Miami. The company supplies LBMA-approved silver and gold coins and bars to both local and international customers. In addition to a user-friendly online sales system, Direct Bullion also offers personalized services– spearheaded by their in-house professionals who are dedicated to answering all your queries.  At Direct Bullion, the number one priority is customer satisfaction, and they aim to achieve this through offering unmatched customer service.
Are Gold & Silver IRAs Offered at Direct Bullion?
Unfortunately, Direct Bullion does not offer precious metals IRAs despite being one of the largest precious metals companies in the world. If looking to open a gold or silver IRA, our #1 recommended Gold & Silver IRA provider is Goldco. Get your free Gold IRA Guide from Goldco via the link below.
Get Your Free Gold IRA Guide Now!
Direct Bullion Review Summary
Location:
Mayfair, London, Brickell, Miami
Address:
319 Clematis Street #804
West Palm Beach, FL 33401
Year Founded:
2014
Management:
Samuel O'Brien (President)
Website
www.directbullion.us
Rating:
[usr 4]
Find Out Our Top-rated Gold & Silver IRA Provider Here>>
Direct Bullion Products & Services
As we've already noted, Direct Bullion mainly deals in gold and silver bars and coins. They boast one of the largest collection of coins and bars from various mints across the world. Examples of coins and bars offered by the company include the Perth Mint 20g Gold Bar, Valcambi 100g Gold Bar, Baird 10g Gold Bar, 1oz Gold Coins, Britannia Series, Baird 100oz Cast Silver Bars, Baird 1kg Cast Silver Bar and much more. Direct Bullion sources their products from the United Kingdom, Canada, United States, Australia, South Africa, China and Austria.
How It Works
 Direct Bullion sells most products through their official website. However, you can as well visit their premises to get personalized services from their experienced team. To place an order on the official website, simple create an account and select the products you want. You can also place an order through phone.
Pros of Direct Bullion
Exceptional Customer Service
With customer satisfaction being their first priority, Direct Bullion strives to provide exceptional customer service. An experienced team of staff members is on standby to answer your questions and help you with your purchases.
Excellent Ratings and Reviews
Though they don't have much reviews online, the few ones we found on the BBB and Trustpilot are mostly positive, with an average rating of 4 stars on both platforms.
The firm offers a buyback program but they only accept products you purchased from them.
Free shipping on all UK orders is provided by the company.
Cons of Direct Bullion
Does Not Offer Palladium or Platinum Products
Palladium and platinum coins and bars are not offered and this could be disadvantageous to those seeking to invest in the aforementioned products.
Gold & Silver IRAs Not Offered
Gold and silver IRAs are extremely important for diversifying portfolios and averting inflation and stock market downturns. Sadly, Direct Bullion does not offer IRAs, but you can get excellent precious metals IRA services from our #1 rated firm here.
Accreditation, Reviews & Rating

Direct Bullion is a BBB accredited business since February 2022. The company boasts an excellent rating of 5/5 stars on the platform based on 4 customer reviews.
On Trustpilot, Direct Bullion is rated 4.5/5 stars based on 82 customer reviews at the time of writing this review. No reviews of Direct Bullion were found on Yelp, BCA, Trustpilot and Trustlink.
Is Direct Bullion a Scam?
With some of their clients coming from Windsor Castle and The Bank of England, Direct Bullion is definitely not a scam. It is a legit, fast-growing precious metals company.
Direct Bullion Reviews- Summary
Direct Bullion is a silver and gold dealer that specializes in selling bullion coins and bars to investors. Their aim is to provide high quality products to both local and international investors. Direct Bullion offers exceptional customer service as well as free shipping on UK orders.
Despite their great products and services, Direct Bullion does not offer palladium and platinum products. Gold and silver IRAs are also not offered and this could be unfavorable for those seeking to diversify their IRA portfolios.