Are you looking to sell your coin collection but unsure where to get the best price? Ever heard about American Rarities but wondering whether they are legit coin buyers or scammers? Well, in this American Rarities review, find out if they are actually genuine and whether you should do business with them.
What Is American Rarities?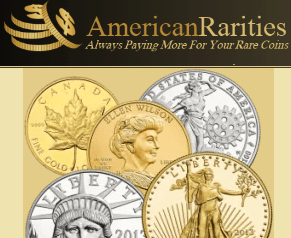 American Rarities is a coin buying company based in Boulder, Colorado (according to their BBB profile). The company is run by a team of professional coin dealers who appraise and buy all forms of rare coins from across the country. According to the Better Business Bureau, American Rarities has been in business since 1995, and has been BBB accredited since 2004. Below is a summary of the company's details.
American Rarities Review Summary
Location:
Boulder, Colorado
Address:
Boulder, CO 80301-4008
Year Founded:
1995
Management:
Warren Zivi (President and Founder)
Website:
www.americanrarities.com
Rating:
[usr 3.5]
Note: Before you read the rest of this review, we recommend you get our FREE Gold IRA Guide and learn how to prudently invest your money.
Get Our Free Gold IRA Guide Now!
American Rarities Products & Services
American Rarities is primarily a coin buyer with branches all over the country. They offer free appraisal services for your coins and are known to offer some of the best prices on the market. On their website is a list of all the products and services they offer. Examples of products they buy include gold and silver bullion coins and bars, US rare coins as well as world rare coins. If you wish to liquidate some of your coin collections, you can always contact the firm and request for a free appraisal. Contact information availed on their official website include Email, Phone and online form.
Pros of American Rarities
American Rarities has gained customers trust, thanks to their BBB accreditation and excellent rating. The company has been BBB accredited since 2004.
They Offer Free Appraisal
With their team of professional coin dealers, the company works extra hard to give you the most accurate appraisal of your coins so that you can get the best price.
They Have Branches All Over the Country
In their quest to offer convenience to customers, American Rarities has set up branches across the country. Chances are there's one of their coin dealers near your place.
They've been in business for almost 3 decades. Thus, they have immense experience when it comes to precious metals valuation.
Cons of American Rarities
Despite their excellent reviews on the BBB, the company has a poor rating and negative customer reviews on Yelp, which raises doubts about their purported credibility.
Live chat support helps companies to effectively communicate with clients. It allows clients to receive quick responses to their queries. Surprisingly, American Rarities lacks this important feature and mostly rely on email and phone. This has resulted in some disgruntled customers accusing the company of failure to reply emails on time.
American Rarities Reviews, Ratings & Complaints

American Rarities has the best overall rating on the BBB where they are rated A+ and boast an average of 4.88 out of 5 stars based on 17 customer reviews.
On Yelp, the company has a rather poor rating of 2.5 out of 5 stars based on 3 reviews.  They lack reviews or ratings on the BCA, Trustlink, Trustpilot and other review websites. Below are sample reviews on the BBB and Yelp.com.
Fantastic staff and authentic professional services. Whether you've come into a collection from a relative/heirlooms or are a competitive buyer and seller, American Rarities delivers the best pricing and service in the industry.Very happy with my appraisal/sale, netted additional once reviewed by the appraiser!

Complete ripoff. Stay far far away. I completed an online appraisal for some US Small Size Currency that I have collected over the years. Total face value of $1800. American Rarities comes back with an $1980 offer. Keep in mind that 90% of the bills are PMG or PCGS graded 55 or higher and a 1928 $10 Gold Certificate in my collection  alone is worth $150-160 in a 25 very fine grade. Avoid!

***************************, one of the buyers, phoned me very shorty after I submitted a list of my coins online. He was very professional and very courteous. The entire transaction went very smoothly. I couldn't believe how quickly I received my check. I will definitely do business with American Rarities again.

Well for starters i sent in several paper currency pics to which i was told via email were all worthless, I found this funny because some one had already offered over $400 for a few of the same bills in the pics. So i in turn said ok maybe ill have better luck with the coins so i sent in 3 of them was told the email never arrived so i attatched them to the reply and guess what no reply! Days late i got an offer for the coins more like an INSULT!!! the We pay more for rare coins should be removed from their logo Just saying!! i sent in a 1927 st gaudens a proof set that has a very valuble coin in it from 1961 and 2 columbian coins. i was offered under spot value of the st gaudens for all 4 items and even told the wrong year on the proof set when i questioned what items the quote was for!!!!!!! Run from RYAN run very very fast. Ill keep looking for some one trust worthy to appraise my coins and cash
Is there a Better Alternative?
While it doesn't look like American Rarities is a scam, it's definitely not the only great company out there. Our top recommendation for precious metals is Goldco Direct. They are specialists in precious metals and are keen to help you diversify your portfolio through a gold or silver IRA. If you are looking to open a precious metals IRA, you can request your FREE Gold IRA Guide from Goldco on this page.
American Rarities Reviews- Summary
American Rarities is a coin dealer that buys rare coins from private collectors across the country. The company has numerous branches and are revered for their free appraisals and great prices.
On the downside, the firm has received a few negative reviews on Yelp. Besides, they mostly rely on email which has led to poor communication with clients.