What is Sprottusa.com? What products and services do they offer? In this Sprottusa.com review, we look at customer reviews and ratings to determine whether they are a reputable company.
What Is Sprottusa.com?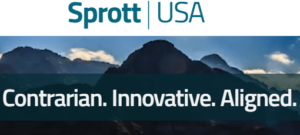 Sprottusa.com, also known as Sprott Asset Management USA Inc. is an asset management company based in Carlsbad, California. The company mainly focuses on precious metals and real assets, and their long experience in the industry enables them to offer unmatched financial and investment solutions. Sprottusa.com is a subsidiary of Sprott U.S Holdings, Inc.
Does Sprottusa.com Offer Gold & Silver IRAs?
Unfortunately, gold and silver IRAs are not listed among the products and services offered at Sprottusa.com. If looking to open a precious metals IRA, please check out our #1 recommendation through the link below.
Click here to check out our top recommendation for gold & silver IRAs
Company Info
Location:
Carlsbad, California
Address:
1910 Palomar Point Way STE 200, Carlsbad, CA 92008
Year Founded:
2008
Management:
Whitney George (CEO), Robert Villaflor (Managing Director)
Website:
www.sprottusa.com
Overall Rating:
[usr 3]
Learn about our #1 rated gold & silver IRA provider
How Does It Work?
To start investing with Sprottusa.com, you first need to contact one of their financial experts through phone or email and request to set up and online account. But before your account is created, they will ask about your finances and investment goals to determine the type of products and services that best suits your particular situation.
Sprottusa.com Products & Services
Sprottusa.com platform provides you a great opportunity to access a wide range of products including mining ETFs, innovative physical bullion and commodity trusts, private equity and debt strategies as well as managed equities.
Advantages of Choosing Sprottusa.com 
Sprottusa.com boasts a team of accomplished professionals including financial specialists, engineers and geologists who manage over $18.6 billion worth of client assets. They are always available to help you with your investments.
Wide Variety of Products and Services
The company offers a wide range of precious metals and real assets. Also, they offer a wide range of services designed to meet specific investment needs of each and every client.
Provides Client Education
Sprott Asset Management USA Inc's investment executives and geologists travel thousands of miles on site visits to analyze natural resources investment opportunities. In addition, the company is keen to assist clients wishing to learn about the natural resources sector, hence have introduced an in-depth Ore Deposits 101 tutorial as well as an insightful blog section on their website.
Disadvantages of Choosing Sprottusa.com 
We could not find customer reviews or ratings of Sprottusa.com on major online platforms including Yelp.com, Trustlink, Trustpilot, Better Business Bureau and the Business Consumer Alliance. Strangely, they also lack reviews or ratings on their own website.
Live chat support is an essential feature that we normally encourage companies to install on their websites for ease of communication with clients. Sadly, Sprottusa.com lacks a live chat function and only relies on the tradition phone and email which could result in delays and inconvenience to clients.
Does Not Offer Precious Metals IRAs
Even though the company offers various alternative assets and account management services, they've not indicated whether they offer precious metals IRA custodial services. If looking to open a gold or silver IRA, check out our top recommended company on this page.
Accreditation, Customer Ratings and Reviews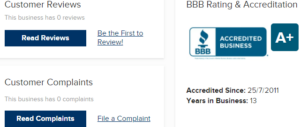 Puzzlingly, we could not find reviews, ratings or complaints about Sprottusa.com on reputable third party consumer review websites. They lack accreditation and reviews on the BBB, BCA, Trustlink, Trustpilot and even Google My Business.
Should You Invest With Sprottusa.com?
On whether to invest with them, the decision is yours to make. But normally, we recommend you do your own due diligence before investing with any company. You should compare its customer ratings against competitors as well as understand their fees and charges. It's also worth noting that Sprottusa.com has not indicated whether it offers precious metals IRAs. Thus, if you are looking to open a precious metals IRA, we recommend you read about our top recommendation below.
Check out our top recommendation for precious metals IRAs now!
Is Sprottusa.com a Scam?
No, Sprottusa.com is a legit firm and not a scam since they have a physical address based at 1910 Palomar Point Way STE 200, Carlsbad, CA 92008. Moreover, the firm has been in business for over a decade which implies that they are credible.
Conclusion
Thank you for reading our Sprottusa.com review. Sprottusa.com is an asset management firm based in Carlsbad, CA. The company offers a wide range of alternative assets and account management services.
Despite their great offers and services, Sprottusa.com lacks reviews on major online review platforms, making it difficult to determine their actual rating or ranking. Besides, they do not offer precious metals IRA services and their website lacks live chat support which results in poor communication with clients.