Are you looking for a trustworthy company to purchase precious metals from or to set up a Gold/Silver IRA? ICCoin is one of the many precious metals companies that you may be considering, but is it reputable? Is it reliable? Let's find out now in our ICCoin reviews.
What Is ICCoin?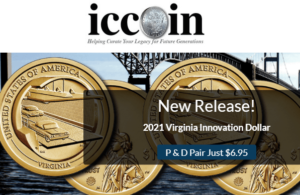 ICCoin, also known as International Coins and Currency Inc. is a precious metals dealer that sells coins, currency, collectibles as well as jewelry. The company boasts over 45 years in business, as well as a massive selection of both local and foreign coins.
ICCoin's website is designed to offer you convenience. You will find that their product catalog is well organized into categories and sub-categories to help you find whatever you are looking for, quickly. ICCoin is based in Montpelier, Vermont.
Pay Attention: Before we go any further with this review!
We always recommend conducting due diligence before settling on a precious metals company to invest in. With so many clients getting ripped off with the so-called hidden fees, you need to research meticulously before purchasing metals or opening a precious metals IRA. We understand that picking the right company is the most important financial decision for you, and thus, we've compiled a list of our 3 best precious metals IRA companies for 2023.
See Our 3 Best Precious Metals IRA Providers Here>
ICCoin Products
As we've already mentioned, ICCoin is one of the companies that stock hundreds of thousands of coins and collectibles, owing to their four decades in business which expanded their market share and financial strength.
Their coins are mainly divided into two main categories; US Coins and World Coins. Thus, in addition to US coins, you can also purchase coins from around the globe.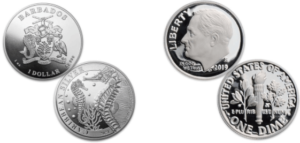 Under the US coins category, you will find sub-categories each with different types of coins. They include Early Coinage, Cents, Half Dollars, Dollars, Nickels, Quarters, Dimes, American Silver Eagles, Starter Sets, Commemoratives, and more. The world coins category includes coins from various countries such as Germany, China, Canada, Sierra Leone, the Philippines, Great Britain, Mexico, Australia, and others.
Are Gold and Silver IRAs Offered?
Unfortunately, ICCoin does not offer precious metals IRA services. If you are looking for Gold/Silver IRAs, you may want to check out our top-rated precious metals IRA firm on this page.
Company Info
Location:
Montpelier, VT
Address:
62 Ridge St, Montpelier, VT 05602-6100
Year Founded:
1974
Managers:
Mr. Richard W Thurston (CEO)
Website:
www.iccoin.com
Overall Rating:
[usr 2]
How it Works
ICCoin sells products through its website. To place an order through their online coin store, you must create an account by completing a simple form and following a straightforward procedure. Then, you will add products to your cart and proceed to the checkout process. You are required to provide only your current address due to the company's stringent addressing policies. After providing a valid residential address and completing all other steps, you can now pay with your PayPal account, debit card, or credit card. If you require any form of assistance during the checkout process, you can contact ICCoin's customer service department via the phone number or email address listed in the 'contact us' section of their website.
Advantages of ICCoin
As we've mentioned, ICCoin boasts a mammoth selection of both US and world coins, as well as various other types of collectibles and even jewelry. Therefore, you are more than likely to find whatever you are looking for in their massive catalog.
The website is designed to make it easy for you to browse the various categories of coins as well as add them to the cart. Thus, it offers you convenience through its user-friendly interface.
Iccoin accepts a variety of payment methods, such as credit cards, debit cards, and PayPal. This provides you with flexibility when checking out on their website.
The longer a company has been in operation, the more credibility it earns. ICCoin has been in business for over 40 years; consequently, it is a reputable company. shady businesses don't last very long.
Disadvantages of ICCoin
Precious Metals IRAs are not offered
They do not offer precious metals IRAs; therefore, they are of no assistance to those who desire to safeguard their retirement or savings with Gold or Silver IRAs.
According to online complaints, ICCoin takes a long time to respond to consumer emails and occasionally does not respond at all.
Negative Customer Reviews and Complaints
We found negative customer reviews and complaints on some reputable online platforms such as the BBB.
Lacks Substantial Reviews on Reputable Sites
This company lacks reviews on the majority of online consumer trust sites, which raises many concerns about their reliability.
Since ICCoin does not offer a buy-back program and only sells coins, you cannot sell them back to them in the future.
Ready to establish a gold or silver IRA? Click here to view our #1 recommended firm.
Accreditation and Customer Reviews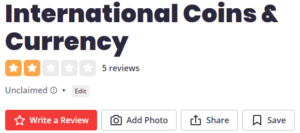 It is crucial to consider ICCoin reviews on consumer trust sites such as the Better Business Bureau and Trustlink, as this allows us to determine whether or not they are trustworthy. ICCoin has no reviews on BCA, Trustlink, or Trustpilot, which is shocking. Despite receiving an A+ rating from the BBB, they have zero reviews and two consumer complaints listed on their profile. And based on reviews posted on Yelp, ICCoin has a 1.5 out of 5 stars rating on the platform.
Should You Consider ICCoin for Your Gold or Silver IRA Rollover?
Since ICCoin does not offer Gold or Silver IRAs, it would be best to choose a different company that does. Although it is extremely difficult to find a reliable precious metals IRA company, we have conducted extensive research and testing to identify the finest Gold/Silver IRA Company for you. You can read about it on this page.
Is ICCoin Legit or Scam?
Then, is ICCoin legit or a scam? Is it a reputable company? The company's existence for decades is sufficient evidence that they are legitimate and not a scam. In addition, their BBB accreditation indicates that they are not involved in any illicit activity. Their only disadvantage is the customer complaints that have severely damaged their reputation.
Alternatives to ICCoin
ICCoin Reviews Conclusion
ICCoin is a precious metals dealer that provides local and international coin collectors with rare coins and collectibles. The company was founded in 1974, making it one of the earliest precious metals companies in the United States. In addition, they have a vast selection of products and a website designed for optimal convenience.
However, the lack of reviews on the majority of online review platforms and the abundance of negative reviews suggest that the company's products and services are subpar.