Are you wondering whether First National Bullion is the ideal company for your precious metals investment? Is it a legit firm or scam? What do customer reviews and ratings say about them? Please read this short review about First National Bullion to avoid losing your hard-earned money!
What Is First National Bullion?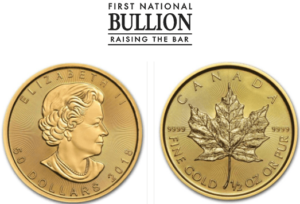 Founded in 2005, First National Bullion is a precious metals company based in San Diego, California. The company claims to have the most experienced professionals in the precious metals industry with over 10 years of experience. Their website includes educational material to equip investors with the requisite knowledge to succeed in precious metals investing. One notable free resource they offer is the free Newsletter, laden with insight about various types of precious metals and how to invest in them.
Open Up a Qualifying Gold IRA Today and Get Up To $10, 000 in FREE Silver. Click here.
First National Bullion Products & Services
The main product offered at First National Bullion is bullion in form of gold, silver, palladium or platinum. Also on offer are numismatic coins targeted at coin collectors. Besides, First National Bullion offers retirement plans which gives you the opportunity to open a gold or silver IRA and grow your retirement. As we've already noted, this company will furnish you with all the information needed to get started buying or selling precious metals, including price charts and market trends. Most of this invaluable information is available on their official website, or in their free newsletter sent to your email.
Company Info
Location:
San Diego California
Address:
4885 Convoy St
San Diego, CA 92111-1610
Year Founded:
2005
Managers:
Jonathan Cavuoto, Breann Petkus, Stephen Mathew
Website:
www.firstnationalbullion.com
Rating:
[usr 3.5] Not Recommended
Looking to open a Gold or Silver IRA? Here is the best company for you!
How It Works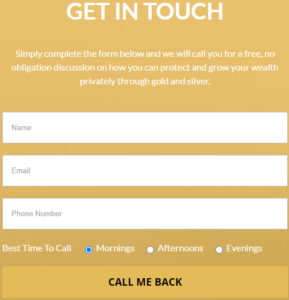 There are two methods you can kick off your investment journey with First National Bullion; the first one is to simply purchase precious metals such as bullion or numismatics, and the second one is to open a precious metals IRA. In both cases, the procedure is very simple, bearing in mind that First National Bullion staff are always on standby to guide you. If purchasing precious metals, simply visit their website and place an order. Your items will be fully insured and shipped to your door for free. Alternatively, you can choose to store your metals with the company, whereby they will be sent to Brink's secure storage vaults.
If opening a gold or silver IRA, you need to contact the firm's account executives for professional assistance throughout the process. They will quickly help you to transfer your existing IRA or 401 (k) to precious metals IRA.
Can You Sell to First National Bullion?
Yes, you can sell your metals to First National Bullion at competitive rates. However, if you do not want to sell to them for some reason, the company will recommend you other similar firms that offer some of the best rates in the industry.
Advantages of Choosing First National Bullion
First National Bullion offers free shipping and free insurance on most of your purchases. Thus, you can save money on shipping and the insurance part ensures you are compensated should your items get damaged or lost while in transit.
You can easily call customer care staff if you run into problems. Their account executives are available 24/7 to sort out your issues.
They value customer education and will do everything within their power to see to it that you have all the knowledge required to get started investing in precious metals. A good example of one of their free educational resources is their free newsletter that you can request to be sent to your email.
First National Bullion claims to have some of the most experienced staff members in the precious metals industry. All their staff have at least 10 years of experience buying and selling precious metals.
The Firm Is BBB Accredited
The Better Business Bureau is the most trusted consumer protection site and most investors turn to it to check a company's credibility. Fortunately, National Bullion is accredited with the Better Business Bureau, which is the first sign of credibility.
Disadvantages of Choosing First National Bullion
Other that on Yelp.com, the company has no customer reviews, complaints or ratings on most online consumer protection sites. This is a bad sign since most precious metals companies we review tend to have multiple reviews and ratings on most online platforms including the Better Business Bureau.
If you wish to read about our Top-rated Precious Metals IRA Firm boasting a 5 out of 5 stars rating, click here.
IRA Fees Are Not Disclosed
Gold and Silver IRA fees are not available on their website, which means they will be revealed to you once you've already kicked off account creation process. Usually, we do not recommend firms that hide their fees like this. We like firms that are transparent about fees as they enable you to know what you will be charged beforehand, hence protecting you from getting scammed through the so called hidden fees.
Companies that offer live chat on their websites enable customers to contact them instantly. Sadly, First National Bullion does not have this feature and you will have to make a call or submit a message through their contact form.
Accreditation and Customer Reviews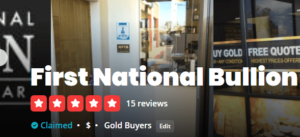 First National Bullion has an A+ rating with the Better Business Bureau and 0 customer reviews on the platform. They have no reviews on Trustlink, Trustpilot or Business Consumer Alliance.
The only platform that has First National Bullion's reviews and ratings is Yelp.com, where they have 15 customer reviews and a rating of 5 out of 5 stars.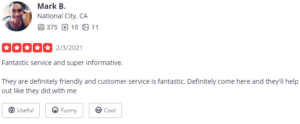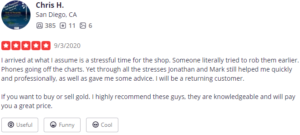 Should You Consider First National Bullion for Your Gold or Silver IRA Rollover?
Despite offering great products, experienced staff and free educational resources, First National Bullion does not disclose their IRA fees prior to your engagement with them. They also lack reviews and ratings on consumer protection sites which makes us to not recommend them. You can read about our Top-rated precious metals IRA Company via the link below.
Click here to read about our Top-rated Precious Metals IRA Firm
Is First National Bullion Legit?
As we've noted, this firm has more than a decade in business. Moreover, they are accredited with the Better Business Bureau which means they are definitely legit and not a scam.
Conclusion
First National Bullion is a precious metals company based in San Diego, California. The company sells high quality, investment-grade bullion and numismatic coins, in addition to offering retirement plans through Gold and Silver IRAs.
The downside of First National Bullion is their lack of customer reviews and ratings on online platforms such as the Better Business Bureau. Also, their failure to disclose IRA fees paints them in a bad light.