Are you considering investing in bullion bars and coins? Atkinsons Bullion is one of the companies that can help you with that, but first, you need to read this comprehensive Atkinsons Bullion reviews to avoid getting scammed. Here we review their products, pricing, and other crucial aspects to determine whether they are legit or scam.
What Is Atkinsons Bullion?

As its name suggests, Atkinsons Bullion is a bullion and jewelry dealer based in Birmingham, United Kingdom. With a strong local and international presence Atkinsons Bullion is mostly preferred by private investors and collectors.
One aspect that is obviously a minus for this precious metals dealer is their lack of platinum and palladium products. Thus, they have a limited selection of bars and coins as compared to other precious metals firms such as Goldco or Regal Assets.
Atkinsons Bullion Products
Atkinsons Bullion products include gold and silver products, mainly bullion and collectibles. They do not offer palladium or platinum products which makes their selection of products limited when compared to other established precious metals firms. The company is also an authorized reseller of The Perth Mint, Metalor, The Royal Mint, Scottsdale Mint, PAMP, and Umicore. Below are some of the precious metals sold by Atkinsons Bullion:
Gold Canadian Maples
Silver Canadian Maples
Gold Britannia
Gold USA Eagle
Silver USA Eagle
Proof Coins
Gold Chinese Pandas
Silver Chinese Pandas
Gold Sovereigns
Gold Austrian Philharmonic
Gold Australian Kangaroos
Collector Sets
Silver Armenian Noah's Ark Coins
Silver Scottsdale Mint Stacker Sets
Atkinsons Bullion Pricing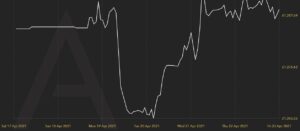 Atkinsons Bullion provides you with live gold and silver price charts updated every 60 seconds to see to it that you are seeing the latest market value of metals. AB promises to offer you the best prices on the market, and the amount you will pay depends on the type and size of your purchases.
Company Info
Location:
Birmingham, United Kingdom
Address:
14D Birmingham Road
Sutton Coldfield
Birmingham
B72 1QG
Year Founded:
1990
Managers:
Paul Atkinson, Rachel Williams
Website:
 atkinsonsbullion.com
Do They Offer Precious Metal IRAs?
Atkinsons Bullion does not offer IRA options. The company's sole interest is to sell precious metals. Therefore, they will not set up a precious metals IRA for you. Also, we were unable to determine whether they sell IRA-approved coins and bars, hence the best option for you if you are looking to roll over to a gold or silver IRA is to choose a custodian that offers both the metals and IRAs. Our top-rated precious metals IRA Company, Goldco Direct, will help you to quickly set up a Gold IRA Account and crash-proof your retirement. You can read our full Goldco Direct Review Here.
Is It a Legit Firm or Scam?
Though the company is not BBB accredited, its existence in the precious metals industry for more than 30 years clears any doubts regarding its credibility. If they were a scam, they would not have survived for this long. Thus, Atkinsons Bullion is a legit precious metals dealer.
Does Atkinsons Bullion Offer a Buyback Program?
Yes, they offer a buyback program for those who bought metals from the. Moreover, they are willing to buy your metals whether you bought them from their store or elsewhere. The company promises to offer you the best prices for your items.
Can You Store Your Metals With Atkinsons Bullion?
Atkinsons Bullion offers bespoke storage options, but they encourage you to seek professional help on matters storage and security of metals. Thus, it appears like they are not confident with their storage options and facilities. It's important to find a company with excellent storage options to avoid compromising the security element of your assets. Our top-rated firm, Goldco Direct, offers top-notch storage options at lowest price. Click Here to learn more about Goldco Direct.
Can You Request a Delivery to Your Home?
Yes, Atkinsons Bullion can deliver to your home via the Royal Mail Special Delivery. What is more, they offer a free and insured delivery within the UK.
Can You Buy From Atkinsons Bullion If You Live In the USA?
Yes, Atkinsons Bullion offers international delivery services, but you will have limited payment options to choose from. For instance, if you live in the USA, you will only have bank transfer payment option. Another downside of this firm is its pricing in pound sterling which can complicate things for international clientele.
Atkinsons Bullion Customer reviews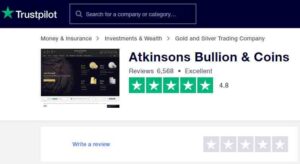 Customer reviews are extremely important for gauging the reliability of any company. Shockingly, Atkinsons Bullion has reviews on Trustpilot only. We could not find any reviews on reputable consumer protection websites such as the Better Business Bureau, Business Consumer Alliance, Trustlink, or Yelp, and this should be a huge red flag. Credible companies are normally accredited with the BBB and have reviews across numerous platforms, but Atkinsons Bullion is a different case, making them fall behind in ratings.
The table below presents the data we retrieved from review sites.
Pros & Cons
While researching precious metals firms, it's imperative to consider both the pros and cons. This will help determine whether they are reliable or not. Hence, here are some of the pros and cons of Atkinsons Bullion.
Pros
Good customer support. A live chat feature is available for quick communication with clients
Secure and easy-t-use online store
Free fully insured delivery within the United Kingdom
Multiple payment methods offer better customer experience
Cons
The company is not BBB accredited
Zero reviews on some of the most trusted consumer protection websites
Pricing products in British sterling pound presents a headache for international clients
Lack of reliable storage options
A limited selection of products since they don't offer palladium or platinum coins
Atkinsons Bullion Review Summary
Atkinsons Bullion is a precious metals dealer that promises the best bullion and jewelry prices for both local and international clients. The company is known for its great products, awesome customer support, and unique business model.
In spite of the positives, we've noted the company also has its dark side. They lack reviews on trustable sites, have questionable storage options, have a limited selection of products, and above all, are not accredited with top consumer protection sites such as the BBB.