Heartland Precious Metals is best known for offering a wide range of bullion and collectibles, but is it a legit firm? Before you buy anything from Heartland Precious Metals, you should read this detailed review to find out if they are any good.
What Is Heartland Precious Metals?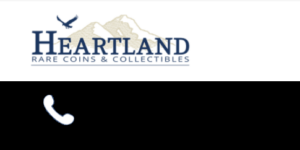 Based in Oklahoma, Heartland Precious Metals is a coin dealer founded in 2009 by Paul Montgomery, a professional coin collector. The company holds a massive inventory of bullion coins, rare coins and collectibles. Heartland Precious Metals promises to offer you the best prices possible for all their products.
Are Precious Metals IRAs Offered?
No, there's no mention of precious metals IRAs on Heartland Precious Metals' official website. If you are after IRAs, you should check out our top recommendation for gold and silver IRAs through the link below.
Learn about our top recommended company for gold & silver IRAs
Company Info
Location:
Guthrie, Oklahoma
Address:
116 W Oklahoma
Guthrie, OK 73044
Year Founded:
2009
Management:
Paul Montgomery (President and Founder)
Website:
www.heartlandrarecoingallery.com
Overall Rating:
[usr 3]
Find out our top-rated precious metals IRA provider on this page
Heartland Precious Metals Products
As we've already mentioned, Heartland Precious Metals is one of the top firms boasting a huge selection of precious metals. They mainly stock gold & silver bullion, rare coins, scrap gold & silver, jewelry, watches, heirlooms, memorabilia and much more. Heartland Precious Metals' business is not only about selling, they also promise to buy your rare coins and bullion at fair prices.
How It Works
Heartland Precious Metals has a website, but unfortunately, it does not have a product catalog or a check out system to allow you to place orders directly on their website. However, they've got a phone number that you can use to contact them to initiate a purchase. The firm accepts wire transfer, money order, cashier's check and personal check as payment options. Strangely, they do not accept debit and credit cards even though they are the most preferred payment options for many investors.
Pros of Choosing Heartland Precious Metals
Heartland Precious Metals sells, but also promises to buy your bullion, rare coins and jewelry at a fair price.
Provides Complete Transparency
HPM promises to be completely transparent with their buy and sell pricing. They will avail to you the current spot price, current buy price and current sell price of each product.
Their incentive is not to generate massive profits but to help you make the best investments. Thus, Heartland Precious Metals prices are always lower than those of its competitors.
Heartland Precious Metals offers free shipping and insurance.
Cons of Choosing Heartland Precious Metals
They Have a Maximum Purchase Amount
Despite offering numerous products, Heartland Precious Metals have a maximum purchase policy which restricts you from buying as many hard assets as you would wish. For instance, you can only buy a maximum of $1000 worth of precious metals if you live in the US and a maximum of $2500 worth of metals if you live in Canada.
We could not find reviews of Heartland Precious Metals on major online platforms including the BBB and Trustlink.
They Don't Have an Online Checkout
In spite of the fact that they have a website, Heartland Precious Metals do not have an online catalog and check out system to allow for online purchases. Instead, you are required to contact them through phone in order to place an order, which can be time consuming.
Debit and Credit Cards Not Accepted
They do not accept payment via credit or debit cards which is sad news for those who prefer paying with these options.
Accreditation, Customer Reviews and Ratings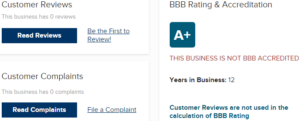 Shockingly, Heartland Precious Metals is neither accredited nor rated by the BBB as they have zero customer reviews, ratings or complaints on the platform.
Similarly, they lacks reviews, ratings or complaints on all major review websites including Trustpilot, Trustlink, the Business Consumer Alliance and Yelp.
Should You Invest In Heartland Precious Metals?
It's for you to decide whether or not to invest with Heartland Precious Metals. But it's worth noting that they do not have good ratings online which is quite unusual. Furthermore, they do not offer precious metals IRAs, which as you might know, are currently preferred by many investors. If you are looking to open a gold or silver IRA account, we recommend this top-rated precious metals IRA Company.
Is Heartland Precious Metals Legit or Scam?
Heartland Precious Metals is not a scam but a legit precious metals dealer founded and managed by a professional numismatist.
Conclusion
Thank you for reading our Heartland Precious Metals review. Heartland Precious Metals is a precious metals firm based in Oklahoma. The company was founded by Paul Montgomery back in in 2009 and has grown to be one of the most trusted companies, offering a wide array of bullion, rare coins, jewelry, watches and many other products.
It is however important to note that Heartland Precious Metals is not without blemish, as they have a few cons as well. For instance, the company lacks a BBB accreditation and reviews on all major online review websites. Furthermore, they restrict the amount you can purchase and have no online catalog or checkout system.