Do you wish to self-manage and diversify your retirement portfolio with physical assets? IRA Express can assist you with this, but are they trustworthy? What are their annual fees? How do their customer reviews rank? Find out in this concise IRA Express review.
What Is IRA Express?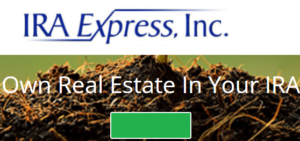 IRA Express, founded in 2002 and headquartered in Lehi, Utah, is a third-party administrator of self-directed IRA accounts managed by Dan Anderson. IRA Express provides a variety of individual retirement accounts and educational resources to help you get off to a good start. You can easily diversify and enhance your retirement savings through their self-directed IRA plans by investing in alternative assets such as Real Estate, Futures, Bitcoin, Precious Metals, and many others.
Company Info
Location:
Lehi City, Utah
Address:
2975 W. Executive Parkway, #199-122
Lehi, UT 84043
Year Founded:
2002
Management:
Dan Anderson (President)
Website:
www.iraxp.com
Rating:
[usr 2]
Looking for a reliable Gold and Silver IRA firm? Here is our top-recommendation
IRA Express Products & Services
IRA Express, as an account administrator, enables you to diversify your retirement portfolio through their four self-directed IRA account types, namely Traditional IRA, Roth IRA, Simple IRA, and SEP IRA. Custodial Assets permitted include Real Estate, Futures, Precious Metals, Limited Partnerships, Hedge Funds, Bitcoin, Trust Deeds, Tax Liens, and numerous others.
How Does It Work?
IRA Express provides all of its services via its website, but you can also visit its physical location at 2975 W. Executive Parkway, #199-122, Lehi, Utah 84043 for personalized assistance. If utilizing their online platform to access their services, the first stage is to select the account type that best meets your investment requirements. You must then download, print, complete, and submit the necessary forms. The staff at IRA Express will guide you through the account establishment procedure, and your self-directed IRA account will be established in a matter of days, allowing you to invest in alternative assets of your choosing.
IRA Express Fees
IRA Express asserts that its annual fee schedule is competitive. They offer two primary annual fee options. In the first option, fees are based on the number of assets held. For example, one asset costs $295 per year, so if you possess 10 assets, you will pay $2950 per year. The second annual fee structure is tiered and value-based, with a minimum fee of $195 and a maximum fee of $1,975.
Pros of IRA Express
Offers Customer Education
There is a news and education section on the website of IRA Express that provides complimentary news and information. Before you invest your money, you will have a greater understanding of the facets of self-direction, reducing your likelihood of engaging in illegal transactions or falling victim to fraud.
Regarding account types and permitted assets, as well as account establishment and annual fees, the company is transparent. All of this information is accessible on their website.
The account creation procedure is straightforward and entails downloading and completing simple PDF forms. Moreover, IRA Express's account executives are accessible to assist you if you encounter any difficulties while completing the forms.
There is a phone number and an email address for contacting customer service. The only negative aspect of their customer service is the absence of live chat support.
Despite the limited account types offered, IRA Express permits the custody of a variety of alternative assets, allowing you to diversify your investment portfolio with multiple assets.
Cons of IRA Express
Although IRA Express has been offering its services for nearly two decades, there are no online reviews or ratings for the company. Consequently, it is virtually impossible to determine their overall rating and reliability.
Limited IRA Accounts Offered
IRA Express's services are limited to four account types: Traditional IRA, Roth IRA, SEP IRA, and Simple IRA. Other custodians offer multiple retirement accounts, such as Education IRAs and Health Savings Accounts. This will undoubtedly restrict the number of investments you are able to make.
IRA Express Reviews & Ratings

Unfortunately, IRA Express lacks online accreditation, client reviews, and ratings despite having been in business since 2002. The company is neither accredited nor rated by the Better Business Bureau, and there are no reviews on Yelp, BCA, Trustlink, Trustpilot, and numerous other review sites.
Is There a Better Alternative?
As stated, IRA Express lacks consumer ratings, reviews, and accreditation from prominent review websites such as the Better Business Bureau. On the other hand, a number of our top-rated IRA companies have received outstanding ratings and testimonials. The following link will lead you to our recommended Gold and Silver IRA Company.
Click Here To See Our #1 Rated Gold & Silver IRA Company>
Is IRA Express Legit or Scam?
IRA Express was founded in 2002, marking over 20 years in business. In addition, the company's physical address and contact information are verifiable, proving that they are a legitimate business and not a scam.
IRA Express Alternatives
Conclusion
IRA Express is a Utah-based administrator of self-directed IRAs. The company was founded in 2002 and provides four self-directed accounts. In addition, IRA Express offers free customer education, simple account setup, excellent customer service, and custody of multiple alternative assets.
The company, however, lacks reviews, ratings, and accreditation from reputable online platforms such as the Better Business Bureau, Yelp, Trustpilot, Trustlink, and Business Consumer Alliance.