Need a reliable crypto IRA provider that can offer you excellent services at affordable rates? Regal Wallet is among the most popular Bitcoin IRA services in the industry, but are they really legit or reliable? Let's find out in this short review.
What Is Regal Wallet?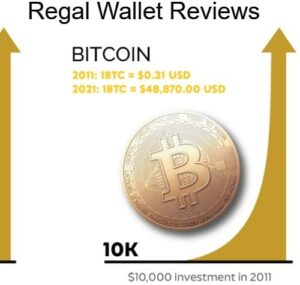 Simply put, Regal Wallet is a Crypto IRA service offered by Regal Assets, one of the most trusted precious metals IRA providers in the industry. Regal Wallet initially offered Bitcoin IRAs only, but they've diversified into other crypto currencies as well. Besides providing world-class IRA services at lowest price, Regal wallet also prides itself on being at the forefront in providing free customer education. Other than free information on their blog, the company also offers a FREE Crypto IRA Investor's Kit containing all the information you need to get started immediately.
Summary
Location:
Los Angeles, California
Address:
3450 Cahuenga Blvd W #705, Los Angeles, CA 90068-1295
Year Founded:
2009
Managers:
Tyler Gallagher (CEO)
Website:
Overall Rating:
[usr 4.9]
Recommended? 
Yes
Click Here To Get Regal Wallet's FREE Crypto IRA Investor's Kit
How It Works

The process of opening a Bitcoin IRA with Regal Wallet is pretty straightforward and begins with filling out a simple online Bitcoin IRA form. Regal Assets will then help you set up the account within 24 hours. Once you've created and funded your Regal Wallet account, Regal Assets will proceed to load it with your preferred digital currency, before putting it in an offline, highly secure cold storage.
Regal Wallet Products
As we've noted, Regal Wallet's main digital currency on offer is Bitcoin, but they've also expanded their services in the recent past and are now offering more than 30 crypto currencies. Some of their newly introduced cryptos include Ethereum, Bitcoin Cash, Ripple and much more.
Regal Wallet Crypto IRA Fees
Regal Assets charges some of the lowest storage and administration fees for Crypto IRAs. For instance, the company waives all your first year's fees, and then you are required to pay $240 from the following year. Minimum investment amount for Regal's Bitcon self-directed IRA is $10, 000.
Attention: Click the link below to request your FREE Crypto IRA Kit. The Kit contains information on Regal Wallet's Fees and Services. As a bonus, you will also get free DVD's to get you started.
Click Here To Get Your FREE Crypto IRA Kit Now
Regal Wallet Reviews, Accreditation and Ratings
We always recommend you find out what customers have to say about a firm on online platforms. Thus, we've searched every nook and cranny and found some really awesome Regal Wallet reviews on some of the most reputable review websites.
Regal Wallet boasts an excellent AAA rating on the Business Consumer Alliance, based on 57 customer reviews.


And on Trustlink, they are rated 4.6/5 based on 1, 090 customer reviews. Moreover, they are rated 5/5 on Yellow Pages, based on 12 customer reviews.


Should You Invest In Bitcoin and Other Cryptos?
As a smart investor, cryptos should be included in your portfolio. Cryptos, especially Bitcoin are currently undervalued, while their value is projected to keep rising. Keep note that a mere $200 investment in Bitcoin back in 2011 would be worth over 11 million dollars today! Thus, with a robust future, crypto currencies could easily make you a multimillionaire. Please follow the link below to request your free Regal Wallet Crypto Investor's Kit and get started.
Click Here To Claim Your FREE Crypto IRA Investor's Kit Now
Pros of Choosing Regal Wallet
Regal W. provides a highly secured, hacker-proof offline cold storage for your digital assets. What is more, your cryptos are fully insured by Lloyds of London.
As we've noted, Regal Wallet boasts an overall rating of 4.9 out of 5 stars, which is excellent. They have awesome ratings and reviews on the BCA, Trustlink, Yellow Pages and many other third party consumer protection websites.
Regal Wallet charges some of the lowest IRA fees in the crypto IRA industry. For example, your admin and storage fees are completely waived for the first year. Also, they only charge $240 per year, which is way below what most of their competitors charge.
Easy Account Set Up Process
Whereas other Crypto IRA providers take up to 2 weeks to set up your Crypto IRA account, Regal Wallet only takes 24 hours. Their experienced account executives are always on standby to assist you should you face any difficulty.
At Regal, client education is given top priority. Their website has a blog filled with extremely useful information about Cryptos as well as precious metals. In addition, they offer a free, highly insightful Investor's Kit.
Other than the famous Bitcoin, Regal Wallet also offers other major digital currencies such as Litcoin, Bitcoin Cash, Etherium and much more. Actually, they are the only Crypto IRA provider offering more than 30 cryptocurrencies.
Cons of Choosing Regal Wallet
High Minimum Investment Amount
Some clients on low budget may find Regal Wallet's $10, 000 minimum investment to be quite expensive.
Is Regal Wallet Legit Or Scam?
Regal Wallet is an absolutely legit service and not a scam. They have excellent customer ratings and reviews, and nearly zero complaints.
Conclusion
Regal Wallet is a Crypto IRA service offered by Regal Assets. The firm values customer education and will do everything in their power to furnish you with latest information on digital currencies. They are also known to charge some of the lowest IRA fees in the industry.
Additionally, Regal Wallet boasts excellent ratings on most third party consumer protection sites including the Business Consumer Alliance and Trustlink. Their only downside is the $10, 000 minimum investment requirement which some investors may find expensive.