Are you looking around for a precious metals company that can help you achieve financial prosperity? My Private Bullion offers products as well as strategies to help you grow financially, but are they reliable? Read our My Private Bullion review to find out if you should invest with them.
What Is My Private Bullion?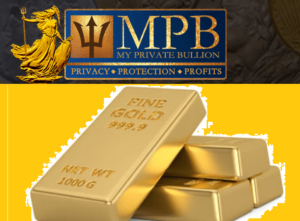 My Private Bullion is a precious metals company based in Sarasota, Florida. The firm was founded in 2012 primarily to trade in precious metals, in addition to offering precious metals IRA services. MPB's main goal is to educate clients on wealth management and asset protection. Their strategies are aimed at equipping you with asset protection as well as wealth management skills that will go a long way in securing your future and giving you peace of mind.
Company Info
Location:
Sarasota, Florida
Address:
715 N Washington Blvd Suite B, Sarasota, FL 34236, United States
Year Founded:
2012
Managers:
Alejandro Fabian Mora Viera (Owner)
Website:
www.myprivatebullion.com
Overall Rating:
[usr 3] Not Recommended
Click Here To Find Out Our #1 Recommended Gold and Silver IRA Provider
My Private Bullion Products and Services
My Private Bullion's product catalog contains precious metals such as gold, silver, platinum, palladium and rhodium. In addition to offering IRA eligible bullion, the company also offers collectibles and numismatics. Some of their bullion products include Gold China Panda, Gold PAMP Bar, Gold American Eagle, Gold Canadian Maple Leaf, Silver RCM Bar, Silver Canadian Maple Leaf, Silver Philharmonic, Platinum American Eagle, Palladium Fortuna Bar, American Eagle Palladium Reverse Proof Coin and much more.
How It Works
If you are only interested in purchasing metals, you can contact My Private Bullion via phone, live chat or email to get information about product pricing as well as place an order. However, if you are after opening a Gold IRA, you will need to complete the following 4 crucial steps:
Fill Out the Gold IRA Approval Form
The first step requires you to complete a Gold IRA Form which will determine whether you qualify. Should you qualify, My Private Bullion will email you your new Gold IRA number.
Fill Out the Gold IRA Custodian Form
If you qualify for a Gold IRA, My Private Bullion will complete a Gold IRA Custodian form and send it to you for your approval.
Transfer Funds
Once you approve the Gold IRA Custodian Form, the company will then proceed to transfer funds from your existing custodian to your new Gold IRA custodian. Normally, the transfer process takes at most 5 business days.
Wait For Precious Metals Delivery
After funds are transferred successfully, you can now wait for metals to be delivered to a secure vault. My Private Bullion uses Delaware Depository for storage.
Pros of Choosing My Private Bullion
Wide Selection of Products and Services
My Private Bullion offers a wide selection of gold, silver, platinum, palladium and rhodium products. They offer both bullion coins and bars, as well as collectibles and numismatics. What is more MPB offers to help you preserve and enhance your wealth in a secure, tax-exempted retirement account.
Offers Customer Education
They offer client education to equip you with the requisite knowledge and strategies to excel in precious metals investing and wealth management.
Offers Investment-Grade Bullion
Apart from numismatics and collectibles, MPB also offers investment-grade bullion, most of which are eligible for precious metals IRA.
The company provides multiple communication channels on their website to enhance communication with customers. For instance, they have an office phone number, a fax, an email address and a live chat.
Cons of Choosing My Private Bullion
No Information On Product Pricing
There's no information on coins and bar prices on their official website. Therefore, you are required to call the company to be updated on metal prices, which can be extremely cumbersome.
No Information On IRA Fees Or Custodians
Also, there's lack of transparency on the IRA fees you are supposed to pay. Besides, My Private Bullion does not reveal the custodians they work with.
There's No Information About the Company's Management
No information regarding the company's managers on their website. Usually, legitimate firms list their owners or managers on their websites, therefore it's quite strange that My Private Bullion lacks of such vital information.
Normally, reputable and trustworthy precious metals companies have a BBB accreditation. But we were shocked to find that My Private Bullion is not accredited with the BBB, despite their A+ rating on the platform.
Accreditation and Customer Reviews
My Private Bullion is not accredited with the BBB, even though they are rated A+ by the platform, which makes no sense at all. Moreover, the company has only 3 customer reviews on the platform.

MPB is not listed with both the BCA and Trustlink. However, they have a single review on Yelp.com and a 4.3 out of 5 stars rating on Trustpilot based on 9 reviews.

Should You Use My Private Bullion for Your Gold or Silver IRA Rollover?
My Private Bullion offers great products, but they are not accredited with the BBB. Furthermore, they are not transparent with pricing and fees, and their customer reviews and ratings are not that good. You can click the link below to see the company that we've given the highest ratings and that offers lowest IRA fees in the industry.
Click here to see the precious metals firm we've given the highest ratings
Does My Private Bullion Provide Storage?
Yes, they do provide secure storage through the Delaware Depository.
Is My Private Bullion Legit or Scam?
Of course they are absolutely legit and not a scam. They've been in business for nearly a decade and have an A+ rating with the BBB.
Conclusion
My Private Bullion is a precious metals firm that offers a wide range of bullion products, collectibles, numismatics and even Gold IRAs. The company is rated A+ on the BBB and boast excellent ratings on Trustpilot as well.
But the company lacks a BBB accreditation, which is considered important for any reputable firm. In addition, My Private Bullion does not disclose product prices or IRA fees, leaving potential investors in the dark regarding account set up, storage, admin and cancellation fees that await them.