Seeking a trustworthy self-directed IRA custodian who can assist you in diversifying your portfolio with alternative assets? Read our comprehensive review of Horizon Trust Company to learn the facts.
What Is Horizon Trust Company?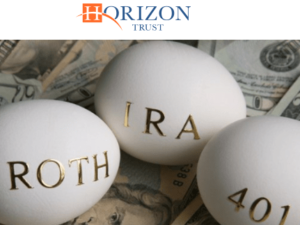 Headquartered in Albuquerque, New Mexico, Horizon Trust Company seeks to assist investors in making tax-deferred investments through a self-directed IRA. Through its website, the company provides both custodial and consulting services. Horizon Trust Company places a premium on client education, and they have devoted an entire section of their website to explaining how to establish a self-directed IRA.
Company Info
Location:
Albuquerque, New Mexico
Address:
2501 Yale Blvd SE #304, Albuquerque, NM 87106, United States
Year Founded:
2011
Management:
Greg Herlean (President), Andre Jolley (Vice President)
Website:
www.horizontrust.com
Overall Rating:
[usr 4]
Click Here To View Our top Recommended Gold and Silver IRA Provider>
Horizon Trust Company Products & Services
Horizon Trust Company, an established custodian, offers numerous self-directed IRA accounts and escrow services. Included among the available accounts are SEP IRA, Traditional IRA, Individual 401 (k), SIMPLE IRA, Roth IRA, Health Savings Account, and Education IRA. These accounts provide an excellent opportunity to diversify your portfolio with a wide variety of alternative assets. The Company's alternative assets include Real Estate, Private Placement, Tax Liens, Trust Deeds, precious metals, and many others.
How Does Horizon Trust Company Work?
The majority of Horizon Trust Company's services are accessible through its website. In their video, they have thoroughly explained how to establish a self-directed IRA. You must essentially establish a new self-directed IRA with them and then roll over or transfer funds from your existing IRA to the new account. Horizon Trust will assist you throughout the paperwork process and coordinate with your current custodian to expedite the transfer of funds as quickly as feasible. After establishing and funding your new self-directed account, you can invest in alternative assets of your choosing.
Horizon Trust Company Fees
Horizon Trust Company levies a flat activation fee of $350 for self-directed accounts. Depending on the value of your assets, annual administration fees range between $225 and $1,000. Horizon Trust Company charges a $300 termination fee for accounts.
Pros of Horizon Trust Company
The company's ratings on the BBB, one of the most reputable third-party review websites, are outstanding. However, they have low ratings on the majority of other online platforms.
Horizon Trust Company provides multiple self-directed accounts, allowing you to diversify your portfolio with a variety of assets.
They prioritize customer education and provide a video that explains how to open a self-directed IRA in depth. In addition, their blog is full of articles that explain the significance of self-direction and how to avoid deception.
You will undoubtedly benefit from the knowledge and counsel of the company's manager and chief executive officer, a renowned investor and member of the Forbes Council.
Cons of Horizon Trust Company
Compared to some of our highest-rated self-directed IRA custodians, their fees appear to be extremely expensive. For instance, they charge exorbitant account creation and cancellation fees.
Does Not Offer Bitcoin IRAs
Unfortunately, Horizon Trust Company does not provide cryptocurrency IRAs. This is a significant drawback for those seeking to invest in cryptocurrencies like Bitcoin.
Horizon Trust Company Reviews & Ratings
Horizon Trust Company's BBB rating is 4.5 stars out of 5, based on 8 user reviews and 1 complaint. They are rated 2 out of 5 stars on Yelp.com based on 8 customer reviews. And based on one user review, they have a 1/5 star rating on Trustlink. Strangely, there are no reviews of the company on Trustpilot or the Business Consumer Alliance.




Is Horizon Trust Company Legit?
Horizon Trust Company is a legitimate self-directed IRA custodian with both a physical location and a reputable website.
Horizon Trust Company Alternatives
Conclusion
Horizon Trust Company is a self-directed IRA custodian based in Albuquerque, New Mexico. The company was founded in 2011 with the intention of assisting investors in diversifying their portfolios through tax-deferred self-directed IRAs and alternative assets. Additionally, the company is known for its customer education and escrow services.
Horizon Trust Company is notorious for charging exorbitant account setup, administration, and termination fees. Additionally, they have low ratings on Trustlink and Yelp, and there are no reviews on Trustpilot or the Business Consumer Alliance.