Looking for a dependable self-directed IRA custodian for investing in alternative assets? Midland Trust Company is one of the numerous firms that offer self-directed IRA services, but are they legitimate? Read our Midland Trust Company review to determine whether or not you should invest with them.
What Is Midland Trust Company?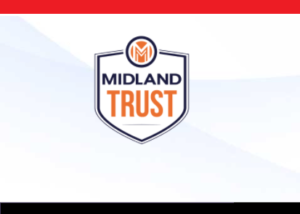 Midland Trust Company, also known as Midland IRA, Inc., is a self-directed IRA custodian founded in 2003 with the mission of providing unrivaled alternative assets investing services to customers across the nation. The company has invested in cutting-edge technology in order to offer you 24/7 account access and prompt customer service. The headquarters of Midland Trust Company is in Sioux Falls, South Dakota.
Company Info
Location:
Sioux Falls, South Dakota
Address:
330 N Main Ave #203, Sioux Falls, SD 57104, United States
Year Founded:
2003
Managers:
David A. Owens (owner)
Website:
www.midlandtrust.com
Rating:
[usr 1.2]
Click Here To Learn More About the Most Highly Recommended Precious Metals IRA Company>
Midland Trust Company Products & Services
Through a self-directed IRA, Midland Trust Company provides an excellent opportunity to diversify your investment portfolio with alternative assets. The firm offers SIMPLE IRAs, Roth IRAs, SEPs, Traditional IRAs, Individual 401(k)s, Health Savings Accounts (HSAs), and Education IRAs (ESAs). You can invest in a wide variety of assets with their IRA accounts, including Real Estate, Forex, Hedge Funds, Futures, Equities, Precious Metals, and more.
How It Works
The procedures involved in opening a self-directed IRA account with Midland Trust Company are outlined below.
Opening an Account
You must determine the type of account you wish to open before proceeding. After making your decision, you can establish the account by completing an online application form. For ESA, HAS, and 401k accounts, however, you must contact Midland Trust Company to establish the accounts for you.
Funding Your Account
The second stage involves funding your newly established account. Options for funding include IRA rollovers, transfers, and contributions.
Investing
The third and final stage entails making the investment itself. You have the option of selecting from the alternative assets approved by the company.
Pros of Midland Trust Company
Midland Trust Company has invested in cutting-edge technology in order to provide you with superior service. For example, they have an incredible client portal that allows you to make payments, upload files, and more.
Professional Customer Service
Midland Trust Company strives to provide the most responsive service in the industry; consequently, they have a team of service representatives who are committed to assisting you.
Free Educational Resources
Midland Trust Company provides free educational resources to help you with account opening and investments. They include a blog, RMD calculator, webinars, and a self-directed IRA guide.
Multiple Investment Options
With the numerous self-directed IRA accounts offered by Midland Trust Company, you will never run out of investment options. Multiple investment options are available, including real estate, precious metals, hedge funds, forex, etc.
Cons of Midland Trust Company
Despite the aforementioned advantages, almost all third-party review sites lack reviews for Midland Trust Company, which is a significant disadvantage. The company lacks reviews on significant platforms such as BBB and Trustlink.
Trust Company Reviews & Ratings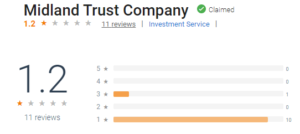 Despite an A+ BBB rating, the company lacks reviews and complaints on the platform. Additionally, the company lacks reviews and evaluations on other trust sites, such as Trustlink, Business Consumer Alliance, Trustpilot, and Yelp.
Is Midland Trust Company Legit or Scam?
Midland Trust Company has been in operation for over two decades and manages over $3 billion in client assets. Consequently, Midland Trust Company is a legitimate self-directed IRA custodian and not a scam.
Midland Trust Company Alternatives
Conclusion
Midland Trust Company is a self-directed IRA administrator based in Sioux Falls, South Dakota. Since its founding in 2003, the company has been able to provide exceptional services. With its diverse self-directed IRA options, Midland Trust Company provides you with a unique investment opportunity.
However, the company is not without flaws, as they also have a few disadvantages. They lack reviews on the majority of third-party review websites, such as Trustpilot, Trustlink, BCA, Yelp, and the BBB.