Are you interested in self-directing your retirement assets, but unsure if Provident Trust Group is the appropriate firm for you? Read this Provident Trust Group review to gain insight.
What Is Provident Trust Group?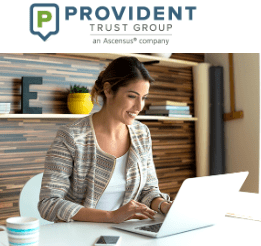 Provident Trust Group is a self-directed administrator based in Las Vegas. The company was founded in 2008 with the mission of enabling individuals to take charge of their retirement. The mission of Provident Trust Group is to facilitate clients' access to alternative assets while providing superior customer service.
Provident Trust Group Review Summary
Location:
Las Vegas, Nevada
Address:
8880 W Sunset Rd #250, Las Vegas, NV 89148, United States
Year Founded:
2008
Management:
Brad Kraft (President)
Website:
www.trustprovident.com
Rating:
[usr 2]
Find Out Our #1 Rated Gold & Silver IRA Provider Here>
Provident Trust Group Products & Services
Provident Trust Group is primarily a self-directed IRA custodian and administrator. Consequently, it permits the establishment of self-directed accounts such as Traditional IRA, Roth IRA, Inherited IRA, SEP IRA, SIMPLE IRA, and Individual 401(k). Listed below are some of the numerous assets that Provident Trust Group accepts as investments:
Limited Partnerships
Hedge Funds
Real Estate
Forex
Single-member LLC
Private Placement
Precious Metals
Options
Tax Liens
Trust Deeds
REITs
Multi-member LLC
Private Lending
How Does It Work?
How does Provident Trust Group operate? Visit their online portal and register for an account as a first step. After logging in, you can learn as much as possible by navigating to the 'Education' section of their website.
Proceed to the 'Forms' section to download forms and set up your preferred self-directed account once you have decided. If you have any queries or are unsure of which investment to choose, you can always contact their team of highly skilled representatives via phone, mail, or email.
Pros of Provident Trust Group
In-depth Customer Education
They have a comprehensive consumer education section titled 'Education Center'. You can learn more about the self-directed retirement process and how to fund your account on this page. You can also access the self-directed tax calendar, frequently asked questions, a glossary of self-directed terms, and industry news.
Multiple Alternative Assets
Provident Trust Group has an extensive list of permitted investment assets, rivaled by only a few of the industry's largest companies. Thus, they offer their consumers a great deal of flexibility and choice.
Simple Account Setup Process
The company has made substantial investments in cutting-edge technology, and all account setup and administration are completed online, with no cumbersome paperwork required.
Cons of Provident Trust Group
They have low ratings on the websites of the majority of online consumer protection agencies, including Yelp and the Better Business Bureau.
Numerous Customer Complaints
Provident Trust Group is the subject of numerous complaints on numerous review websites. During the past three years, they have received 16 complaints on the BBB alone. The majority of complaints concern subpar customer service and excessive IRA fees.
Not Accredited By the BBB
They lack BBB accreditation despite being in business for over a decade, which is indicative of their poor customer service and failure to resolve customer complaints.
Provident Trust Group Reviews & Ratings

Provident Trust Group is not accredited by the BBB, despite having a 2.33/5-star rating based on 9 user reviews. Additionally, they have a high number of consumer complaints with the BBB (eight closed complaints in the past three years). On Yelp, Provident Trust Group has a 1.5-star rating based on the reviews of 38 customers. The company lacks reviews, ratings, or complaints on Trustlink or the Business Consumer Alliance.

Is Provident Trust Group Legit or a Scam?
Provident Trust Group is a legit self-directed administrator and passive custodian that has been in business since 2008.  In addition, they have a verifiable address in Las Vegas, Nevada.
Provident Trust Group Alternatives
Conclusion
Provident Trust Group is a self-directed administrator and passive custodian that manages over $6 billion in assets. The objective of their platform is to enable clients to self-direct their retirement by establishing self-directed IRA plans and investing in alternative assets. Provident Trust Group offers a straightforward account opening procedure, comprehensive customer education, and a variety of alternative asset options.
This company's only flaw is its low rating on online platforms. For instance, they lack BBB accreditation and have negative reviews and numerous complaints on review sites such as Yelp.com.