What is Pacific Coin Exchange? Is it a genuine precious metals dealer or scam? What are customers saying about them? Well, this detailed review about Pacific Coin Exchange will furnish you with all the information you need to know before purchasing anything from them.
What Is Pacific Coin Exchange?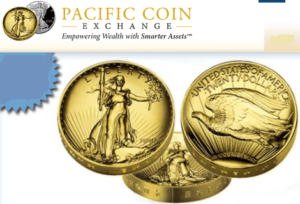 Pacific Coin Exchange is one of the oldest precious metals dealers in the industry located in Carlsbad, California. The company was founded in 1986 with the motive of helping investors safeguard their future with precious metals such as gold, silver, platinum and even rare coins. PCE is run and managed by accomplished veterans with precious metals and financial industry experience. In addition to providing you with free education on precious metals investing, Pacific Coin Exchange also promises to save you money through fair pricing of coins and bars.
Does It Offer Precious Metals IRAs?
No, Pacific Coin Exchange does not offer precious metals IRAs. If you are looking for a genuine precious metals IRA provider, you can check out our top recommended gold and silver IRA Company on this page.
Summary
Location:
Carlsbad, California
Address:
300 Carlsbad Village Dr Ste 212
Carlsbad, CA 92008-2991
Year Founded:
1986
Management:
Brian Whitfield (President)
Website:
www.pacificcoinexchange.com
Overall Rating:
[usr 2]
Find out our top-rated precious metals IRA Company here
Pacific Coin Exchange Products
Pacific Coin Exchange mainly specializes in silver, gold, platinum and palladium bullion coins and bars as well as numismatic and rare coins. Their products include American Gold and Silver Eagles, Canadian Gold and Silver Maple Leafs, 1 oz, 10 oz and 100 oz silver bars, Gold Chinese Pandas, South African Krugerrands, American Platinum Eagles,  1 oz platinum bars, Canadian Palladium Maple Leafs, palladium bars & rounds, and much more.
How Pacific Coin Exchange Works
Pacific Coin Exchange has a website where they display coins and bars, but there is no detailed pricing information of the items. Moreover, the company lacks and online checkout system, hence you are required to contact them or visit their premises to complete your purchase. You are also required to contact or visit the company should you wish to sell them your own precious metals.
Pros of Pacific Coin Exchange
Pacific Coin Exchange offers multiple payment options for convenience. They include wire transfer, money order, cash, cashier's check, personal checks and certified checks.
No Minimum Purchase Requirements
There's no minimum purchase amount for Pacific Coin Exchange's coins and bars. Therefore, you can afford most of their products even with a limited budget.
Wide Selection of Products
PCE stocks a wide selection of coins and bars of varying denominations. Additionally, they partner with some of the largest coin and bullion dealers in the industry to guarantee consistent supply of precious metals.
Offers a Buy-back Program
They offer a buy-back program, which is extremely helpful when you want to liquidate your assets. The company promises to buy your coins or bars at the fairest prices available.
Cons of Pacific Coin Exchange
As we've already noted, Pacific Coin Exchange does not have an online checkout system, hence you are required to contact them via phone, email or by paying them a visit in order to place an order. This can be extremely time consuming and frustrating for some people.
Does Not Offer Gold and Silver IRAs
Despite assisting clients to select IRA-eligible coins and bars, Pacific Coin Exchange does not offer precious metals IRA services. The company is neither a custodian nor does it partner with any custodian to offer gold and silver IRAs. If you are looking for a reliable gold and silver IRA provider, visit this page.
Not Accredited With the BBB
In spite of a few great reviews and ratings on some third party review websites, Pacific Coin Exchange lacks reviews and accreditation from the BBB. Since the BBB is one of the most trusted consumer protection websites, a lack of accreditation from them makes a business look shady in the eyes of investors.
Accreditation, Ratings and Reviews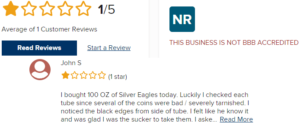 Pacific Coin Exchange is not BBB accredited, even though they have a single negative customer review on the platform.
However, they are rated 4.5/5 on Yelp based on 26 reviews. And unexpectedly, the company lacks reviews or ratings on the BCA, Trustlink and Trustpilot.
Is Pacific Coin Exchange Ideal for Precious Metals IRA?
Unfortunately, Pacific Coin Exchange does not offer gold or silver IRAs, despite the fact that they sell IRA-eligible bullion. If you wish to protect your retirement savings with a precious metals IRA, you should check out our #1 recommended IRA provider through the link below.
Checkout our #1 recommended precious metals IRA provider now
Is Pacific Coin Exchange Legit or Scam?
Pacific Coin Exchange is a legit bullion and coin dealer run by experienced veterans. It is definitely not a scam.
Conclusion
Pacific Coin Exchange is a precious metals dealer based in Carlsbad, CA. The firm was established in 1986 and is run by highly experienced veterans with the aim of helping you protect your financial future with precious metals. PCE offers a wide selection of bullion and coins as well as a buy-back program.
However, Pacific Coin Exchange lacks a BBB accreditation, which has greatly diminished the company's reputation. Also, they don't have an online checkout system hence slowing down product ordering process which could be very frustrating for some clients.