In the realm of precious metals and rare coins, finding a reliable dealer is paramount to ensuring a smooth and profitable transaction. Among the plethora of options available, Coinhuskers emerges as a notable player. Established in 2011 and headquartered in Omaha, Nebraska, this coin dealer is owned by David M. Peter. Specializing in the buying and selling of precious metals, coins, and currency, Coinhuskers positions itself as a comprehensive resource for both seasoned investors and those looking to enter the world of numismatics. However, as we delve into the details, certain aspects, such as the absence of BBB accreditation despite a decade in business, raise questions about its overall legitimacy.
What Is Coinhuskers?

Founded in 2011, Coinhuskers has carved a niche for itself in the precious metals market. The company, under the ownership of David M. Peter, prides itself on providing instruction and assistance in the buying and selling of precious metals, coins, and currency. Beyond this, Coinhuskers deals in a diverse range of products, including rare coins, jewelry, watches, palladium, platinum, copper, and diamonds. The company aims to establish lasting business relationships with its customers, emphasizing the privilege of maximizing returns on their investment needs.
A notable feature of Coinhuskers is its commitment to customer education. The inclusion of a Knowledge Center section on their website indicates a proactive approach to informing clients about the intricacies of the precious metals market. However, one notable drawback is the absence of BBB accreditation, a factor that may give potential customers pause, especially when considering the longevity of Coinhuskers in the industry.
Coinhuskers Products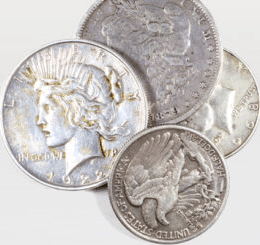 Coinhuskers prides itself on offering a wide array of products, catering to various investment and collector preferences. Among their offerings are gold and silver bullion, rare coins, jewelry, watches, palladium, platinum, copper, currency (including foreign), and diamonds. This diversity positions Coinhuskers as a one-stop-shop for those looking to diversify their investment portfolio with tangible assets.
How It Works
Unlike many online precious metal dealers, Coinhuskers takes a different approach. With no online store available, customers interested in purchasing products must either call or email the company directly. For those who prefer a more personal touch, Coinhuskers does allow physical visits to their store. However, this is strictly by appointment only, emphasizing the importance of calling ahead to schedule a visit.
This approach might be seen as a positive for those who value a personalized experience, but it also raises concerns about accessibility for those who prefer the convenience of online transactions. The requirement for appointments and the absence of an online store could be perceived as potential barriers to entry for some customers.
Pros of Coinhuskers
Despite certain limitations, Coinhuskers boasts a track record of over a decade in the precious metals market. This longevity can be seen as a testament to the company's stability and reliability. The extensive range of precious metals and collectibles, including rare coins and jewelry, further adds to its appeal. Additionally, the commitment to client education through the Knowledge Center sets Coinhuskers apart as a dealer that values informed decision-making.
One noteworthy advantage for buyers is that Coinhuskers operates in Nebraska, where sales tax on precious metals was removed in 2014. This means that customers can maximize their return on investment by avoiding additional sales tax charges.
Cons of Coinhuskers
Despite its long-standing presence in the industry, Coinhuskers faces certain challenges that potential customers should be aware of. The absence of BBB accreditation is a significant concern, as accreditation from this widely recognized organization is often associated with trust and reliability. The paucity of reviews on BBB and other online platforms further clouds the reputation of Coinhuskers, leaving potential customers with limited feedback to base their decisions on.
The lack of an online store might also be a drawback for customers who prefer the convenience of making purchases with a few clicks. The requirement for appointments to visit the physical store adds another layer of complexity that may deter some potential buyers.
Notably, Coinhuskers does not offer gold or silver Individual Retirement Accounts (IRAs), limiting its appeal for those specifically seeking precious metals investments within the framework of an IRA.
Reviews on BBB, Trustpilot, Yelp, and Trustlink

Examining the reviews and ratings across various platforms provides insight into the reputation of Coinhuskers. On BBB, the company boasts a 5-star rating, a positive sign at first glance. However, this rating is based on only two customer reviews, raising questions about the representativeness of such a small sample size.
On Trustpilot, Coinhuskers has no reviews or ratings, leaving potential customers with a void of feedback from this widely used review platform. Yelp, on the other hand, paints a more detailed but still limited picture. The company maintains a 5-star rating based on seven reviews, indicating a positive overall sentiment. However, the small number of reviews may not accurately reflect the experiences of a broader customer base.
Trustlink, another platform commonly used for customer reviews, also lacks any feedback for Coinhuskers. This absence of reviews on multiple platforms adds an element of uncertainty for potential customers, who may find it challenging to gauge the company's reputation based on the available information.
Is Coinhuskers Legit?
The question of legitimacy is a crucial one, especially when considering the lack of BBB accreditation and the limited feedback on various review platforms. While Coinhuskers has been in business for over a decade and offers a range of products, the absence of a robust online presence and the scarcity of customer reviews raise valid concerns.
Similar Reviews
Coinhuskers Reviews- Conclusion
In conclusion, Coinhuskers presents itself as an established player in the precious metals market, with a diverse product offering and a commitment to customer education. However, the lack of BBB accreditation, a limited online presence, and the scarcity of customer reviews make it challenging to confidently vouch for the legitimacy and reliability of this coin dealer. Potential customers should exercise caution and conduct thorough research before engaging in transactions with Coinhuskers, considering the uncertainties surrounding its reputation in the market.