Are you searching for a trustworthy precious metals dealer to purchase coins and bars? Amergold (American Gold Exchange) offers an extensive selection of bullion and rare coins, but are they of high quality? Read our Amergold reviews to determine if you should purchase from them.
What Is Amergold?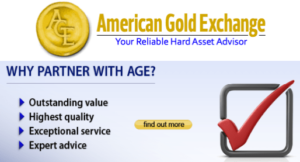 Amergold, also known as American Gold Exchange or AGE, is one of the foremost precious metals dealers based in Austin, Texas. Amergold was founded in 1998 with the goal of providing the finest customer service and the highest quality gold, silver, platinum, and palladium. American Gold Exchange concentrates primarily on dealer-to-dealer and direct-to-consumer sales.
Does Amergold Offer Precious Metals IRAs?
Interested in gold and silver IRAs? Sadly, Amergold does not provide IRAs. To establish a precious metals IRA, you need a firm that offers both retail and custody services. Learn more about our top recommendation for gold and silver IRAs by clicking the link below.
Click Here To Learn About Our #1 Recommended Firm for Gold & Silver IRAs>
Amergold Review Summary
Location:
Austin, Texas
Address:
4210 Spicewood Springs Rd Suite 100, Austin, TX 78759, United States
Year Founded:
1998
Management:
Dana Samuelson (President), William Musgrave (Vice President)
Website:
www.amergold.com
Rating:
[usr 4]
Amergold Products

Amergold deals primarily in rare coins and collectibles, as well as gold, silver, platinum, and palladium bullion coins and bars. As a result of its partnerships with multiple European and American suppliers, the company maintains a vast inventory of products. Among the available coins and bars are pre-1933 gold coins such as the Liberty Double Eagle, European and world coins such as the Argentina Gold 5 Pesos, gold and silver American Eagles, PAMP Suisse silver bars, gold and silver Maple Leafs, platinum and palladium Maple Leafs, platinum and palladium American Eagles, and many others. In addition to providing a constant supply of coins and bars, Amergold's website is renowned for its special offers and free educational resources.
How Does Amergold Work?
Amergold only sells its coins and bars through its official e-commerce website, which provides detailed pricing information and product specifications. You can begin by browsing the catalog and selecting your desired items before proceeding to the checkout to place your order. They accept debit cards, credit cards, and cryptocurrency payments.
Pros of Amergold
Exceptional Customer Service
Priority number one at Amergold is customer service. Expert consultants are available to assist you in selecting the most promising products at the lowest possible prices.
Wide Selection of Products
Amergold collaborates with a vast network of suppliers to ensure a continuous supply of metals to its consumers. They also utilize economies of scale to reduce the prices of the majority of their commodities.
Excellent Ratings and Reviews
The company has an outstanding average rating of four out of five stars on the majority of review websites.
Awesome E-commerce Website
The user-friendly e-commerce platform of Amergold has made it simple for you to view and select your preferred items within minutes. Additionally, they have a safe and adaptable transaction system that accepts numerous payment methods.
Cons of Amergold
Precious Metals IRAs are Not Offered
This company's inability to offer IRAs for precious metals is the sole drawback. If you are interested in opening a gold or silver IRA, we recommend this reputable company.
Client Reviews & Ratings

According to Amergold reviews on the Better Business Bureau, the company holds a 4.5-star rating on the platform based on 2 customer reviews and 0 customer complaints. Likewise, based on 2, 733 customer reviews, complaints, and ratings, they have an exceptional rating of 5/5 stars on Trustpilot. Based on 36 user reviews, the company has a perfect rating of five stars out of five on Trustlink. They have a 3.5-star rating on Yelp based on 5 user reviews and ratings.


Should You Buy from Amergold?
Buying from Amergold is undoubtedly a decision you must make for yourself. Since they provide superior products and services, it may be worthwhile to give them a try. However, if you're interested in precious metals IRAs, you may need to look elsewhere, as Amergold does not offer them. Goldco is our top recommendation for precious metals IRAs; please click the link below for more information.
Click Here To Learn More About Goldco>
Alternatives to Amergold
Amergold Reviews Conclusion
Thank you for reading our Amergold review. We have noted that Amergold is one of the leading precious metals dealers and is headquartered in Austin, Texas. The company's high-quality products and services have garnered excellent ratings and reviews on the majority of review websites, including the Better Business Bureau.
Amergold does not offer custodial or IRA services, which is a major disadvantage for investors seeking to diversify their portfolios with gold, silver, or even cryptocurrencies.