Are you contemplating investing your retirement funds in gold, silver, or other precious metals? Gold Gate Capital may be the ideal firm for you, but are they legitimate? Read this Gold Gate Capital reviews to gain insight.
What Is Gold Gate Capital?

Gold Gate Capital is a gold and silver dealer based in Los Angeles, California. Since its inception in 2008, it has been an incredible platform, providing thousands of customers with simple access to gold and silver products. In addition to selling and purchasing bullion coins and bars, Gold Gate Capital can also assist you in diversifying your portfolio through a precious metals IRA.
Gold Gate Capital Review Summary
Location:
Los Angeles California
Address
5250 W Century Blvd #501A
Los Angeles, CA 90045-5942
Year Founded:
2008
Management:
Chris Seebert (President)
Website:
www.goldgatecapital.com/
Rating:
[usr 4.5]
Here's Our #1 Rated Gold & Silver IRA Provider>
Gold Gate Capital Products & Services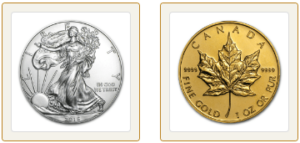 The majority of Gold Gate Capital's inventory consists of IRA-approved gold and silver coins and bars. The company does not currently stock platinum and palladium products. Some of the company's available products are listed below.
Gold
Austrian Gold Philharmonic
American Gold Buffalo
Gold South African Krugerrand
American Gold Eagle
Gold Canadian Maple Leaf
Gold Rose Crown Shield
1-oz Gold Bar
Gold Valcambi Combibar
10-oz Gold Bar
Silver
Silver American Eagle
Austrian Silver Philharmonic
Silver Canadian Maple Leaf
Silver Rose Crown Shield
1-oz Silver Rounds
10-oz Silver Bar
100-oz Silver Bar
Junk Silver
 How Does It Work?
Gold Gate Capital lacks an e-commerce platform for online shopping. Therefore, if you desire to purchase from the company, you must first contact them for pricing information and to place an order. In order to sell to Gold Gate Capital, you must also contact them for an appraisal.
Gold Gate Capital Gold IRA
Gold Gate Capital provides comprehensive information on precious metal IRAs, including how to establish a Gold IRA, fund it, and purchase the appropriate metals. Gold Gate Capital has published a list of all IRA-approved coins and bars to prevent confusion among new investors.
Looking to open a gold or silver IRA? Check Out Our #1 Rated Precious Metals IRA Provider Now>
Gold Gate Capital Custodian & Storage
Gold Gate Capital is unclear regarding the IRA custodians they deal with, but they have stated that they work with qualified precious metals IRA custodians, using Equity Trust as an example. Gold Gate Capital collaborates with the Delaware Depository and Brink's Global Service to provide secure vaulting services for storage.
Gold Gate Capital Costs & Fees
Gold Gate Capital does not avail product pricing information on its website. Therefore, you must contact them to consult about prices.
However, as shown in the table below, the company provides a comprehensive breakdown of Precious Metals IRA fees.
Pros of Gold Gate Capital
The company is run by a number of experts
Excellent reviews online including on the Better Business Bureau (BBB)
Accredited with the BBB since 2014
Top-quality gold and silver products
Cons of Gold Gate Capital
Product pricing information is not available on the website
The firm lacks an e-commerce site
Limited reviews and ratings online
Client Reviews, Ratings & Complaints
Gold Gate Capital reviews on the BBB indicate that they are accredited since 2014 and hold a 5-star rating based on 17 customer reviews and 2 customer complaints. Likewise, Trustlink provides Gold Gate Capital five out of five stars based on forty customer reviews and complaints. GGC does not have any ratings on Yelp, Trustpilot, or the BCA.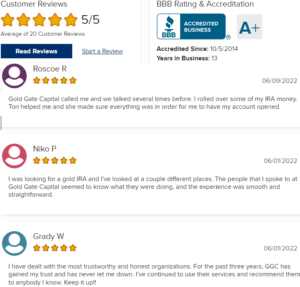 BBB: [5/5] 
Trustlink: [5/5] 
Yelp: [0/5] 
Trustpilot: N/A
BCA: N/A
Is Gold Gate Capital Legit or Scam?
Gold Gate Capital is legitimate. It has been a legitimate precious metals dealer since 2008. Despite being legit, the business has its flaws. Here are our recommended gold and silver IRA providers.
Gold Gate Capital Alternatives
Gold Gate Capital Management Team
Gold Gate Capital's management structure is unclear. The BBB lists Chris Seebert as the company's president, whereas Zoominfo lists him as the company's chief executive officer.
Gold Gate Capital Reviews Conclusion
Gold Gate Capital is a gold and silver company based in Los Angeles, California. Since 2008, they have provided investment-grade bullion as well as precious metals IRAs. In addition, the company has received high marks from the Better Business Bureau and Trustlink.
On the other hand, Gold Gate Capital lacks pricing transparency for its products. In addition, they lack an online store, so you cannot order online.
.