Is Colorado Gold a legit precious metals dealer? Here, we'll help you make an intelligent investment decision by critically reviewing Colorado Gold and presenting important facts about the company. Without further ado, let's begin our Colorado Gold review.
Would you like to learn about our top rated Gold IRA Company? Visit this page.
What Is Colorado Gold?

Established in 1977, Colorado Gold is a precious metals dealer that buys and sells gold, silver, platinum and palladium products. They mainly deal with bullion coins and bars, a majority of which are approved to be held in an IRA.  Colorado Gold claims to offer only the highest quality, lowest priced products. The company does not stock rare coins because they believe they are not a good investment.
Colorado Gold Review Summary
Location:
Montrose, Colorado
Address:
222 S 5th St
Montrose, CO 81401-3622
Year Founded:
1977
Management:
David Stott & Don Stott (owners)
Website:
www.coloradogold.com
Rating:
[usr 3]
Here's our #1 Rated Precious Metals IRA Firm
Colorado Gold Products

Colorado Gold stocks a wide range of bullion products. Their catalog is neatly designed and detailed information such as price and weight is provided for every product. Products comprise gold, silver, platinum and palladium bullion bars and coins. Examples are Gold Canadian Maple Leaf, Gold American Eagle, Gold Kangaroo, Gold Austrian Philharmonic, Heraeus Gold Bar, Credit Suisse Gold Bar, Silver American Eagle, Silver Canadian Maple Leaf, Silver Kangaroo, Platinum Austrian Philharmonic, Platinum American Eagle and Palladium American Eagle, among others.
As for precious metals IRAs, Colorado Gold has listed STRATA Trust Company, New Direction Trust Company and The Entrust Group as custodians. However, the company does not partner with any depository, hence you need to find your own.
How to Buy from Colorado Gold
Purchasing from Colorado Gold is simple and begins with signing and submitting a client agreement. Once you've submitted your agreement, call the company to place your order. The current price available on their website is the price you will pay. CG will then issue you with a trading number before you can send payment. Upon receiving your payment, Colorado Gold will insure and ship your order via UPS. Acceptable payment options include personal check, bank wire, cashier's check and VENMO.
How to Sell to Colorado Gold
The selling process is almost similar to the buying process. If you are a new seller, begin by completing and submitting the online client agreement. After submitting the agreement, call the company to lock in your order. Upon placing the order to sell your metals you need to ship them to Colorado Gold's depository via USPS. If you are a new customer, you may be asked to present the metals at the depository before the trade details are finalized. Colorado Gold only buys precious metals with acceptable hallmarks, and a 1% charge will apply if your metals were not purchased through their website or storefront.
Colorado Gold Pricing & Costs
Colorado Gold charges a 1% fee for all their services, including insured shipping. For orders above $50, 000 the company charges 0.75%, including insured shipping. And for orders of $100, 000 or more, Colorado Gold charges 0.5% fee, also including insured shipping.
Colorado Gold IRA Fees
As for precious metals IRA, fees will depend on the IRA custodian and depository you choose.
Pros of Colorado Gold
Offers a wide range of high quality bullion coins and bars
Precious metals IRAs are offered
They offer a buyback program, making it extremely easy to liquidate your assets
Detailed product descriptions and pricing is provided
The company is BBB accredited since 2010
They've been in business for 4 decades
Cons of Colorado Gold
Exorbitant Commission Fees are Charged
The company lacks reviews and ratings on most online platforms including the BBB
Colorado Gold Reviews & Rating
Colorado Gold is accredited and rated A+ by the BBB despite having zero customer reviews or complaints on the platform. Trustpilot gives Colorado Gold an average rating of 3.7 out of 5 stars based on a single customer review. The company lacks reviews, ratings or complaints on Trustlink, BCA and Yelp.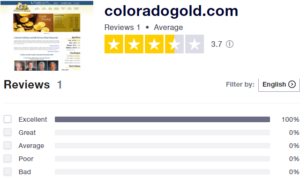 Click Here to See Our #1 Rated Precious Metals Company
Is Colorado Gold Legit or Scam?
Colorado Gold is not a scam. It is a legit bullion dealer that has been around since 1977.
Colorado Gold Alternatives
Colorado Gold Reviews- Summary
Colorado Gold is a precious metals company that offers gold, silver, platinum and palladium bullion coins and bars. In addition to trading in metals, the company also offers IRAs in partnership with third party custodians. Colorado Gold has been accredited with the Better Business Bureau (BBB) since 2010. On the downside, Colorado Gold charges exorbitant commission fees and also lacks reviews and ratings.