If you are considering investing in precious metals, you must conduct research to identify the most reliable dealer. If you discovered National Gold Group during your investigation, you may be wondering whether it is a legitimate business or a scam. In this National Gold Group review, we will examine the most important aspects of this company, such as customer reviews, complaints, and ratings, to determine if they can be trusted. Continue reading to learn more.
What Is National Gold Group?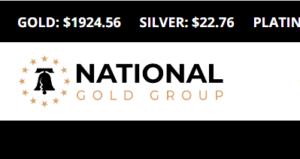 National Gold Group is a Hawaii-based merchant in precious metals with offices in Kailua and representatives in all time zones of the United States. According to the company's website, they are a family-owned business whose mission is to assist Americans in diversifying their investment portfolios more readily and effectively.
National Gold Group places a premium on customer education. Their seasoned proprietors believe that an educated client will have a greater understanding of the benefits and risks associated with investing in precious metals such as gold, silver, platinum, and palladium.  Therefore, whether you are a novice or a seasoned investor, the firm's knowledgeable staff will take the time to carefully guide you through all the details of precious metals investment, while ensuring that you consider all of your options.
Pay Attention: Before we go any further with this review!
We always recommend conducting due diligence before settling on a precious metals company to invest in. With so many clients getting ripped off with the so-called hidden fees, you need to research meticulously before purchasing metals or opening a precious metals IRA. We understand that picking the right company is the most important financial decision for you, and thus, we've compiled a list of our 3 best precious metals IRA companies for 2023.
See our 3 best precious metals IRA providers here>>
National Gold Group Review Summary
Location:
Kailua, Hawaii
Address:
591 Kailua Rd Suite #200 B, Kailua, HI 96734, United States
Year Founded:
2021
Management:
Mr. David Morenfeld, Vice President
Website:
www.nationalgoldgroup.com/
Rating:
4.5/5
National Gold Group Products

National Gold Group's product catalog consists primarily of IRA-eligible gold, silver, platinum, and palladium coins and bars. The products and their descriptions are arranged in an orderly manner, but crucial pricing information is missing. Listed below are a few of their available products.
Gold
American Gold Eagles, American Gold Eagle Proof Sets, Austrian Philharmonics, American Gold Buffalos, Canadian Gold Maple Leafs, Australian Gold Kangaroos, British Gold Britannias, and 1-oz gold bars are among the available gold products.
Silver
Silver products consist of American Silver Eagle Bullion coins, American Silver Eagle Proof coins, Austrian Silver Philharmonic coins, Canadian Silver Maple Leaf coins, Australian Silver Koala coins, British Silver Britannia coins, South African Silver Krugerrands, as well as silver rounds and bars.
Platinum
Their platinum products include the American Platinum Eagle and Proof American Platinum Eagle coins, the Canadian Platinum Maple Leaf, the Australian Platinum Kangaroo, the Isle of Man Platinum Noble, and platinum bars.
Palladium
Palladium American Eagles, Canadian Palladium Maple Leafs, and palladium bars are among their palladium offerings.
In addition to delivering the aforementioned bullion products to your door, National Gold Group will also assist you in establishing a gold IRA if you are eligible. National Gold Group accepts Traditional IRA, Roth IRA, SEP IRA, Inherited IRA, Rollover IRA, 401(k), 403(b), 457 Deferred Compensation, Health Savings Account, and Thrift Savings Plan (TSP) as qualified retirement plans for setting up a precious metals IRA.
How Does It Work?
You can order physical delivery of metals to your residence or have them held in a precious metals IRA through the National Gold Group. In order to purchase bullion from their website, you must call or chat with one of their experts, as they lack an online ordering system. You can open a precious metals IRA by following the steps below.
Open an Account
Start the process of opening a gold IRA account by completing their online application. This will not exceed five minutes. After completion, their in-house IRA department will set up your new IRA account within 24 hours.
Fund Your Account
You can fund your new precious metals IRA via transfer or rollover. The IRA department of National Gold Group will perform all the laborious tasks necessary to expedite the rollover/transfer process as quickly as feasible.
Choose Your Metals
In the final phase, you select your preferred precious metals to hold in your IRA. The account representatives of the company will explain your options for bullion, bars, and coins.
Click here to learn about our top-rated gold and silver IRA provider.
Pros of National Gold Group
The proprietors of National Gold Group have a combined experience of 25 years in the precious metals industry. Therefore, they are able to guide you in selecting the precious metals that are most suitable for your portfolio.
National Gold Group's main priority is client education. The company believes that an informed client is a satisfied client, so they spend the majority of their time educating you about precious metals investments. In addition, their website contains both informative articles and current market news.
Their website's elegant design makes it effortless to peruse their product catalog. Their straightforward online application makes the process of establishing a precious metals IRA uncomplicated.
National Gold Group has an average of 5 stars on the majority of online review sites, which is quite impressive and indicative of their superior customer service.
Low Minimum Order Quantity
The minimum purchase requirement for establishing a precious metals IRA is $10,000, which is considerably less than what is required by some prominent Gold IRA providers, who require upwards of $25,000 to establish a precious metals IRA.
Cons of National Gold Group
Does Not Display Product Prices
If you want to know the price of a product before placing an order, the absence of price information in their catalog is quite disappointing. To inquire about pricing, you must contact the company, which is time-consuming.
According to their Better Business Bureau profile, the National Gold Group was founded in 2021, making them relatively new to the industry in comparison to some of the most well-known precious metals dealers. National Gold Group may not be for you if you are seeking a company with a lengthy history.
Accreditation & Client Reviews

National Gold Group reviews on the Better Business Bureau are quite impressive, with a 5 out of 5-star rating based on 36 customer reviews and no complaints.  On Yelp, they have a 5-star rating based on one review, whereas, on Trustpilot, they have a 4.6-star rating based on 19 customer reviews and complaints. Trustlink and the Business Consumer Alliance have no reviews or ratings for the company.
Frequently Asked Questions
Is National Gold Group Legitimate?
National Gold Group is a legitimate company managed by seasoned professionals. The company is owned by a family whose credibility in the precious metals niche is beyond reproach.
Can You Sell Back to National Gold Group?
We were unable to ascertain whether National Gold Group has a repurchase program while compiling this review, as the company's website makes no mention of one.
Does National Gold Group offer Storage?
There is no mention of storage facilities on the company's website, leading us to believe that they do not currently offer storage services.
Alternatives to National Gold Group
National Gold Group Reviews Conclusion
National Gold Group is a precious metals dealer based in Hawaii. The company offers a wide selection of IRA-approved bullion and is managed by seasoned professionals. In addition, the company's online ratings and reviews are exemplary, and it is renowned for providing the finest client education in the industry.
On the other hand, the National Gold Group conceals product pricing and is a relative newcomer to the precious metals industry.
Are you contemplating establishing a gold or silver IRA? Here's Our Top-Recommended Firm>