What is Eastern Numismatics? A legitimate business or a scam? Should you do business with them, or should you look elsewhere? In this comprehensive review of Eastern Numismatics, we examine the company's products, customer reviews, ratings, and complaints in order to assist you in making an informed purchasing decision.
What Is Eastern Numismatics?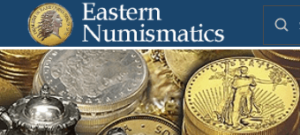 Eastern Numismatics (uscoins.com) is one of the oldest bullion and rare coin dealers in New York that is family-owned. Offices are located in Garden City, New York, and Sarasota, Florida. Due to excellent management and high-quality products, the company has grown significantly over the past 45 years and now has over 100,000 customers. In addition, Eastern Numismatics is a member of the American Numismatic Association and the Professional Numismatists Guild.
Looking for a reliable Gold IRA Company? Click Here.
Eastern Numismatics Review Summary
Location:
Garden City, New York
Address:
642 Franklin Avenue
Garden City, NY 11530-5729
Year Founded:
1974
Management:
Michael Alster (Office Manager)
Website:
www.uscoins.com/
Rating:
[usr 2.5]
Here's Our #1 Rated Precious Metals IRA Firm
Eastern Numismatics Products

In addition to providing valuations, Eastern Numismatics primarily acquires and sells rare coins and gold bullion. Gold coins, Dimes, Half Cents, Silver Dollars, and Half Dollars are available. The company conducts business via its e-commerce website, storefront, and eBay. Eastern Numismatics will assist you in establishing, funding, and adding IRA-approved precious metals to your IRA if you wish to open a precious metals IRA. For custody Services, Eastern Numismatics partners with New Direction IRA and Goldstar Trust Company.
How Does It Work?
You can purchase from Eastern Numismatics via their website, eBay store, or storefront. To place an order online, you must first establish an account, then add your desired items to the shopping cart, enter your billing information, and submit the order. If you prefer a one-on-one transaction, you can visit their retail location at 642 Franklin Avenue
Garden City, New York, 11530-5729.
Eastern Numismatics IRA Fees
Eastern Numismatics Management
Eastern Numismatics' management structure is unclear. The Better Business Bureau (BBB), however, identifies Michael Alster as the office manager and primary contact.
Pros of Eastern Numismatics
Offers a wide selection of rare coins and bullion
Member of the American Numismatic Association and other respected organizations
Accredited with the BBB
Has been in business for a long time
Offers appraisal services
Buys your metals at competitive prices
Cons of Eastern Numismatics
Does not provide storage services
Product pricing and IRA fee information are not available
Negative customer feedback on some online platforms
Eastern Numismatics Reviews, Complaints & Ratings
Despite more than 45 years in business, Eastern Numismatics has received subpar ratings online, according to our investigation. Despite having 2 customer complaints and no customer reviews on their platform, the BBB has awarded them an A+ rating. The BCA assigns Eastern Numismatics a grade of "B" based on 0 reviews. Yelp assigns the company a rating of 2.5 stars out of 5 based on eight user reviews and complaints. Trustlink and Trustpilot contain no reviews, complaints, or ratings for Eastern Numismatics.
Is Legit or a Scam?
Eastern Numismatics is a legit business. Since they have been in business since 1974 and are members of reputable consumer and trade organizations, it is likely not a scam.
Eastern Numismatics Alternatives
Conclusion
Eastern Numismatics is a bullion and rare coin dealer based in Garden City, New York. They've been in business since 1974, offering great selections of gold coins, Dimes, Half Cents, Silver Dollars, and Half Dollars. Besides, the company offers appraisal services.
However, it is important to note that Eastern Numismatics has numerous flaws as well. For example, they do not offer storage services or pricing details. Moreover, their online ratings and evaluations are quite negative.