Blanchard and Company is one of the many alternative asset investment firms in the United States. This review examines Blanchard and Company Gold customer reviews to determine whether or not they are a reputable company, and whether or not you should entrust them with your hard-earned money.
What Is Blanchard Gold?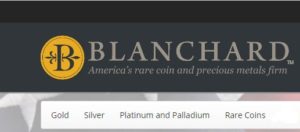 Blanchard Gold, or simply Blanchard, is a New Orleans-based alternative asset investment firm. Jim Blanchard founded the company in 1975 to help people secure and grow their wealth through investments in bullion and rare coins. Although the company's primary focus is on numismatic coins, it also provides Gold IRA services.
Note: Avoid scams. Find out our top-rated gold and silver IRA providers on this page.
Blanchard Gold Products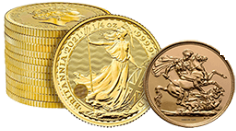 Gold and silver bullion as well as rare coins are among their products. If you are interested in Gold IRAs, you have the option of investing in gold or silver, as there are IRS-approved coins and bars for each. Blanchard also allows you to sell your precious metals assets to them at the current market price.
Company Info
Location:
New Orleans
Address:
909 Poydras Street
Suite 1900
New Orleans, LA 70112-4000
Years in Business:
45
Click Here To View Our #1 Rated Gold IRA Company>
Blanchard and Company IRA Fees
Blanchard and company offer a scaled fee structure. The initial account setup fee amounts to $25. Annual administration fees range from $60 to $250 while annual storage fee is $100. The minimum purchase amount is $10, 000.
Pros of Blanchard and Company
Blanchard and Company has some of the industry's finest account executives. Since the company has existed for decades, it has acquired vast experience in precious metals. Their knowledgeable staff will be able to answer all of your queries.
Their website is intuitive and well-designed. All information regarding precious metals investment is presented in an easily digestible format. On the company's website, you will also find information on gold prices (and other metals).
Extensive Selection of Products
Blanchard and Company has a vast selection of IRA-eligible bullion and rare coins. This allows you to select the products that meet your investment requirements.
Their buy-back guarantee allows you to purchase metals from Blanchard and resell them later. The majority of precious metals companies lack this arrangement.
Cons of Blanchard and Company
Lack of An Online Application Form
Unlike other precious metals IRA companies, Blanchard Gold lacks an online IRA application form which makes it difficult for newbie investors to set up a Gold IRA account.
Slow Account Setup Process
There is no assurance that your IRA/401k rollover process will be expedited as quickly as you desire due to the absence of an online application, which slows down the process.
Lack of Free Investment Kit
Blanchard Gold provides no complimentary Gold IRA Rollover Kit. As you may be aware, a free kit is essential because it contains information about the company, metal prices, and IRA hazards such as tax penalties and scams to help you protect your hard-earned cash.
Customer Reviews and Complaints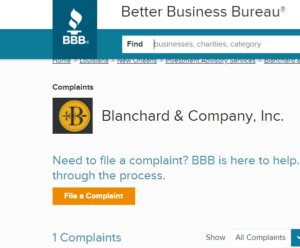 Based on Blanchard and Company Gold reviews online, the company has been accredited with the Better Business Bureau (BBB) since 1982 and has an overall rating of 4.73 out of 5 stars based on 33 customer reviews and 0 customer complaints. On Trustlink, Blanchard and Company has a 1-star rating based on one customer review, whereas, on Yelp, they have a 2.5-star rating based on 3 customer reviews. They lack reviews and evaluations on Trustpilot and the Business Consumer Alliance.
Should You Consider Blanchard Gold For Your Gold IRA Rollover?
It is up to you to decide. However, as is evident, Blanchard and Company has numerous flaws. In the first place, scaled IRA fees cause you to lose more money on administrative and storage fees, which can decimate your IRA account over time and result in enormous losses. By not providing an online application form on its website, the company makes the rollover process cumbersome and time-consuming. Lastly, there is no free Gold IRA investment kit available for beginners.
We prefer companies with a flat rate fee structure over those with a scaled fee structure. We also appreciate businesses that provide a free Gold IRA Kit. Read this article to discover our top-rated Gold IRA Company for 2023.
Blanchard Gold Alternatives
Blanchard and Company Gold Reviews-Conclusion
We trust you found our Blanchard and Company Gold reviews to be enjoyable. Blanchard is among the most well-known precious metals dealers in the United States. It is also one of the earliest businesses in the country, having been in operation for over 40 years. Due to its accomplishments and significant clientele, the company ranks among the top alternative assets firms.
It is important to note, however, that Blanchard Gold has a negative aspect, as evidenced by a few customer reviews and complaints on Trustink, Facebook, BCA, and BBB. In addition, they charge scaled fees, which makes managing a Gold IRA account for many investors a nuisance.