Looking for the best precious metals firm and Gold Avenue is on your list of companies to explore further? In this Gold Avenue reviews, we look at customer ratings, reviews, and complaints to determine if it is worth your time and money.
If you'd like to skip straight to our Top Rated Gold IRA Company, click here.
What Is Gold Avenue?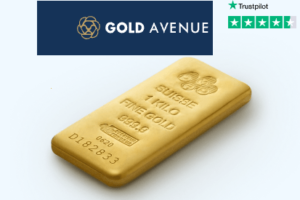 According to their official website's 'about us' page, Gold Avenue is the official retailer of MKS PAMP Group, one of the world's largest, family-owned precious metals dealers. Gold Avenue is run by a group of 20 experts boasting more than 60 years of experience, and their mission is to provide easy access to gold and other precious metals.  The most unique aspect of this company is that you can resell your metals to them without incurring any commission fees.
Does Gold Avenue Offer Precious Metals IRAs?
No, Gold Avenue does not offer precious metals IRAs, hence unsuitable for those seeking to secure their retirement savings. If you are looking to open a Gold or Silver IRA then we recommend Goldco, our top-rated precious metals IRA provider.
Gold Avenue Review Summary
Location:
Geneva, Switzerland
Address:
Avenue Rosemont 10
CH-1208 Geneva
Switzerland
Year Founded:
2018
Managers:
Alessandro Soldati (CEO)
Website:
www.goldavenue.com
Rating:
[usr 3.5]
Learn About Our #1 Recommended Gold IRA Firm
How It Works

Gold Avenue has outlined a simple process that you can follow to acquire precious metals from them. The first step is to create a customer account that will allow you to select products from their catalog as well as place an order. Once your order is placed, you can choose to have your metals shipped to you or stored in the company's secure vaults. Your customer account also allows you to remotely manage your stored assets directly from your computer or phone. Besides, you can resell your assets to Gold Avenue at any time.
Gold Avenue Products
The main product offered by Gold Avenue is gold. But they also sell silver, platinum, and palladium. Gold products include PAMP Suisse bars, Gold Maple Leafs, French Francs Napoleon coins, American Gold Eagles, and much more. Silver products include a large selection of PAMP Suisse silver bars, Krugerrands, Canadian Maple Leafs, Philharmonics, and more. Also in stock is a massive selection of platinum and palladium coins and bars.
Advantages of Choosing Gold Avenue
Gold Avenue offers one of the most secure and segregated storage facilities in the industry. Entry into their vaults is strictly prohibited to outsiders to guarantee maximum security and safety of your assets.
Their website is neat and easy to navigate. The account creation process takes no more than 5 minutes and the selection of products from their well-designed catalog is also straightforward.
Gold Avenue offers absolute transparency in all its dealings. For instance, they allow you to view all your stored assets and manage them from your phone. They also got nothing to hide in regard to product pricing, shipping, and storage fees.
The firm offers free, insured storage for up to $11,000 worth of metals. For metals worth up to $110,000, you will enjoy 3 months of free storage and then pay $8 per month thereafter.
They offer a buyback policy and will buy your products at the spot price, without charging you any commission.
Disadvantages of Choosing Gold Avenue
Does Not Offer Precious Metals IRAs
Sadly, they do not offer Gold or Silver IRAs, which means you cannot benefit from the tax advantages offered by IRAs. If you are seriously looking to open a precious metals IRA account, you can check out our #1 recommended IRA provider on this page.
Lacks Reviews On Some Trusted Platforms
Gold Avenue lacks reviews on some trusted consumer protection platforms including the Better Business Bureau, Business Consumer Alliance, Trustlink, and Yelp.
Accreditation, Customer Reviews, Complaints, and Ratings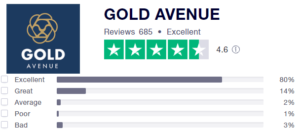 Based on online Gold Avenue reviews, the firm has a 4.7 out of 5 stars rating on Trustpilot, based on 1621 customer reviews, complaints, and ratings. However, they do not have reviews, ratings, or complaints on many other third-party review websites including the BBB, BCA, Yelp, and Trustlink.
Click here to learn about our top-rated Gold IRA provider
Is Gold Avenue a Scam or a Legit Company?
Gold Avenue is not a scam, it's a legit precious metals dealer. They are a subsidiary of MKS PAMP Group, a renowned firm boasting more than 60 years in business.
Alternatives to Gold Avenue 
Gold Avenue Reviews Conclusion
We appreciate your perusal of our Gold Avenue review. Gold Avenue is the official online retailer of MKS PAMP Group, one of the largest, family-owned precious metals dealers in the world. Based in Geneva, Gold Avenue offers a wide range of products including gold, silver, platinum, and palladium. They also provide secure storage vaults and are absolutely transparent in all their dealings.
Nevertheless, Gold Avenue has a few cons. For example, they do not offer precious metals IRA services. Moreover, they lack reviews on some of the largest and trusted review platforms including the BBB, BCA, Yelp, and Trustlink.