Is Midas Gold Group a legitimate precious metals company or a scam? Have they received any customer complaints? You should attentively read our Midas Gold Group reviews before purchasing from them to determine whether they are the right company for you.
What Is Midas Gold Group?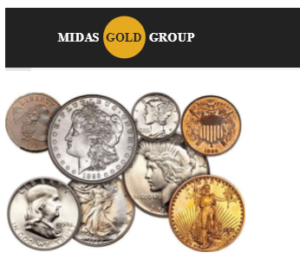 Midas Gold Group is a multinational precious metals company headquartered in Thousand Oaks, California, and Phoenix, Arizona. The company was founded in 2007 with the purpose of assisting investors in preserving and accumulating wealth. The founders of Midas Gold Group believed that smart assets, primarily gold and silver, are essential for diversification and wealth protection against financial crises such as the one that occurred in 2008.
Ready To Open a Precious Metals IRA? Learn About Our #1 Rated Gold IRA Firm Now>
Midas Gold Group Products
Midas Gold Group sells predominantly gold and silver. Among the available gold coins and bars are the Gold American Eagle, the Gold American Buffalo, the Canadian Maple Leaf, the Australian Kangaroo, the PAMP Suisse Gold Bar, the Perth Mint Gold Bar, and many others. American Silver Eagle, Vienna Silver Philharmonic, Johnson Matthey Silver Bar, and Sunshine Mint Silver Bar are examples of available silver products. In addition to numismatic coins, Midas Gold Group provides a vast selection of platinum, palladium, and rhodium coins and bars.
Company Info
Location:
Phoenix, Arizona
Address:
100 Thousand Oaks Blvd Suite 157, Thousand Oaks, CA 91360, United States
Year Founded:
2007
Managers:
James D Clark, Gabor Panczel, Kenneth Russo
Website:
www.midasgoldgroup.com
Rating:
[usr 2] Not Recommended
Click Here To Learn About Our #1 Recommended Precious Metals IRA Company
How It Works
Midas Gold Group provides a comprehensive product catalog and price charts to get you started on the right foot. In addition, their user-friendly and secure online transaction system makes placing orders a breeze. In general, purchasing metals from Midas Gold Group entails the following four simple steps:
Drafting Your Portfolio
This entails determining the form of investment that best meets your needs. The account executives of Midas Gold Group can assist you in selecting the optimal portfolio.
Funding Your Account
After drafting your portfolio, you can now create a Midas Gold Group client account and fund it. They accept the majority of standard payment methods, such as wire transfer, IRA transfer, and check.
Verifying Your Order
After funding your account, the next stage is to place and confirm your order. Their compliance and trading department will assist you with verification.
Receiving Your Order
Your products are then discreetly packaged, insured, and delivered within a few days.
Customer Reviews and Complaints
Based on Midas Gold Group reviews found online, they have a 3.67-star rating with the Better Business Bureau based on six consumer reviews and three complaints. The company's rating on Yelp.com is 1.5 out of 5 stars, based on 1 review and 2 complaints. They have no testimonials or complaints on Trustpilot, TrustLink, or Business Consumer Alliance. Here are some of the most recent BBB customer reviews and complaints:




Pros of Midas Gold Group
Offers Precious Metals IRA
Through partnerships with IRA custodians such as Kingdom Trust, Equity Trust Company, and New Direction Trust Company, Midas Gold Group offers Gold IRAs. A Gold IRA is crucial not only for wealth accumulation but also for portfolio diversification and protection of retirement funds.
The buyback policy of Midas Gold Group allows you to resell your metals to the company. They guarantee the lowest prices as well as prompt and trustworthy payment.
Their website provides free educational resources, such as detailed precious metals price charts, making it simple for novice investors to learn the ins and outs of precious metals investing.
A Wide Selection of Coins and Bars
In addition to a vast selection of bullion coins and bars, they also offer rhodium products, which are typically unavailable from the majority of companies. In addition, they maintain a vast stock of rare and numismatic coins.
Cons of  Midas Gold Group
Poor Customer Ratings and Reviews
They have negative customer reviews and ratings on both Yelp and the Better Business Bureau, with some customers even accusing the company of fraud and poor customer service.
Midas Gold Group only sells precious metals and partners with third parties to offer IRA services. This indicates that the IRA fees you will pay depend on the IRA custodian you select. And since the company collaborates with multiple custodians, it can be extremely challenging to choose a reliable one. Click the link below to learn more about our top-rated Gold IRA company, which offers metals and custodial services at the most affordable prices.
Click Here To Find Out Our Top-Rated Gold IRA Company Now>
Should You Use Midas Gold Group for Your Precious Metals IRA Rollover?
As stated, Midas Gold Group is a well-known precious metals company offering premium products. However, their low ratings and negative reviews prevented us from recommending them. Augusta Precious Metals, our top-recommended precious metals IRA solution, has far superior customer ratings and some of the lowest IRA fees in the industry. You can learn more about them via the link below.
Learn More About Augusta, Our #1 Recommendation for Precious Metals IRAs
Frequently Asked Questions
Is Midas Gold Group a Scam?
As Midas Gold Group has a physical address and a BBB accreditation, they are not a scam. Additionally, the company's existence for over a decade is sufficient evidence that they are a legitimate business.
Does Midas Gold Group Provide Storage?
Midas Gold Group does not offer its own storage services but has partnered with third-party depository facilities to store your metals.
Alternatives to Midas Gold Group 
Midas Gold Group Reviews Conclusion
Midas Gold Group is a multinational precious metals company based in Thousand Oaks, California, and Phoenix, Arizona. Founded in 2007, the company assists investors in building and protecting their wealth through precious metals investments. In addition to offering Gold IRAs, the company offers a wide variety of products, including gold, silver, platinum, palladium, and rhodium.
Despite their remarkable progress, it is important to note that Midas Gold Group has its share of negatives, such as negative customer reviews and online complaints. The company also partners with third-party IRA custodians, so if you choose the wrong custodian, you may incur higher storage and administration fees.