Is Midas Gold Group a legit precious metals company or scam? Are there any customer complaints against them? Well, before you buy from them, you need to read this short review carefully to find out whether they are the right company for you.
What Is Midas Gold Group?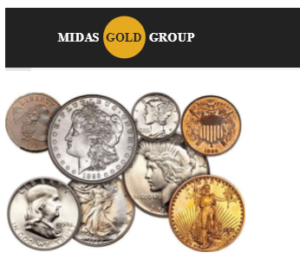 Midas Gold Group is a multinational precious metals company headquartered in Phoenix, Arizona. The company was founded in 2007 with a mission to help investors preserve and built wealth. MGG founders opined that smart assets, specifically gold and silver are crucial for diversification and safeguarding of wealth against financial crises such has the one experienced in 2008.
Ready To Open a Precious Metals IRA? Get Our FREE Gold IRA Guide Now!
Midas Gold Group Products
Midas Gold Group mainly sells gold and silver. Gold coins and bars on offer include the Gold American Eagle, Gold American Buffalo, Canadian Maple Leafs, Australian Kangaroos, PAMP Suisse Gold Bar, Perth Mint Gold Bar and much more. Silver products include coins such as American Silver Eagle, Vienna Silver Philharmonic, Johnson Matthey Silver Bar and Sunshine Mint Silver Bar. Midas Gold Group also offers a wide selection of platinum, palladium and rhodium coins and bars, as well as numismatic coins.
Company Info
Location:
Phoenix, Arizona
Address:
11201 N Tatum Blvd Ste 300
Phoenix, AZ 85028-6039
Year Founded:
2007
Managers:
James D Clark, Gabor Panczel, Kenneth Russo
Website:
www.midasgoldgroup.com
Rating:
[usr 2] Not Recommended
Click here to learn about our #1 recommended Precious Metals IRA Company
How It Works
Midas Gold Group has an elaborate product catalog as well as price charts to get you off on the right foot. Besides, their easy-to-use and secure online checkout system allows to place orders without breaking a sweat. Generally, the process of purchasing metals from Midas Gold Group involves the following four easy steps:
Drafting Your Portfolio
This basically means deciding on the type of investment that meets your needs. Midas Gold Group's account executives can assist you to select the most ideal portfolio.
Funding Your Account
After drafting your portfolio, you can now create a client account with Midas Gold Group, and proceed to fund it. They accept most standard payment options including wire transfer, IRA transfer or check.
Verifying Your Order
The next step after funding your account is to place and verify your order. Their trading and compliance desk will help you with verification.
Receiving Your Order
Your items are then insured, discreetly packaged and shipped to your door within a few days.
Midas Gold Group Complaints
Midas Gold Group has 0 complaints, 8 customer reviews and a 3.5 out of 5 stars rating on the Better Business Bureau. On Yelp.com, the company boasts a 1.5 out of 5 stars rating based on 1 positive review and 2 complaints. Unfortunately, they have no reviews or complaints on Trustpilot, TrustLink or Business Consumer Alliance. Below are some of the latest customer reviews and complaints on the BBB:




Pros of Choosing Midas Gold Group
Offers Precious Metals IRA
The company offers Gold IRAs through partnership with IRA custodians such as Kingdom Trust, Equity Trust Company, and New direction Trust Company. A Gold IRA is not only important for building wealth but also for portfolio diversification and protection of your retirement savings.
Midas Gold Group has a buyback policy that allows you to sell back your metals the company. They promise to offer the best prices as well as a prompt and reliable payment.
They Have an Awesome Website
Their website is equipped with free educational resources including detailed precious metals price charts, making it easy for newbie investors to learn the nitty-gritty of precious metals investing.
Wide Selection of Coins and Bars
They have a wide selection of bullion coins and bars, including rhodium which is normally not offered by most firms. Additionally, they maintain a massive inventory of numismatic and rare coins.
Cons of Choosing Midas Gold Group
Poor Customer Ratings and Reviews
They have negative customer reviews and ratings on both Yelp and the BBB, with some customers accusing the company of poor customer support and even fraud.
Midas Gold Group Is Not a Gold IRA Custodian
Midas Gold Group only sells precious metals, but partners with third party custodians to offer IRA services. This means that the IRA fees you will pay is not definite and will depend on the IRA custodian you choose. And since the company partners with multiple custodians, it can be extremely difficult for you to choose a good one.
Should You Consider Midas Gold Group for Your Precious Metals IRA Rollover?
As we've noted, Midas Gold Group is a popular precious metals firm offering high quality products. However, their poor reviews and ratings made us not to recommend them. Our #1 recommended precious metals IRA solution, Goldco, boasts far much excellent customer ratings and offers some of the lowest IRA fees in the industry. You can read more about Goldco via the link below.
Read more about Goldco, our #1 recommendation for precious metals IRAs
Is Midas Gold Group a Scam?
Midas Gold Group is definitely not a scam as they have a physical address and a BBB accreditation. The firm has also been in business for over a decade which is also enough prove that they are a legit company.
Conclusion
Midas Gold Group is a multinational precious metals company based in Phoenix, Arizona. Founded in 2007, the company helps investors to build and safeguard their wealth through precious metals investments. Over the years, the company has expanded and managed to offer a wide selection of products including gold, silver, platinum, palladium and rhodium, in addition to offering Gold IRAs.
Despite their remarkable progress, it's worth noting that Midas Gold Group has its fair share of negatives including poor customer ratings and complaints on online platforms. The firm also partners with third party IRA custodians, meaning you could end up paying higher storage and administration fees should you settle on the wrong custodian.