Are you wondering whether Monex is a legit company? Well, you should find out whether they are reputable before purchasing from them. This Monex review will look at their products, ratings, customer service and much more to determine whether they are legit or scam.
What Is Monex?

Monex.com, commonly referred to as Monex Precious Metals  is a precious metals company based in Newport Beach, California. Since 1967, the company has gained massive experience and established itself as an invincible company in the US.
Despite its immense experience in the market and its ability to stand the test of time, Monex has had its fair share of challenges.  For instance, there are numerous customer complaints which saw its accreditation recently revoked by the Better Business Bureau. We'll cover more about complaints and ratings on the "customer reviews and accreditation" section below.
Pay attention: Before we go any further with this review!
We always recommend conducting due diligence before settling on a precious metals company to invest in. with so many clients getting ripped off with the so called hidden fees, you need to research meticulously before purchasing metals or opening a precious metals IRA. We understand that picking the right company is the most important financial decision for you, and thus, we've compiled a list of our 3 best precious metals IRA companies for 2022.
See Our 3 best precious metals IRA providers here>>
Or get our free Gold investing kit from our top recommended firm on this page
Does Monex Offer Gold IRAs?
No, Monex does not offer Gold or Silver IRAs. If you are after IRAs, we recommend you get our FREE Gold IRA Guide.
Company Info
Location:
Newport Beach, California.
Website:
Https://www.monex.com
Address:
4910 Birch St Ste 103, Newport Beach, CA 92660-2188
Overall Rating:
(3 / 5)
Recommended?
Not recommended
==>Learn about my Top Recommended Gold and Silver IRA Company on this page<==
Monex Products & Services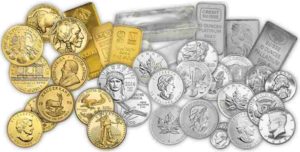 Monex offers detailed guidelines and videos to help investors understand their business as well as the ins and outs of investing in precious metals such as gold and silver.
Some of the products offered at Monex include gold, silver, platinum and palladium.
Do All of  Monex's Products Qualify for IRA?
Unfortunately, most of the precious metals on Monex.com do not qualify for IRA thus you need to be extra careful lest you lay your hands on the wrong items and lose your hard-earned money.
What is even more heartbreaking is the fact that their sales representatives will persuade you to buy IRA-unapproved metals. Their persuasive, misleading sales tactics often land novice investors in serious financial trouble. You may need to hire the services of an experienced broker to advice you accordingly before placing an order with Monex.
Alternatively, you can opt for a company that values its clients and does all they can to keep them happy. Our top-rated precious metals company has all the qualities of a world-class company with excellent ratings and almost zero customer complaints. Click here to read about it.
Is Monex Legit?
As we've noted, Monex boasts over 50 years in business, hence they are a legit company, though their reputation has taken a nosedive over the years owing to poor customer service and numerous customer complaints.
Monex IRA Fees
Monex doesn't charge IRA fees since they partner with third party custodians to offer the service. However, investors have discovered that these third party affiliates usually charge exorbitant sliding scale fees which makes the whole undertaking extremely expensive.
Find out our #1 rated precious metals firm here.
Advantages of Choosing Monex
Large selection of Metals
Monex prides itself in being one of the biggest and oldest bullion dealers in the US, and this is evident with the number of gold, silver, platinum and palladium products on offer. Also, they have bullion and rare coins of all sizes from various mints across the world.
Useful Learning Resources on their Website
Their website is equipped with informational content and videos to enlighten investors on the benefits of investing in precious metals. You will find opinions of experts and successful investors to guide you and teach you the art and science of investing in gold and silver.
This is self explanatory. Monex is over 50 years old and this means that they have accumulated immense experience overtime. Most of their top management staff have been with the company for long thus have become experts in precious metals investment, and are therefore an invaluable resource, particularly to newbie investors.
Another pro of investing with Monex Precious Metals. You get the opportunity to sell back your metals to the company. This is so simplified that it can be accomplished over the phone.
Disadvantages of Choosing Monex
Too Many Complaints Against Them
Monex has a handful positive reviews and far too many negative reviews and complaints. This situation has severely dented the company's image and if the trend continues then they are likely to go out of business, soon!
Monex themselves do not charge high fees, but keep in mind that they partner with third parties to offer IRA services. These third party companies will likely charge annual sliding scale fees which, as you might know, are much higher than flat rate fees. This is likely to burden investors with exorbitant fees.
There is lack of transparency on custodians the company is partnering with to offer IRA services. Their website does not reveal the identity of those partners, thus leaving customers in the dark as they won't be able to compare prices and choose the best custodian for their investment.
While conducting our research on Monex Precious Metals, we noted numerous negative reviews from angry customers. Almost 90% of reviews we managed to sample from Facebook, Better Business Bureau and TrustLink were actually complaints against poor customer service by Monex.
Below is an example of a negative review by a disgruntled customer on Facebook accusing them of poor customer service.
The operators never respond or leave you waiting on the line! Been trying to communicate with a person and they never connect me, a lady named Samantha miraculously answered me but sent me to a wrong extension.
Fix that!
Here is another complaint from a customer on the same platform accusing them of fraud:
Monex is a fraudulent and scam artist site. Please whatever you do, do not do business with them. They have been sending me fraudulent emails pretending to be from different companies giving away free gift cards worth of hundreds of dollars. These people are scam artists and should be arrested.
Such reviews prove Monex's lack of seriousness when dealing with customers, and the company has already lost tons of customers due to this appalling behavior.
Accreditation and Customer Reviews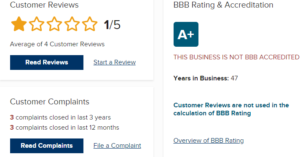 Monex Inc. is accredited and has held a rating of A+ from the BBB for many years, but recently, its accreditation was revoked by BBB's board of directors. The reasons given for the revocation include failure to resolve disputes in the marketplace in a professional manner, as well as failure to respond to complaints forwarded to them by BBB.



They have an A rating on Business Consumer Alliance at the time of writing this review.

Their rating on TrustLink is 4 out 5 stars after 40 reviews.



On Facebook, Monex has a rating of 3.3 out of 5 stars after 36 reviews.
Should You Consider Monex for Your Investment?
Obviously, there are some things we liked about Monex Precious Metals, but after reviewing several factors, we strongly believe we have enough reasons to stay away from this company.
There are better alternatives (click here) to Monex that offer better services and treat customers with the respect they deserve. Find out our top-rated company here.
Monex Alternatives 
Conclusion
Our review found that Monex is a legit company with many years of experience on the market. The company has weathered many storms over the years to remain in business.
However, it is worth noting that Monex's reputation has currently waned due to massive complaints and negative reviews against them. The downward spiral the company is currently taking may have resulted from laxity by the company's top management which has led to unfair treatment of customers.