Is SilverTowne a reputable precious metals company? Is it legit? What products and services do they offer? How are they rated by customers? Please read this review of Silvertowne.com to find out if it is the right company for you.
What Is Silvertowne.com?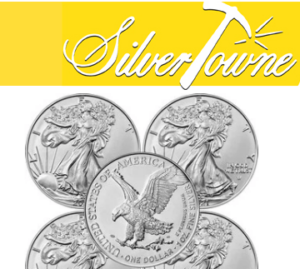 Silvertowne.com was founded in 1949 by Leon Hendrickson and his wife. Based in Winchester, Indiana, Silvertowne.com began as a small coin shop but has rapidly grown to be one of the biggest precious metals dealers in the United States. The company boasts a large selection of coin and bullion products, mainly targeted at investors, preppers and collectors.
Does Silvertowne.com Offer Gold & Silver IRAs?
No, Silvertowne.com does not offer precious metals IRAs, despite having IRA eligible metals in stock. If you wish to open a precious metals IRA, you can read about our top-rated gold and silver IRA Company via the link below.
Click here to learn about our top-rated gold & silver IRA Company
Company Info
Location:
Winchester, Indiana
Address:
120 E Union City Pike
Winchester, IN 47394
Year Founded:
1949
Management:
Leon Hendrickson (founder), David Hendrickson (Vice President)
Website:
www.silvertowne.com
Rating:
[usr 3]
Silvertowne.com Products
With more than seven decades in business, Silvertowne.com has managed to stock a wide variety of products mainly in form of silver, gold and platinum coins, bars and collectibles. SilverTowne mostly sells US coins, but they also stock coins from Australia, Canada, Austria, Great Britain and South Africa. Some of their products include Silver Commemoratives, Peace Silver Dollars, Morgan Silver Dollars, gold and silver American Eagles, Platinum Eagle Coins, Platinum Eagle Bars, Perth Mint Gold Bars, American Flag Silver Bars and much more.
How Does Silvertowne.com Work?
Silvertowne.com sells their products both online and through their storefront. If you prefer a one on one service, you can visit their retail store based in Winchester, IN. However, the quickest method to order products form Silvertowne.com is through their official web store, where you are required to create a customer account and proceed to select your desired products. SilverTowne accepts Paypal, wire transfer, check, debit and credit cards as payment options.
Interested in precious metals IRAs? Find out our top recommended gold and silver IRA provider on this page.
Advantages of Choosing Silvertowne.com 
Wide Selection of Precious Metals
Being one of the oldest precious metals dealers in the United States, Silvertowne.com is among the firms with huge inventories of coins, bars and collectibles.
SilverTowne has been in business for seven decades, which shows how reliable and legit they are. They have managed to survive in a highly competitive precious metals industry by continuously adapting to change.
Silvertowne.com 's website is easy to navigate even for first time buyers. At the top of the website is a prominent search bar which allows you to quickly search the coins or bars you are looking to purchase. Account set up as well as check out system are also simplified, and multiple payment options are provided for convenience.
The company offers free shipping for products worth $99 or more.
Disadvantages of Choosing Silvertowne.com 
Silvertowne.com is not BBB accredited. Also, their ratings on other respected review websites including Yelp.com are not that impressive.
Despite the many decades in business, Silvertowne.com is yet to get on the self-directed precious metals IRAs bandwagon.
Accreditation, Customer Reviews and Ratings
Silvertowne.com lacks accreditation from the BBB, and has 0 reviews, 0 complaints as well as 0 customer ratings on the platform.

On Yelp, they boast a rating of 3 out of 5 stars based on 13 customer reviews and ratings, while on Trustpilot, the company is rated 3.3 out of 5 stars based on two customer reviews. The company lacks reviews and ratings on both the BCA and Trustlink.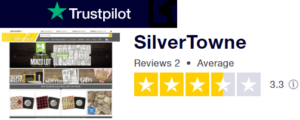 Should You Invest With Silvertowne.com?
The decision rests upon you. However, we normally recommend highly rated firms, of which Silvertowne.com is not among them. Moreover, they do not offer precious metals IRAs, which as you might know, are crucial for diversification and protection of retirement portfolios against inflation. On that account, we recommend you check out our top recommended firm for gold and silver IRAs through the link below.
Read about our top recommended gold and silver IRA provider now!
Is SilverTowne Legit?
Running a business for over 70 years is no joke, and it only goes to show that Silvertowne.com is engaging in nothing but purely legit business. Thus, Silvertowne.com is a legit, reputable and credible company.
Conclusion
Silvertowne.com is a legit and reputable precious metals dealer based in Winchester, IN. It was founded by Leon Hendrickson in 1949 and has continued to outperform its competitor's by adapting to change and offering top-quality products and services. The company boasts one of the largest product inventories in the country.
But on the negative side, Silvertowne.com lacks a BBB accreditation as well as reviews on major reviews websites including Trustlink and BCA. In addition, they don't offer precious metals IRAs which are important for safeguarding retirement portfolios.