Is SilverTowne.com a trustworthy precious metals company? Is it legit? Which goods and services do they provide? What are their consumer ratings? Please read our Silvertowne.com reviews to determine if this company is suitable for you.

What Is Silvertowne.com?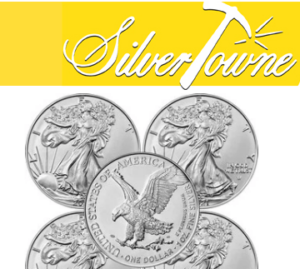 In 1949, Leon Hendrickson and his wife established Silvertowne.com. Silvertowne.com began as a small coin shop in Winchester, Indiana, but has developed rapidly to become one of the largest precious metals dealers in the United States. The company offers a wide variety of coin and bullion products, which are primarily geared toward investors, preppers, and collectors.
Does Silvertowne.com Offer Gold & Silver IRAs?
No, Silvertowne.com does not offer precious metals IRAs, despite the availability of metals eligible for IRAs. If you wish to open a precious metals IRA, click the link below to learn more about our top-rated gold and silver IRA company.
Click Here To Learn About Our Top-Rated Gold & Silver IRA Company>
Company Info
Location:
Winchester, Indiana
Address:
120 E Union City Pike
Winchester, IN 47394
Year Founded:
1949
Management:
Leon Hendrickson (founder), David Hendrickson (Vice President)
Website:
www.silvertowne.com
Rating:
[usr 3]
Silvertowne.com Products
Silvertowne.com has been in business for over seven decades and has amassed a vast selection of products, primarily in the form of silver, gold, and platinum coins, bars, and collectibles. SilverTowne primarily sells US coins, but they also stock coins from Australia, Canada, Austria, Great Britain, and South Africa. Silver Commemoratives, Peace Silver Dollars, Morgan Silver Dollars, gold and silver American Eagles, Platinum Eagle Coins, Platinum Eagle Bars, Perth Mint Gold Bars, American Flag Silver Bars, and a great deal more are among their many products.
How Does Silvertowne.com Work?
Silvertowne.com sells its products both online and in person. If you prefer personalized assistance, you can visit their retail store in Winchester, Indiana. However, the quickest way to order products from Silvertowne.com is through their official web store, where you must create a customer account before selecting the products you want. As payment options, SilverTowne accepts PayPal, wire transfers, checks, debit, and credit cards.
Advantages of Choosing Silvertowne.com 
Wide Selection of Precious Metals
Silvertowne.com is among the companies with vast inventories of coins, bars, and collectibles, as it is one of the oldest precious metals dealers in the United States.
SilverTowne has been in business for seven decades, demonstrating its legitimacy and dependability. They have been able to thrive in the extremely competitive precious metals industry by continuously embracing change.
The Silvertowne.com website is user-friendly, even for first-time purchasers. A prominent search bar at the top of the website enables you to rapidly locate the coins or bars you wish to purchase. Account creation and the transaction process are also streamlined, and multiple payment options are made available.
The company offers free shipping on all orders over $99.
Disadvantages of Choosing Silvertowne.com 
Silvertowne.com is not accredited by the BBB. Additionally, their ratings on other reputable review websites, such as Yelp.com, are not particularly impressive.
Silvertowne.com has yet to join the bandwagon of self-directed precious metals IRAs, despite its extensive history in the industry.
Are you looking to establish a precious metals IRA? Here's our #1 recommended firm>
Silvertowne.com Reviews and Ratings
Silvertowne.com lacks BBB accreditation and has 0 reviews, 0 customer complaints, and 0 customer ratings on its platform.

On Yelp, they have a 2.5-star rating based on 15 customer reviews and ratings, whereas on Trustpilot, they have a 4-star rating based on four customer reviews. Both the BCA and Trustlink lack reviews and evaluations for the company.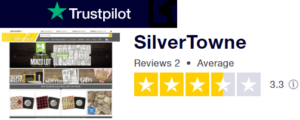 Should You Invest In Silvertowne.com?
The decision relies upon you. Silvertowne.com is not, however, among the companies that offer precious metals IRAs, which, as you may know, are essential for diversification and inflation protection of retirement portfolios. For this reason, we advise you to visit our top-recommended firm for gold and silver IRAs via the link provided below.
Learn About Our Top Recommended Gold and Silver IRA Provider Now>
Is SilverTowne Legit?
Operating a business for over seventy years is no laughing matter, and this demonstrates that Silvertowne.com conducts nothing but legitimate business. Thus, Silvertowne.com is a legitimate, reputable, and trustworthy organization.
Silvertowne.com Alternatives
Conclusion
Silvertowne.com is a legitimate and reputable precious metals dealer based in Winchester, Indiana. It was founded in 1949 by Leon Hendrickson and has consistently outperformed its competitors by adapting to change and providing superior products and services. The company has one of the nation's greatest product inventories.
Negatively, Silvertowne.com is not accredited by the Better Business Bureau and does not have reviews on significant review websites such as Trustlink and BCA. In addition, they do not offer precious metals IRAs, which are essential for retirement portfolio protection.