Have you recently heard about 7k Metals and thinking of buying precious metals from them? Well, before you do anything, we advise that you read this detailed review to avoid losing your hard-earned money!
Note: If you are looking for a  reliable Precious Metals IRA Company, you may need to check out our Top-Rated Precious Metals IRA Company Here.
What Is 7k Metals?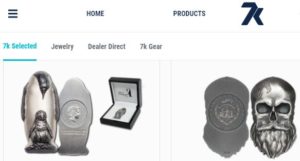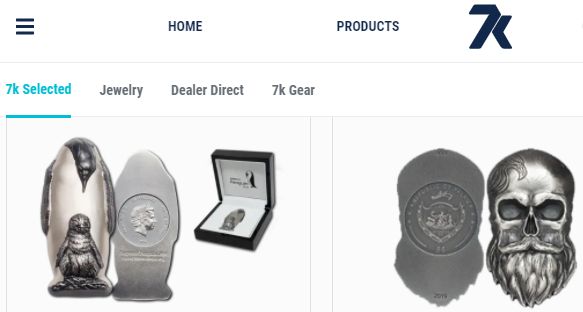 7k Metals is a precious metals company based in Idaho. The company is a Multi-Level Marketing (MLM) business hence they operate just like a real pyramid scheme. According to the 7k Metals website, the company was created primarily to offer financial freedom to people through the purchase and sale of gold and silver.
As an MLM, 7k Metals employs the usual tactic of using established members to recruit new ones, hence increasing its customer base slowly and steadily. Unlike other precious metals companies, 7k Metals requires a membership subscription before you can enjoy the benefits.
7k Metals Products

7k Metals offers gold and silver products, which comprise coins, bars, and jewelry. Subscribed members are allowed to purchase metals at wholesale price, but you can purchase the metals as a guest at a premium price if you don't want to join their subscription program. The company also claims that members can earn a decent income through their recruitment process, where they get paid to invite their friends and family to join the company.
7k Metals Membership Cost
To be enrolled as a member of 7k Metals and be able to buy metals at lower prices, you will have to pay $249 annually for their Basic Plan, and $449 annually for their Premium Plan. Again, you are required to pay for what they call a Travel Savings Card($250 for Basic Plan and $500 for Premium Plan)- which they claim allows you to find the best travel deals in a month, as well as set up an auto saver coin subscription.
Tip: Avoid scams! Check out our Best-Rated  Gold IRA Company Here.
7k Metals Review Quick Summary
Location:
Idaho
Address:
3640 S Yellowstone Hwy
Idaho Falls, ID 83402-4703
Founded:
2016
Management:
Zack Davis, Roger Ball, Richard Hansen, Josh Anderson.
Website:
http://www.7kmetals.com
Pros of Choosing 7k Metals:
7k Metals is highly rated on platforms such as the BBB, which means they are a legit and trustable company. Having said that, it's important to note that high ratings on BBB do not always depict the real picture of a company since BBB doesn't consider customer reviews in its ratings. Thus, it's important to check out real customer reviews from sites such as Trustlink and Facebook before doing business with any company. We'll talk more about 7k Metals reviews and ratings later.
They are legit MLM who are open about their business strategy, unlike other MLMs who hide their strategies. The company is also legally registered.
Managers of 7k metals are highly experienced in network marketing and precious metals investments, which explains why the company has flourished over the years. Thus, you are assured of expert guidance once you join the company.
You get to pay lower prices for metals as a subscribed member of 7k Metals.
Cons of Choosing 7k Metals:
As you might know, it's extremely difficult to make money with an MLM. You have to constantly recruit new members to earn money. Not to mention the fact that the market for precious metals such as gold and silver is very limited and will be extremely difficult to market them to new members.
Costly Membership Packages
Their membership fees are expensive for most people. Bear in mind that their target audience is people who are in a difficult financial situation.
High Prices for Non-members
As a non-member, you can still purchase as a guest, but you'll have to pay more than the subscribed members. This means that you will have to be a member for you to enjoy lower prices.
Difficult to Make Money with them
Whether or not you've had experience with MLMs like this, you know how difficult it is to make money by means of recruiting to get paid. With 7k Metals, you will need to promote the company all over social media to workmates, relatives, friends, etc. to make money.
Limited Selection of Products
They have a limited selection of products when compared with other precious metals companies.
To avoid scams, find out our Top-Rated Precious Metals IRA Company Here.
7k Metals Reviews and Accreditation

7k Metals is accredited with the Better Business Bureau since 2016 and has the highest rating of A+ after 27 customer reviews. On Facebook, 7k Metals has a rating of 4.9 out of 5 based on 47 customer reviews. We couldn't find reviews or ratings of 7k Metals on Business Consumer Alliance, Trustpilot, and Trustlink.
Is 7k Legit or Scam
Clearly, 7k Metals is a legit company, not a scam. The BBB accredited the company in 2016, and its accreditation rating stands to date. Moreover, there are fewer complaints for this company when compared to an absolute scam.
Is 7k Metals a Pyramid Scheme?
7k metals is viewed as a pyramid scheme due to its approach to marketing, where members recruit new members for them to earn money. While this is what normally happens in pyramid schemes, 7k Metals have tangible products for sale which makes them not look like a real pyramid scheme.
Is there a Better Alternative?
If you are a retiree and wish to roll over your IRA or 401k into Gold, 7k Metals is definitely not for you. There's no mention of Gold IRAs on the company's website and it surely is not the ideal company for this kind of investment. Therefore, if you are a retiree looking for alternatives that are free to join, you may want to check out our Top Gold IRA Companies Here.
7k Metals Alternatives
Conclusion
We hope that you enjoyed reading our review of 7k Metals. 7k Metals is a precious metals company that employs a multi-level marketing model to run its business. Though a successful business, it's worth noting that only a few people actually succeed in this type of business.
If you don't like recruiting family members and friends or paying expensive monthly subscription fees, you need to find a trusted precious metals dealer. We also recommend that you get our Free Precious Metals Investment Guide Here.