This Gold Dealer review will take you through its history, products, services they offer, and the positives and negatives of the company. At the end of this article, you will be in a position to compare Gold Dealer with other precious metal companies and select the most appropriate company for your investment.
GoldDealer Overview-Who Are They?

They are precious metals dealers located in Inglewood, CA. Also referred to as California Numismatic Investments Inc. (CNI), the company was founded in 1980 (40 years old) to provide IRA services to individuals who wanted to invest their retirement savings in Gold. So the corporation is primarily a gold dealer, but has been able to add other precious metals such as silver, platinum and palladium to their collection over the years.
They also act as a platform where investors can buy or sell gold at highly competitive prices. They are the best company in terms of numismatic coins in their selection.
Also, they have mastered the art of trading in precious commodities, thanks the many years they've been in business.
However, we were not able to gather sufficient evidence that Gold Dealer is actually a reputable company. They have very few customer reviews and testimonials, an indication that very few people invest with them.
Click here to find out our #1 rated Gold IRA Company in 2023
Gold Dealer Review Summary
Location:
Inglewood, CA
Address:
525 W Manchester Blvd, Inglewood, CA 90301, USA
Management:
Richard Schwary (CEO)
Business Hours:
Mon-Fri 9am-5pm
Products & Services Offered By Gold Dealer
Gold Dealer not only buys and sells physical products, they also offer numerous customer care services including answering all manner of questions related to precious metals.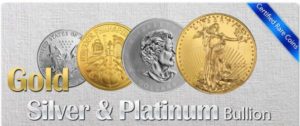 They also provide IRA services through cooperation with New Direction IRA. Thus, Gold Dealer is not actually a custodian but a facilitator in this case. Their main products include rare coins (certified by the best grading service-PCGS) and bullion bars of varying sizes and prices. Most of their products are eligible for IRA, but you need to verify this by calling them and making inquiries.
Gold Dealer IRA Fees
California Numismatic Investments or Golddealer fees include an initial set up fee of $150, annual administration fee of between $75 and $295 (scaled fee) and an annual storage fee of $225 (scaled fee). The minimum purchase amount is not indicated anywhere on their website.
Advantages of Choosing Gold Dealer
Golddealer's website may look simple in design but the amount and types of information on it are amazing. They have all the educational resources that any investor will ever need, ranging from metal price charts, info on grading of rare coins, benefits of IRA and 401 (k) rollovers, how to roll over your retirement funds, risks associated with precious metals investments and so on. They are also open to inquiries and you can contact them via phone or contact form.
Gold Dealer has the most favorable pricing policy of all the precious metal companies in the USA. They give you the opportunity to buy at fairly low prices and also the chance to sell to them at highly competitive prices. Awesome pricing policy is by far the main reason why some investors fall in love with this company.
They claim to have best quality coins in the industry, graded and certified by The Professional Coin Grading Service (PCGS). However, we were not able to ascertain this as there are only a few customer reviews supporting the claim. Other reviews we came across are saying the opposite.
They have reliable and fairly fast shipping with most customers receiving their orders within a week or two.
Disadvantages of Choosing Gold Dealer
Yes, they may have extremely useful information, but their website is low-tech and the menu is overcrowded to the extent that users find it extremely difficult to navigate to the resources they are searching for. Also, the website always fails to update metal prices, which is quite frustrating for investors who are checking spot prices for decision making. This is not good for a company that has been in business for 40 years, and it shows that their management is negligent and doesn't bother to improve their services.
Their customer representatives are caring and willing to take you through the buying process but once your check is cleared, they start caring less and some customers have claimed to have received rude responses from them. They neither update on receipt of funds nor shipping which leaves most customers worried.
Gold Dealer claims to have one of the fastest shipping in the industry, but some disgruntled customers have penned their reviews and testimonials accusing the company of taking ages to ship products. Some have even claimed that their orders never arrived while others claim they arrived late and in terrible condition.
There are inadequate reviews of Gold Dealer online. This sounds weird for a company that has been in business for 4 decades.
Find out our top-rated IRA Company in 2023
Accreditation & Customer Reviews
This section is based on data we managed to collect at the time of doing our research of Golddealer.
Gold Dealer is accredited by BBB.org and has a rating of A+, and zero complaints. They also have a 5 star rating with the same organization, but this is based on only 3 customer reviews.
The company is also accredited with the BCA and has an AAA rating. On TrustLink, they have a rating of 3.0 based on six reviews, and on their official Facebook Page, they have only 1 review.
Should You Consider Gold Dealer For Your Investment?
With reference to this impartial and well-researched Gold Dealer review, it is clear that this company has numerous shortcomings. We have listed our top-10 precious metals companies arranged from the most reliable to the least reliable.
Gold Dealer Alternatives
Conclusion
In this Gold Dealer review, we've seen that this company is a precious metals dealer based in the US, with at least 40 years in business. We've also noted that the company has both its positive and negative side.
That being the case, our opinion is that Golddealer cannot make it to the top 5 of our top-rated companies. Some of the factors we consider while evaluating the trustworthiness and reliability of a company include their website design, customer care, pricing, customer reviews and testimonials.