Are you interested in buying precious metals from Sharps Pixley? Is it a highly regarded precious metals company, and does it deliver gold you can possess in your hands as promised? Before you even consider buying gold or silver from them, you should read our Sharps Pixley reviews thoroughly to avoid losing your hard-earned cash. Let's begin.
Who Is Sharps Pixley?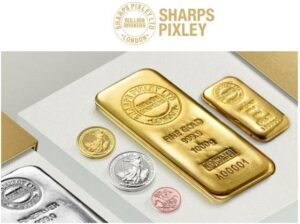 Sharps Pixley is a London, United Kingdom-based precious metals retailer that caters primarily to bullion investors in the United Kingdom. William Sharp founded the enterprise in 1778, but it collapsed in 1995 and was subsequently revived in 2010. Since then, Sharps Pixley has continued to manage billions of pounds in investments for investors.
Sharps Pixley Products
The majority of Sharps Pixley's products are bullion bars and coins, but they also offer copper products. Their primary products consist of silver, gold, platinum, and palladium. Sharps Pixley collaborates with a number of reliable suppliers to ensure that they provide high-quality precious metals. Among their reputable suppliers are the Perth Mint, The China Mint, and the Rand Refinery.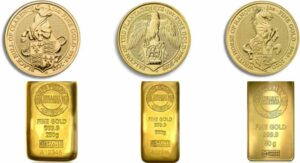 Do They Offer Precious Metals IRAs?
Sharps Pixley does not offer Precious Metals IRAs because it is a British company that primarily serves UK investors. If you are searching for a trustworthy provider of Precious Metals IRAs, you can view our top-rated dealer here.
Company Info
Location:
London, United Kingdom
Address:
54 ST James's Street
London SW1A 1JT
Founded:
2010
Managers:
Ross Norman, Austin Kiddle, Giles Maber, Hind Essoussi, Lawrence Williams
Website:
Sharpspixley.com
Is Sharps Pixley a Legit Firm or a Scam?
Sharps Pixley is a legally registered UK precious metals broker and therefore is a legit company. Sharps Pixley is definitely not a Scam.
Pros of Sharps Pixley
Excellent Rating on Trust Pilot
Sharps Pixley has an outstanding Trust Pilot rating. This demonstrates how amazing their services are. However, the lack of positive reviews on other platforms is surprising. Later, we'll delve into reviews and ratings.
Sharps Pixley's website is professional, well-organized, and simple to navigate, even for novice investors. Their catalog is well-organized, making it easy to select the products you require and pay for them using their straightforward yet secure transaction system.
This company will provide secure storage for your investment assets. They offer safe deposit boxes at their ST James's Street, London-based primary storage facility.
They provide a buyback program, so you can sell your assets back to the company at any time. In addition, Sharp's Pixley provides a straightforward three-step approach for buying and selling metals quickly.
Cons of Sharps Pixley
Sharps Pixley's storage fees are higher than those of competing bullion dealers. For example, their safety deposit boxes are priced differently, with the smaller box costing £250 ($347) and the larger one costing £1250 ($1,738). With such a fee structure, it is clear that their storage is more expensive than that of the leading precious metals dealers in the United States.
Despite the positive reviews on some platforms, we discovered that Sharps Pixley has a number of customers who have complained about subpar customer service. Below is a screenshot of a dissatisfied client complaining about the company's poor customer service and possible fraud.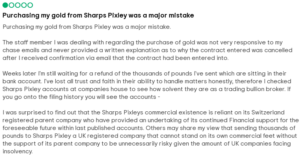 Only Available to UK Investors
Foreign investors are disadvantaged by the fact that Sharps Pixley caters exclusively to local investors, despite offering a vast selection of bullion products. The company's website explicitly states that it does not offer international shipping.
Accreditation and Customer Reviews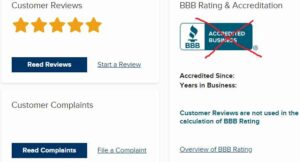 In this section, we will investigate Sharps Pixley reviews online. It was shocking to discover that there were no reviews of this company on reputable consumer protection websites such as TrustLink. Sharps Pixley has zero reviews on the Better Business Bureau, The Business Consumer Alliance, and Yelp. However, the company has 1,558 consumer reviews and a rating of 4.8 on TrustPilot.
What Company Do We Recommend?
If you reside in the United States, our top recommendation is Goldco, a precious metals company situated in the United States that provides superior customer service and high-quality products. In addition to supplying bullion, Goldco also offers Gold IRA plans. They provide superior storage facilities in addition to lower storage and administrative costs. Here you can learn more about Goldco.
Alternatives to Sharps Pixley 
Sharps Pixley Reviews Summary
Sharps Pixley is a London-based precious metals dealer that primarily serves local customers. The company offers an extensive range of products, including bullion bars, coins, and even copper products. Their primary offerings consist of Gold, Silver, Platinum, and Palladium.
The company's reputation has been severely damaged by several factors, which include inadequate customer reviews and complaints, despite the quality of its products and storage space. In addition, the company's high storage fees and failure to offer international shipping make it unattractive to international investors.