Interested in diversifying and protecting your retirement with gold, silver, or platinum? If so, you must purchase your metals from a reputable precious metals company. BGASC (an acronym for Buy Gold and Silver Coins) is one of these enterprises. In our BGASC reviews, we evaluate consumer feedback and other factors to determine whether the company is legitimate or a scam.
What Is BGASC?

BGASC is a precious metals company located in Calabasas, California, that was founded in 2012 by three ardent coin collectors. Thus, the company was created primarily for numismatists, although it has recently expanded into other product lines and services.
Unique to BGASC is the fact that orders over $5000 receive free shipping. For precious metals IRAs, a minimum investment of $30,000 is required. They ship throughout the United States with the exception of Minnesota.
Pay Attention: Before we go any further with this review!
We always recommend conducting due diligence before settling on a precious metals company to invest in. With so many clients getting ripped off with the so-called hidden fees, you need to research meticulously before purchasing metals or opening a precious metals IRA. We understand that picking the right company is the most important financial decision for you, and thus, we've compiled a list of our 3 best precious metals IRA companies for 2023.
See Our 3 best precious metals IRA providers here>
Or get our free Gold investing kit from our top recommended firm on this page
BGASC Products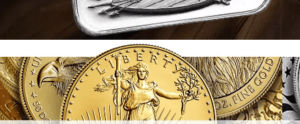 BGASC stands for Buy Gold and Silver Coins. As implied by its name, the company primarily sells coins and bars. In addition to gold and silver bullion, the company also sells numismatic coins. You have the option of ordering coins or bars for doorstep delivery or investing them in an IRA. Regarding IRA rollovers, you must locate your own custodian to store your metals, as BGASC does not provide storage.
BGASC Review Summary
Location:
Calabasas, California
Address:
P.O. Box 9119
Calabasas, CA 91372
Year Founded:
2012
Managers:
Thomas Martin
Website:
www.bgasc.com
Overall Rating:
3.5/5
Is BGASC Reputable or a Scam?
The company has been in business since 2012. They've gained popularity as a result of their honesty and ethical business practices. In addition, they have excellent Better Business Bureau ratings. Therefore, BGASC is a legitimate, reputable precious metals company and not a scam.
Advantages of  BGASC
Wide Selection of Products
As previously stated, BGASC stocks enormous quantities of both bullion and collectibles. They have a vast selection of products, making them one of the largest precious metals companies in the United States.
They have outstanding ratings on numerous online platforms, including Trustpilot and Trustlink. This merely demonstrates that BGASC is acting appropriately.
Free shipping is provided for orders exceeding $5000. BGASC also claims to offer expedited shipping, with orders typically being shipped the following business day.
The company has a buy-back program in effect that allows you to sell your metals in an emergency.
Disadvantages of BGASC
High Minimum Purchase Amount for IRAs
The minimum investment required for precious metals IRAs is $30,000. If you have a limited budget, this price may be prohibitive.
If you are transferring or rolling over your IRA into precious metals, you will have to find your own custodian. This will add extra work in finding a reliable custodian.
We discovered three complaints condemning BGASC of selling low-quality goods and charging exorbitant fees for bulk orders. Below is a comment from one of reddit's consumers.

Customer Reviews & Complaints

In this section, we'll have a look at online BGASC reviews. BGASC's Better Business Bureau rating is 4.43 out of 5, based on 35 customer reviews and 4 complaints. On the Ripoff Report, they have been the subject of three complaints within the past three years. In addition, they have a Trustpilot rating of 4.8 out of 5 stars based on 7,748 user reviews. Surprisingly, there are no reviews of the company on prominent review sites such as Trustlink, Business Consumer Alliance, Yelp, Google Plus, and others.

Should You Consider BGASC for Your Gold IRA Rollover?
As we have seen, BGASC is a reputable company that has been in operation for many years. In addition, they have exceptional ratings. However, because they do not collaborate with a custodian for your precious metals IRA, we cannot recommend them for your rollover. We recommend a company that partners with trustworthy custodians to save you the trouble of locating one on your own. Goldco is our top-recommended precious metals company. Click the link below to find out more about them.
Click Here To Learn More About Goldco>
BGASC Alternatives
BGASC Reviews Conclusion
We have reached the conclusion of our BGASC reviews. We trust that this review was informative and will assist you in making a prudent investment decision. If you have prior experience with this company or would like to share your thoughts, please feel free to do so in the section below. We appreciate your reading!