Are you looking to purchase metals from Goldpro? Is it a legit company or scam? Please read this comprehensive Goldpro review to find out.
What Is Goldpro?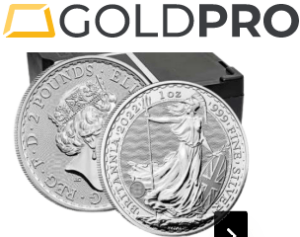 Goldpro is a precious metals company based in Vidor, Texas.  A family-owned business, Goldpro is a well-known buyer, seller and trader of bullion and rare coins. The company claims to have a team of experts who specialize in portfolio diversification. They also promise to offer you quality metals as well as an easy and quick business transaction.
Note: Before you read the rest of this review, we recommend you request our Free Gold IRA Guide here>>
Goldpro Review Summary
Location:
Vidor, TX
Address:
101 N Main St
Vidor, TX 77662-4931
Year Founded:
2018
Management:
Michael James White (CEO)
Website:
www.goldpro.com
Rating:
[usr 2] Not Recommended
Find Out Our #1 Rated Precious Metals Company Here>>
Goldpro Products & Services
Goldpro offers bullion bars and coins in the form of gold, silver, platinum and palladium. With a team of expert numismatists, the company also offers high quality, PCGS/NGC-graded ultra-rare coins. Below is a short list of some of their featured products:
10 oz Gold Bar
100 oz Silver Bar
1 oz American Gold Eagle Coin
1 oz American Gold Buffalo Coin
1 oz Canadian Gold Maple Leaf Coin
Kilo Gold Bar
Chinese Gold Panda coins
Australian Kangaroo/Nugget coins
Austrian Gold Philharmonic coins
How to Get Started?
Goldpro has made it easy to order from them through their simple online ordering system. All you have to do is visit their official website and create an account. Once logged in, proceed to the catalog and select your preferred products. At this point, you can also claim their free offers and incentives and make huge savings. After adding products to your cart, proceed to checkout to complete your purchase. If selling your metals to the company, you need to call them and request for a quote.
Goldpro Costs & Fees
The cost you'll incur depends on the type of products you choose. However, the company does not publicly disclose Gold IRA Fees and shipping fees. Minimum order amount is strictly $5000.
Pros of Goldpro
Wide Selection of Products
Considered a one stop precious metals shop in the southeast region of Texas, Goldpro boasts a wide selection of best quality gold, silver, platinum and palladium coins and bars, in addition to ultra-rare coins.
Their website is easy to browse and their online ordering system is super-easy to use. You only need to create an account, select your metals and pay securely through their checkout system.
Other than selling, Goldpro also gives you an opportunity to sell your precious metals to them. You simply need to call their customer care staff and request for a quote.
Cons of Goldpro
Sadly, Goldpro does not publicly disclose their IRA Fees as we couldn't find any information on their official website. When it comes to precious metals IRAs, transparency is crucial as it saves you from losing your money through hidden fees and other forms of gold IRA scams.
Multiple Customer Complaints
The firm has multiple negative reviews and complaints on the Better Business Bureau and Trustpilot. Based on reviews posted by customers on the BBB, it is quite clear the company has delivery and customer service issues.
Goldpro lacks a live chat support system which makes contacting customer care a little bit hectic.
Accreditation, Customer Reviews & Ratings

Goldpro is not BBB accredited. Currently, they only have 4 customer reviews on the BBB as well as a whopping 46 customer complaints closed in the past 3 years. Another platform where Goldpro has reviews and ratings is Trustpilot, where they boast a rating of 4.6 out of 5 based on 188 reviews. The company lacks reviews on Trustlink, BCA, Yelp and many other review websites.
Is Goldpro Scam or Legit?
In spite of the many complaints and an 'F' rating on the BBB, Goldpro appears to be a legit firm. For instance, the company has been a round for some time and has been praised for high quality products. Also, they've got a real address.
Nevertheless, it's worth noting that ratings and reviews are crucial for determining the credibility and reliability of a company. With the lack of a BBB accreditation and poor ratings, Goldpro is obviously not among our top recommended precious metals firms. You can check out our top recommendation for gold and silver IRAs via the link below.
Click here to learn about our top recommendation for Gold & Silver IRAs
Goldpro Reviews- Summary
Goldpro is a Texas based company that offers a wide selection of bullion and top quality rare coins. They've got a user-friendly website that allows you to order online or sell your products to the company.
On the negative, Goldpro has numerous customer complaints as well as poor reviews and ratings. They also lack transparency on costs and fees.