Is Provident Metals a legit precious metals company or scam? How is their customer support?
If you are trying to establish whether Provident Metals is a reputable company, this review is for you. Scroll to find out all you need to know about Provident Metals now!
What Is Provident Metals?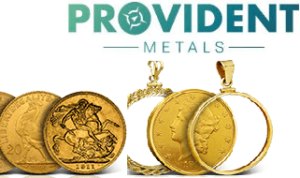 Founded in 2009, Provident Metals is a Texas based precious metals company offering investment-grade precious metals, collectibles, as well as gold and silver IRAs. Provident Metals' products are mainly sold through their official website where you'll find price charts, detailed pricing information and all the important details pertaining to each and every product on their catalog. The company is famous for its in-depth customer education and competitive pricing.
Provident Metals Review Summary
Location:
Dallas, Texas
Address:
6125 Luther Ln # 465
Dallas, TX 75225-6202
Year Founded:
2009
Management:
Michael Wittmeyer (CEO)
Website:
www.providentmetals.com/
Opening Hours:
Mon-Fri, 8.00 am to 6.00 pm
Rating:
[usr 3]
Attention: Avoid scams. Click Here To See Our Top-rated Precious Metals Dealer
Provident Metals Products

Provident Metals boast a vast products catalog comprising numismatics, collectible coins and IRA eligible bullion. The main precious metals offered are gold, silver, platinum and palladium. If interested in investing in copper products, you'll find copper rounds and bars by click on their 'More Metals' menu. Below are some of the coins and bars available at Provident Metals.
Gold
Gold Canadian Maple Leaf
American Gold Buffalo
Gold Australian Kangaroo
1 gram gold bars
5 gram gold bars
20 gram gold bars
Silver
Silver American Eagle
Silver British Britannia
Silver Austrian Philharmonic
Kilo silver bars
100 o-z silver bars
Platinum
Platinum American Eagle
Platinum Canadian Maple Leaf
Palladium
Palladium American Eagle
Palladium Canadian Maple Leaf
Does Provident Metals Offer Precious Metals IRAs?
Yes, they do offer precious metals IRAs as one of their main services. Their aim is to help retirement savers protect their investments from the current economic upheavals. Provident Metals recommends Preferred Trust Company, but you still have the freedom to select a custodian of your choice.
Click Here To Learn About Our #1 Rated Gold & Silver IRA Provider
What Should You Consider When Deciding Upon an IRA Custodian?
The most important thing to consider is the IRA fees they charge. Keep in mind that costs and fees will vary depending on the custodian, therefore it's prudent to ask about the setup fees, annual fees and storage fees before getting started.
How Does Provident Metals Work?
Basically, Provident Metals is an online retailer of precious metals, primarily selling through their ecommerce store. They've designed a user-friendly website to ensure customers don't get confused when browsing their massive catalog. You can easily locate the products and add them to the cart. Payment can be made via credit card, debit card, bank wire, personal check, certified check, cashier's check, ACH/eCheck, bitcoin, or money order. Provident Metals does not accept credit card convenience checks or any third-party checks
Provident Metals Customer Service
Provident Metals have a highly professional team of customer care staff ready to answer your questions and assist you with your purchases. Other than email and phone, Provident Metals has a live chat support system whereby you can talk with their support team in real-time.
Pros of Provident Metals
Great range of products
Customer education is offered
Excellent ratings on the Better Business Bureau (BBB)
Competitive pricing
IRAs are offered
You can sell to the company
Cons of Provident Metals
Only serves the United States
Higher premiums on silver coins and bars
Multiple complaints online
Here's Our #1 Recommended Precious Metals Firm
Provident Metals Ratings & Reviews

Provident Metals' BBB profile shows an average 4.72/5 stars rating based on 148 customer reviews and 28 customer complaints in the last 4 years. They have a 3/5 rating on Trustpilot from 3677 reviews, and a 2.5/5 rating on Yelp based on 26 reviews. Provident Metals has no reviews or ratings on Trustlink and the Business Consumer Alliance.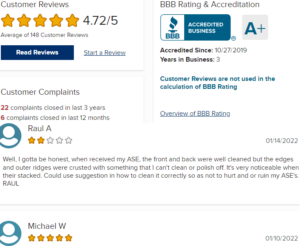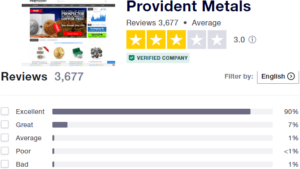 Is Provident Metals Legit?
Yes, Provident Metals is a legit company accredited with the Better Business Bureau (BBB). Also, the fact that they've been in business for over a decade implies they are not a scam.
Provident Metals FAQ
Can you sell back to Provident Metals?
You can sell back to Provident Metals since they have a buyback policy in place. You only need to contact them and then ship your assets to their premises for appraisal.
Does Provident Metals offer storage?
Yes, Provident Metals offers storage in partnership with third party storage providers including the Delaware Depository, Idaho Armored Vaults, IDS of Delaware and Brink's among others.
Does Provident Metals offer free shipping?
They do offer free shipping if your order is worth $199 or more, but only within the United States.
What IRA custodian (s) has Provident Metals partnered with?
Provident Metals partners with Preferred Trust Company for IRA custodial services.
Provident Metals Alternatives
Provident Metals Reviews- Summary
Provident Metals is a precious metals dealer and IRA provider based in Dallas, Texas. The company is highly respected for their high quality products and provision of free customer education. On the negative side, the company has many complaints online and only serve clients within the USA.